Wolverine (v.3.0) [Retired]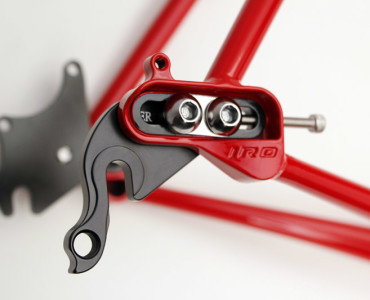 [CHECK OUT THE LATEST MODEL ELSEWHERE ON THIS SITE) The original inspiration for the Wolverine was "monster cross", but it is seriously so much more. Its geometry is stable enough for off road touring, but sporty enough for all-around adventure. With its sliding dropouts, you can turn it into a single-speed CX bike. With a split seatstay, it is compatible with the Gates Carbon Belt Drive.

The v.3.0 has the new robust IRD Broski Sliding Dropouts. We also switched up the welding method to keep more of the tube's overall strength.

- Tange Prestige heat-treated double butted CrMo front triangle; butted CrMo rear end

- Clearance for 700x45c tires w/ fenders

- Rear hub compatibility:135mm QR (convertible to 142 x 12 thru-axle with aftermarket inserts

- Gates Carbon belt drive compatible

- Optional matching forks:
A) lugged flat crown standard QR axle, Tange Infinity CrMo steel fork; double eyelets pannier rack and mini rack mounts.
B) Extra stiff unicrown straight blade 15mm thru-axle fork (w/ dual mid-blade bosses in 2019)

- Braze-ons for rear rack and fenders (disc brake-compatible racks only)

- 1-1/8" headtube (fits EC34/28.6|EC34/30 headsets)

- Sizes: 50, 52, 54, 56, 58. 60, 62 and 66cm

- 4.79 lbs (frame)

- Color: Fiery Red and Pearl Black

purchase!
Wolverine (v.3.0) [Retired]
What belt drive set up is recommended?

With an Alfine 8 spd hub, we recommend 46t front, 24t rear, and 115 length belt, with the dropout set at 440mm from the center of the BB axle. We recommend the Center-Track system. Shimano Alfine Di2 does not fit on the Wolverine because the narrow belt line needs of the hub.

Wolverine 2.0, 2.1 and 3.0 models approved for use with belt-drive with Rohloff hubs. With Rohloff for gravel, a 50t front x 19t rear x 115 belt and 440.19 chainstay setting is a good place to start. Use a smaller front ring for touring and trail riding.(https://www.cyclemonkey.com/blog/calculating-gear-ratios-rohloff-speedhub)

For Single Speed:

46t front x 26t rear x115 belt - 435.19mm chainstay setting



Please check out the Gate's Drive calculator on their website. Plug in 430mm as a representative chainstay length. The actual range on the Wolverine in 427-445mm. It will give you belt length when you type in the gearing you want.

How to take care of the Wolverine's unique rear triangle?

1) Follow our official max tire guidelines which is 700c x 45mm with fenders and 29 x 1.95 without fenders.

Why is using too big a tire a possible problem?
a) To fit a fatter tire than recommended requires user to slide the insert to the rear of the dropout. Sliding the insert to the very rear creates extra leverage on the dropout and the frame versus having it in the center or front of the slot.
b) Using fatter tires makes the rider think he/she can ride more aggressively than the frame tubing is designed for. The Wolverine is not an XC/trail bike.

2) A split in the seatstay allows the frame to take a drive belt. Periodically check to make sure the bolts holding the right seatstay together are safely tightened. If you find them loosening, try a stronger type Loc-Tite (especially if you don't plan on using a belt) If you hear an unusual noise or flexiness while riding, definitely check those bolts. Loose seatstay bolts don't usually make for dangerous riding, but it does make the chainstays work harder.

3) Make sure the bolts holding the sliders are safely tightened at all times. Those bolts should be tightened to about 25nM. Make sure sliders are evenly aligned. Loose bolts here can be hazardous to riding. Try carbon paste on the sllider contact areas, if you are experiencing slipping even though the bolts are adequately torqued.

Component Specs for the Wolverine v.3.0

Front derailleur clamp: 28.6mm

Rear hub: 135mm spaced, standard QR axle

Seatpost: 27.2mm

Seat collar: 29.8 to 30mm (not included)

Headset: 1-1/8" external cup (SHIS: EC34/28.6 | EC34/30)

Bottom bracket shell: 68mm wide, English threads

Brake compatibility: International Standard Disc mount, 160mm rotors

Chainstay length range: 427-445mm (Please avoid the sliding the wheel to very back of the dropout)

Max.Tire fit: 700c x 45mm with fenders; 29 x 1.95" w/o fenders

Min. Tire fit: 650b x 47mm

Downtube shifters: Compatible mounts

Water bottle bosses: 2 sets

Are there replacement inserts to change my Soma (Juice/B-Side/Analog/Wolverine) with Sliding Dropouts to 142 x 12 thru-axle?

Our current frames with sliding dropout are for 135mm QR's. There are third party slider inserts that will do the trick. E-mail us for the info. We will have our own inserts for thru-axle some time available by Summer 2018.