Wolverine (v.4.0) Type-B (Adventure/Monstercross)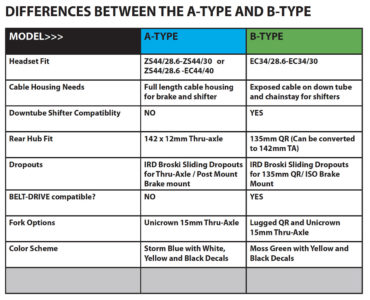 The original inspiration for the Wolverine was "monster cross", but it is seriously so much more. Its geometry is stable enough for off road touring, but sporty enough for all-around adventure and gravel riding. With its sliding dropouts, you can run single-speed, derailleur gearing or hub gearing. With a split seatstay, it is compatible with the Gates Carbon Belt Drive.

The primary differences between the 3.0 and v. 4 Type-B is a new 46cm size, an extra set of water bottle bosses, and additional stack height on most sizes.

(Also check out the Wolverine v.4 Type-A! See chart in photo gallery for their differences)

- Tange Prestige heat-treated double butted CrMo tube set

- Clearance for 700x45c tires w/ fenders

- Rear hub spacing:135mm (10mm QR, can be upgraded to 142mm 12mm TA with different inserts )

- Gates Carbon belt-drive compatible

- IRD Broski sliding dropouts allow for geared or single-speed builds

- Optional Matching Forks:
A) Lugged flat crown , Tange Infinity CrMo steel fork for standard QR axle; double eyelets pannier rack and mini rack mounts, 50mm rake
B)Lugged flat crown , Tange Infinity CrMo steel LOW TRAIL fork for standard QR axle; double eyelets pannier rack and mini rack mounts, 65mm rake
C) Unicrown straight blade 15mm thru-axle CrMo steel fork
D) Limited time only: IRD MCX Carbon Gravel fork

- Braze-ons for rear rack and fenders (disc brake-compatible racks only)

- Three sets of water bottle bosses

- 1-1/8" size headtube

- Sizes: 46, 50, 52, 54, 56, 58. 60, 62 and 66cm (We recommend 650b tires on the 46cm)

- 4.79 lbs (frame)

- Paint: Moss Green
purchase!
Wolverine (v.4.0) Type-B (Adventure/Monstercross)
How to take care of the Wolverine's unique rear triangle?

1) Follow our official max tire guidelines which is 700c x 45mm with fenders and 29 x 1.95 without fenders.

Why is using too big a tire a possible problem?
a) To fit a fatter tire than recommended requires user to slide the insert to the rear of the dropout. Sliding the insert to the very rear creates extra leverage on the dropout and the frame versus having it in the center or front of the slot.
b) Using fatter tires makes the rider think he/she can ride more aggressively than the frame tubing is designed for. The Wolverine is not an XC/trail bike.

2) A split in the seatstay allows the frame to take a drive belt. Periodically check to make sure the bolts holding the right seatstay together are safely tightened. If you find them loosening, try a stronger type Loc-Tite (especially if you don't plan on using a belt) If you hear an unusual noise or flexiness while riding, definitely check those bolts. Loose seatstay bolts don't usually make for dangerous riding, but it does make the chainstays work harder.

3) Make sure the bolts holding the sliders are safely tightened at all times.Those bolts should be tightened to about 25nM. Make sure sliders are evenly aligned. Loose bolts here can be hazardous to riding. Try carbon paste on the sllider contact areas, if you are experiencing slipping even though the bolts are adequately torqued.

Wolverine v.4.0 Type-B Component Specs:

Front derailleur clamp: 28.6mm

Rear hub: 135mm spaced, standard QR axle

Seatpost: 27.2mm

Seat collar: 29.8 to 30mm (not included)

Headset: 1-1/8" external cup (SHIS: EC34/28.6 | EC34/30)

Bottom bracket shell: 68mm wide, English threads

Brake compatibility: International Standard Disc mount, 160mm rotors

Chainstay length range: 429-445mm (Please avoid the sliding the wheel to very back of the dropout)

Tire Fit on size 50cm and up:
Max. Tire fit: 700c x 45mm with fenders; 29 x 1.95" w/o fenders
Min. Tire fit: 650b x 47mm

Tire Fit on size 46cm:
Max. Tire fit: 650b x 45mm with fenders; 27.5 x 1.95 w/o fenders
Min. Tire fit: 650b x 38mm

Downtube shifters: Compatible mounts (covers not included0

Water bottle bosses: 3 sets

Maximum weight (rider and cargo): 270 lbs.

What Gates Belt-Drive Set Up is recommended?

With an Alfine 8 spd hub, we recommend 46t front, 24t rear, and 115 length belt, with the dropout set at 440mm from the center of the BB axle. We recommend the Center-Track system.

Older Shimano Alfine Di2 does not fit on the Wolverine because the narrow belt line needs of the hub.
BUT Alfine Di2 with the newer MU-UR510 motor allows a 45.5mm beltline and should fit up to a 46t front sprocket.

Wolverine 2.0, 2.1 , 3.0, and 4.0 B models are approved for use with belt-drive with Rohloff hubs. With Rohloff for gravel, a 50t front x 19t rear x 115 belt and 440.19 chainstay setting is a good place to start. Use a smaller front ring for touring and trail riding.(https://www.cyclemonkey.com/blog/calculating-gear-ratios-rohloff-speedhub) You will need a Monkey Bone and OEM Plate #2 to make the set-up work.

For Single Speed:

46t front x 26t rear x115 belt - 435.19mm chainstay setting



Please check out the Gate's Drive calculator on their website. Plug in 430mm as a representative chainstay length. The recommended useable range on the Wolverine in 429-445mm. It will give you belt length when you type in the gearing you want.
Wolverine (v.4.0) Type-B (Adventure/Monstercross)
The favorite!

"If you were to ask me what's my favourite bike from my collection I would definitely answer "The one I'm Riding on!" In all reality this bike is the most versatile. We've conquered dirt, mud, steep black diamond descents, climbs of all kinds and 1000's of km of dirt/paved roads, fully loaded. I might love my Wolverine a little more but don't you dare tell the rest of the fleet, I don't want them to get jealous."

BluntObjekt (from Instagram), -, -
Wolverine (v.4.0) Type-B (Adventure/Monstercross)
BikeHacks.com's Wolverine Review

"A couple of things struck me on my first couple of rides aboard the Wolverine. First, I had forgotten how supple and lively a steel bike can feel, even at this price point. The ride quality improvement when you jump from a basic 4130 tube set to even an entry-level, name-brand tube set is significant.Secondly, the big Shikoro tires rolled very well and were incredibly comfortable. This was my first extended test of SRAM's 1×11 drivetrain on a drop-bar bike and I've come away impressed. At first, the larger ratio jumps between gears were noticeable, but I quickly acclimated."

"Just as Soma intended, the handling of the Wolverine straddles the middle ground between drop-bar commuter, monster 'cross bike, and light touring rig. Handling is quicker than you'd find on a true touring rig but slightly more relaxed than you'd find on a cyclocross bike."

"Off-road, the Wolverine feels great on graded dirt surfaces or anything that could be loosely classified as a road. When you turn onto singletrack the Wolverine holds its own but the road-oriented geometry requires quick reflexes. With its plethora of rack options, the Wolverine is ready for adventure.

However, it's important to keep in mind this is designed as a light touring bike. It's more than up to the task, but the lighter your load the more fun you'll have. If you're looking for a round-the-world-with-the-kitchen-sink rig, there are better choices on the market such as Soma's Saga touring bike.

With a reasonable weekend's worth of gear, the Wolverine's handling and frame stiffness both felt great. In day-to-day use as a commuter rig, the Wolverine was a treat. Handling is lively and fun if you're feeling frisky, yet mellow enough to let you zone out and decompress on your way home from work.

Set it up with fenders and commuting tires for weekly commutes. Rip the fenders off and throw on some knobbies for a long weekend gravel bike packing adventure. Run it as a single speed commuter during the winter to save your drivetrain. The options are nearly limitless if you enjoy tinkering.

No doubt, there are a lot of bikes on the market promising versatility. Soma Wolverine is a fine example of one that offers highly functional versatility with a few features, such as the sliding dropouts and belt drive capability, that set it apart from entry-level offerings. It's easy to see this as a versatile drop-bar solution for anyone outside of the performance road or 'cross racing realm."

Soma Wolverine Review

[For an older Wolverine model] Within the whole of the bicycle industry I think we can all agree that bigger tires are better. All categories are running bigger tires; BMX, road, cyclocross, mountain bikes, tandems, recumbent, and even fat bikes. Soma, you have done a great job with this frame. The versatility to do whatever you want on this goes above and beyond. There are so many ways this could get built up and it all comes down to the users needs.

First ride this weekend was about 2.5 hours long and who knows how many miles. No Garmins were used. Ever. I stand by that fairly firmly, unless I need direction in the back-country. Took a mixture of road and various park trails, access roads, and gravel paths. Got a little lost and had a great time.

How is the bike? It is stable and smooth. At higher speeds, the stability is great. Not twitchy or a confidence killer. Disc brakes are awesome on all bikes. Less of a hassle, stronger braking, and they work great when wet and muddy. Makes riding with drop bars on rough trail a whole lot easier. Only set back was purchasing the TRP brakes. They are nice, yes. But the pads rattle a whole lot within the brake calipers. Gets a little annoying and makes you feel like something is falling apart. Only downside I have seen is not having through mounts for mid mounts on the fork. Limits the racks that you can put up front, but not a deal breaker at all.

On the trail, it is almost like riding a mountain bike. Had a few short sections of trail that were used to cut back and head home. Handles well on the rough and does not feel completely out of place riding on trail.

At the end of the weekend I had been on the bike for ~5 hours. I know that I am officially a weird bike nerd who thoroughly enjoys having ridiculous bikes. It is awesome. Being on a bike should not be painful. If you do not enjoy it, do not do it. I do not like being on a road bike, which is why this is now far from a road bike. That is just me personally. If you get this frame, which I fully encourage, make it your own. Get out there. And ride.
http://ridemorecareless.blogspot.com/2014/08/shenanagins-on-wolverine.html