Tradesman Cargo Frame Set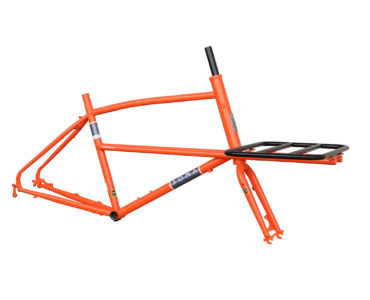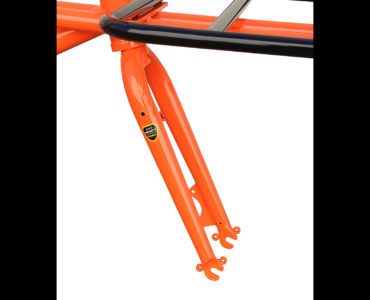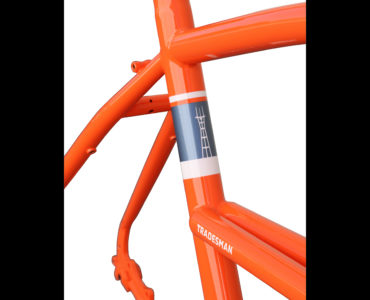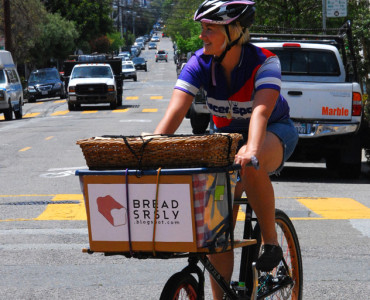 Front loading cargo frame along the lines of the old English "baker bikes". Load is placed on the frame instead of the fork or bars, so it doesn't 'pull' on the steering. Should handle front loads up to 50 lbs. well. 20" wheels are used in the front to purposely lower the load's center of gravity. Designed for disc brakes, because you don't want to lack for stopping power when cargo'd up.

The current version is updated with ring lock mounts, a 44mm headtube to fit ZeroStack (ZS44) headsets and comes in two sizes

Available as frameset only.

- Tange Infinity butted CrMo steel
- Designed for 26" rear and 20"(BMX) front wheels
- Designed for front and rear disc brakes (ISO mounts)
- Fork has 1-1/8" straight steerer (fits a SHIS ZS44/28.6 ~ ZS44/30.0 headset)
- Due to it's unique front end geometry, it steers like a normal bike
- Modular high-tensile steel rack. Measures 14.5" x 20". Mount wood to it. Mount a Wald 157 basket to it. Put a massive crate on the front.
- Kickstand plate
- Rack/fender eyelets on frame and fork
- Vertical dropouts
- Paint: Pumpkin Orange
purchase!
Tradesman Cargo Frame Set
How not to damage your kickstand plate? (IMPORTANT)

We welded a kickstand plate between the chainstays to make it easier to mount a double kickstand, which is really handy when your bike is loaded up. It is strong for what is supposed to do, but it can break if abused.

1) Use a kickstand that has a counter-plate so the weight is distributed on the plate and the chainstays. (Hebie makes several) Make sure counterplate has a rubber cushion to reduce the chance of the counterplate marring or crushing chainstays.

2) Regularly check that the kickstand is tightly installed. A loose kickstand can damage your frame as easily as an overtightened kickstand.

3) Do not sit on your bike while the stand is engaged.

4) Trim the legs so weight is evenly distributed on the tires and the kickstand.



Seatpost, hub spacing and other specs?

The Tradesman requires a 27.2mm seatpost, 30.0mm seat clamp, 31.8mm front derailleur (shifter cables route under the top tube), 1-1/8" Zero Stack threadless headset (ZS44). It has 100mm front hub spacing, 135mm rear hub spacing, (for traditional QR hubs), international standard disc mounts, and 68mm BB shell w/English threads.

What kind of 20" wheel do you recommend?

There are 20" wheels for BMX (406) and 20" wheels (451) for recumbents. You can use either as long as you build them with disc hubs. However a BMX rim will probably be more durable. Plus the fatter tires it fits will cushion your ride.
The rear tires should be your 26" MTB standard.

What type of handlebars should I build the Tradesman with?

We recommend MTB riser bars or swept back bars like our Sparrow or Nitto 2522 or B347. We don't recommend drops or moustache bars because their forward pushing bends can interfere with a tall load. Narrow bars also reduce your leverage and makes it harder to control your load.
Tradesman Cargo Frame Set
Larry of Skunkawombat Comments on his Tradesman

"First, thanks for making such an awesome frameset in the Tradesman. I absolutely dig that thing. It is at the moment probably my favorite bike I own, including a custom monstercross (although it might be eclipsed by my Matt Chester due any day now). It is my primary bike, even after I added a lighter faster hybrid to the mix, I still grab the Tradesman the majority of the time. So far, this bike has been great, nice and mobile, really handles like a normal bike - once you get used to not looking at your front wheel. I'm digging it for the short trips I've made doing errands for the shop so far, dropping off packages at FedEx, picking up copies at the copier place, going to the bank, getting donuts and pizza, the longer commute will be coming in February, along with the hills. "

Larry, http://skunkawombat.blogspot.com,
Tradesman Cargo Frame Set
Bike Hugger Video

Bike Hugger took in a Soma Tradesman in April of 2012 to test and they've decided to disassemble their older larger cargo bike to keep this one. They posted a video of them riding around on one on YouTube. Make sure you here their closing comments near the end. http://www.youtube.com/watch?v=jfS4IbW7eSQ

Quick Ride Review from Cycling Auckland

I didn't get a chance to carry any cargo but the naked bike was a joy to ride, really nimble, light and comfortable. It handled just like a mountainbike and the only odd thing was when you turn the handlebars the rack doesn't move with them, disconcerting at first but I soon got used to it.

You could bungee items directly to the rack but it's really there to enable attachment of a "box" of some kind. Use you imagination here; a stylish wooden crate or wicker basket, a big plastic "fish-bin" or an insulated alloy container for pizza delivery or cold drinks? – The possibilities are endless.

The Tradesman would make a practical commuter as well, it rides too nicely to be reserved for shopping and load-carrying. If I wasn't such a tall freak I'd seriously consider buying one myself, but I reckon 6′ 3″ would be the upper size-limit if you're to be riding any distance.

The rack is generous in size but narrow enough to negotiate doorways and slip down the side of your car in your garage. The car won't like it of course, it's had a lot of "garage-time" since you've been flitting around town transporting things by bicycle!

http://cyclingauckland.co.nz/general/2012/03/quick-ride-soma-tradesman/