Sparrow Bar 560/520/490mm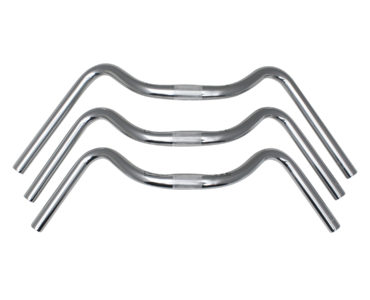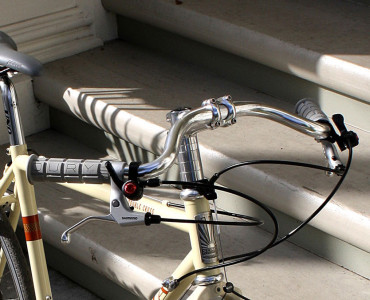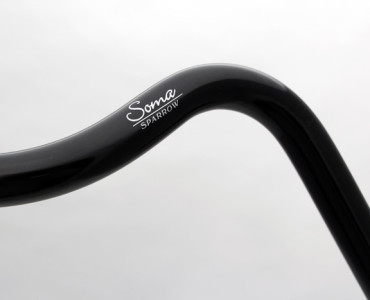 The Sparrow is a townie style bar.

The 560mm size has better leverage for climbing and single-speed riding and has the most room for brake levers, shifters, and grips.

The 520mm is narrower, but with a grip area that fits some lever and shifter combos.

The 490mm version is more agile for squeezing through traffic, BUT may not fit shifters and brake levers together, so it is a better choice for SS or fixed gear or small hands and trimmed down grips.

Can be used flipped to be used as a riser bar or down for a less upright position.

- Tange Aluminum
- Widths: 560 mm, 520mm or 490mm(measured center-to-center)
- Polished Silver or Black
- 25.4 mm clamp diameter
- 50mm drop/rise
- 55° backsweep
- 22.2mm grip diameter
- 20.0mm inside diameter at ends to allow use of pursuit levers and bar end shifters. (Trimming bars may negate this)
- Weight 245g (490mm)
purchase!
Sparrow Bar 560/520/490mm
What grips/levers are these handlebars compatible with?

Compatible with MTB grips and shifters (road brake levers, e.g. Shimano STI will not work). The bar ends are machined out at the ends to fit Soma pursuit levers or bar end shifters, which is recommended for the 490mm size, since its shorter grip area prevents it from fitting side-by-side shifters and brake levers unless you trim the grips, but will fit 3-speed Sturmey Archers great.
If you need more real estate, the 520mm has a grip area 15cm long. The 560mm has a grip area of 18cm.
Sparrow Bar 560/520/490mm
Good Urban Bar

"This is mounted on my supercommuter, and it works great for it's intended usage. Much more relaxed than roadie bars, but not as flaccid as a laid-back cruiser bar. I have the 560mm bar mounted upright, but in hindsight the 520 would work better in tight, urban streets. The 560 is just a touch wide for getting through doorways and sliding between sideview mirrors in traffic."

, ,

495mm Sparrow

"Had this on my singlespeed for about two weeks...good product, solid construction; nice townie feel. Used it inverted to get that old school touring feel. I originally opted for this product due to its compact design, slightly shorter and tighter than other 'stache bars...but that quickly became the drawback for me. Handling was fine, had most ranges needed for my urban ride, but when on longer straights the compact design left me with minimal hand positions. Still a great product for those who want to lean into it or ride upright in urban setting. The compact design makes it ideal for in-city riding. I simply wanted to give it a try since I typically use drop bars or straights. I do recommend it and definitely find it worth the price. "

Gabe R., ,

Comment on commutebybike.com

"I have the Soma Sparrow bars – the narrow ones – and I love them. I remember the first time I rode with them it felt like I was IN the bike instead of ON the bike. I use them in the riser position. It took a little while to get them set to the best angle for me, but once I did it was great. Very comfortable – my wrists feel like they are in exactly the right place. Because they are narrow, I had to switch from grip shift with separate brake lever to an integrated brake/shift lever. There was not enough room for my hands otherwise."

Keith, City, State

Kyler's Review for Fairmount Cycles

"I installed the Sparrow bars in the positive rise position (so the logo is upside down) and think they're great for getting around town. Only one hand position, but it's the one I want for city riding. Relaxed, but not too relaxed, with the hand position spept back just a bit from the end of the stem and with great brake lever accessibility. For longer road rides I would consider the negative rise position (my touring partner has them installed this way on her touring bike and they look and feel awesome). (Replaced a V.O. Montmarte)"

K.G., Philly, PA

Sparrow for Long Distance Touring

"The Sparrows get a lot, A LOT, of attention and a few emails off my blog about them. I love them and everyone I've let ride her...loves them too. No more back problems and less finger numbing. "

E.M., Shanghai, China