Stanyan Frame Set [RETIRED]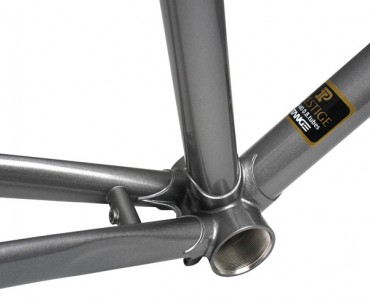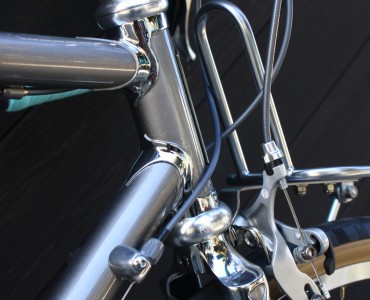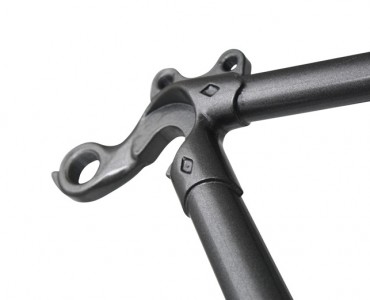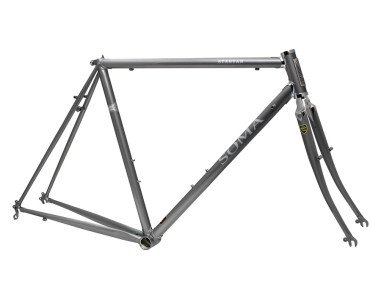 (RETIRED) The Stanyan is our lugged road sport frame. This is a great choice for the century rider and credit card tourer who appreciates a more traditional look to their bike. Like most Soma frames it is ready for fenders or racks. (The Stanyan is named after a street in San Francisco, that used to have upwards of 7 bike shops in 4 block section) Lugged Tange Prestige heat-treated butted CrMo steel; butted CrMo rear end (On 52cm frames the seat tube/seatstay juncture is welded)

- Road sport geometry
- Polished stainless steel headtube lugs
- Includes Tange Infinity CrMo lugged crown threadless fork with fork tip eyelets (with chromed crown)
- Two sets of water bottle bosses
- Rear rack, front mini rack braze-ons
- Fender mounts at bridge and at dropout
- 1-1/8" size headtube
- 27.2mm seatpost size / 28.6mm frt. derailleur size
- Max tire size: 700x32c or 650Bx38
- Requires 57mm reach road brakes (73mm for 650b wheels)
- 5 sizes: 52cm to 60cm
- Paint: Metallic Smoke
purchase!
Stanyan Frame Set [RETIRED]
I have general questions about your frames... (i.e. frame material, country of origin, fit questions, how to order).

Go to our General FAQ page. Link is on the bottom of each page.

What's the rear hub spacing?

Rear hub spacing: 130mm

What kind of brakes does the Stanyan need?

Needs to use 57mm reach road brakes.
Stanyan Frame Set [RETIRED]
Unsolicited Soma Stanyan Review

"I am a daily commuter and avid recreational cyclist. I've put in 250-300 miles a week on this frame over the past year, so you can consider this a review by someone who has lived with this frame. First off, it has classic, comfortable geometry. It's not lazy, though - it handles quick, but predictable. It's not twitchy at all, and is one of the best descending bikes I've ever rode. Although it's steel, it does not have a noodle-like amount of flex - it's comfortable and forgiving, but climbs well. Best of both worlds. I've ridden a number of centuries on it, and commute in all but winter conditions on it, and it's never let me down. The lug work is beautiful, the paint is a great color and doesn't chip too easily, and the decals have an understated elegance. It's modern, but will please the retrogrouches as well. "

RG, City, State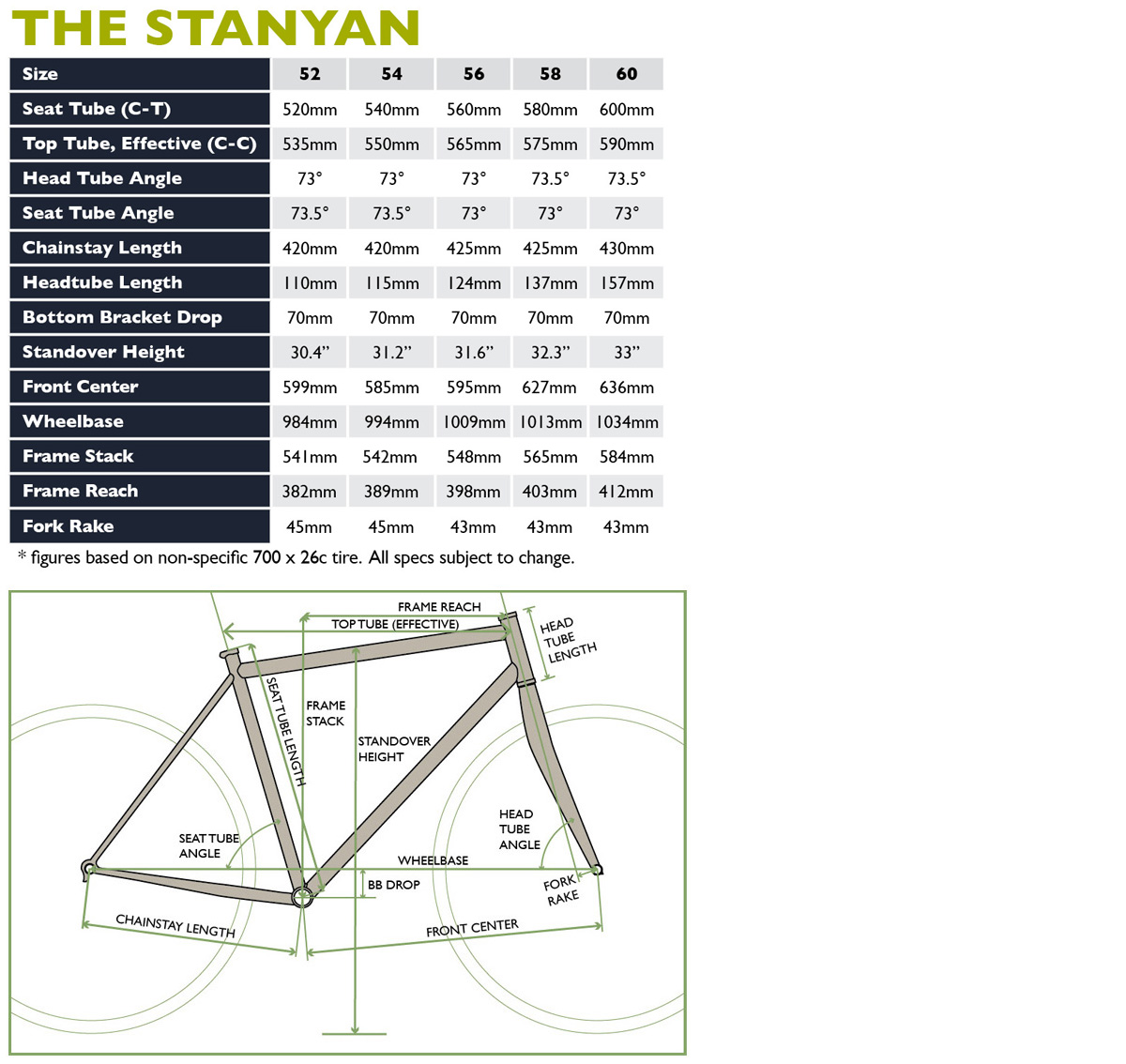 Stanyan Frame Set [RETIRED]
Soma Stanyan Class Act

These days a weekend morning ride usually ends up at a preferred cafe for the caffeinated beverage of choice, but the Soma Stanyan exudes a class that would be better suited to a quiet cognac or a single malt whisky at least 15 years old, a classic wingback leather chair, a pomade shaped hairstyle, a copy of Smith Journal all the while resting your tootsies on an antique Afghan rug.

650b-Built Stanyan (formerly Speedster)

Bikeman built up a Speedster (now Stanyan) as a 650b. Here's an excerpt from his review-"The World's First 650Built Soma Speedster. It was quick and simple to build, no modifications of any sort were required to the frame or components. It's great fun to ride, it all works beautifully, and personally, I think it's a sharp looking bike." To read more about how he did it, visit here