Smoothie HP (Endurance Road Disc)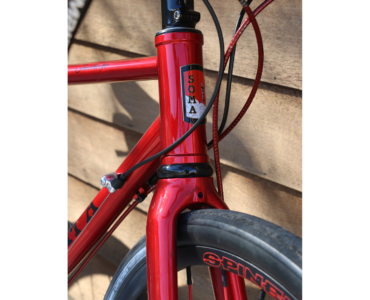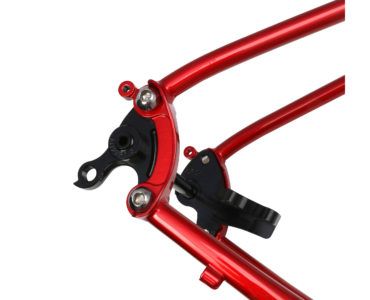 The Smoothie HP is the "high protein" version of our Smoothie road frame that was part of our line for almost 20 years. Extra large diameter, thin-wall Tange Prestige chromoly coupled with modern touches like thru-axles and compact geometry give this frame increased power transfer and road feel while still delivering a composed and plush ride at all speeds. The re-designed geometry combines a comfortable higher stack with a shorter wheelbase that rewards skillful riders.

Frame Features:

- Tange Prestige heat-treated double butted CrMo steel

- Extra oversized down tube and chainstays for greater pedaling stiffness

- Ovalized top tube for increased lateral stiffness and vertical compliance

- Size specific tubing, larger downtubes on larger sized frames

- Comfortable high stack matched with a tighter wheelbase than the typical big brand endurance road frame

- Replaceable modular dropouts (12 x 142mm bolt-on thru-axle, fits flat mount disc brake)

- BSA Threaded bottom bracket shell

- Rear rack/fender mounts

- Max tire size: 700x32c with fenders

- Two water bottle boss sets

- 6 sizes: 48, 52, 54, 56, 58, 60

- In Candy Apple Red


Fork Features:

- Carbon Fiber

- 43mm rake (48mm on size 48 and 52cm)

- Fits 700x32 tires with fenders

- 12 x 100mm QR thru-axle, flat mount brake compatible

- Tapered alloy steerer

- Internal cable routing
purchase!
Smoothie HP (Endurance Road Disc)
Specifications and Recommendations:

Frame:
- Seatpost: 27.2mm, Seat collar: 29.8 or 30.0mm
- Front derailleur: 28.6mm, bottom pull
- Rear hub thru-axle: 142mm x 12mm
- Headset SHIS: ZS44/28.6 | EC44/40)
- Max.Tire Fit: 700c x 35mm (certain front derailleurs may reduce tire clearance)
- Min. Tire Recommendation: 700c x 23mm - Max chainring fit: 52-39-30t, 53-39t,
- Bottom bracket shell: 68mm wide, English threads
- Compatible with downtube shifters
- Rear disc brakes: 140mm rotors (160mm w/adapter), Flat mount, use fixing bolt length that fit "10mm chainstays" (could be 23mm or 17mm depending on your brake)
- Also compatible with 57mm reach road rim brake
- Rear rack fitting: We recommend a rear rack designed for short chainstay bikes like our Rakku to reduce heel strike with large bags.
- Recommended fender fit: 37-45mm wide; ideally 10mm wider than tire width
- Maximum weight with rider and cargo: 270 lbs

Fork:
- Rake: 43mm (48mm for size 48cm and 52cm)
- Axle to crown: 380mm
- Disc brake mount type: Flat mount, 160mm max rotors
- Also compatible with 57mm reach road rim brake
- Hub thru-axle: 100 x 12
- Fender mounts on inside of legs
- Max.Tire Fit: 700c x 35mm
- Steerer: Aluminum, so you can use either star washers or a compression (expansion) plug with your headset. 350mm long

Do you have build recommendations for the Smoothie HP?

For most of our frames we usually don't recommend much beyond stay practical and reliable. For the Smoothie HP since it is a little more purpose-built for a certain type of performance, we would recommend faster, lighter wheels and tires with fast rolling casings. They will help you spin up to speed faster and the frame will help you maintain momentum. Not wiggly light wheels; you do want some stiffness for cornering. We think this is more important than deep aero wheels, but build it however you want.