Sandworm ( 26″/ 27.5″ Fat Bike )[RETIRED]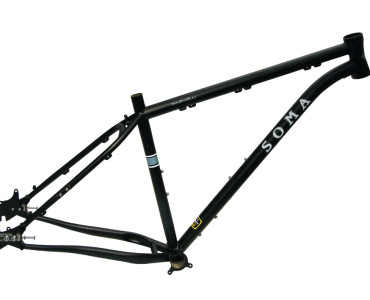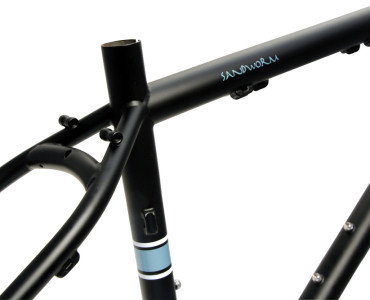 [Retired Model] The Sandworm can tame winter slush or dune buggy trails, but with its geometry borrowed mostly from our Juice frame, it is going to feel most at home conquering dirt trails.

- Tange Prestige and Infinity CrMo steel front triangle; butted CrMo steel in the rear

- Tange/IRD sliding dropouts (standard QR style)

- Belt-drive compatible. A split in the right seatstay lets you slip on a Gates Carbon belt.

- 170mm rear hub spacing (symmetrical chainstays)

- 100mm English threaded BB shell

- Maximum tire size: 26 x 4.0", 27.5 x 3.5", 29 x 3.0" (Panaracer Fat B Nimble 26 x 4.0 on an 80mm rim fits with ample mud clearance with dropouts 5mm from the front of slot)

- Sizes: M(15.5"), L(17.5"), XL(19.5") XXL(21.5") (Center to top)

- Weight: 7.0 lbs. (17.5")

- Paint: Melange Blue, Kingsford Black Matte

- For more specifications, click on the FAQ tab.
purchase!
Sandworm ( 26″/ 27.5″ Fat Bike )[RETIRED]
What tire size should I put on my Sandworm?

This depends on what you primarily want to ride on with it. If you have a trail bike you are perfectly happy with and are just looking for a bike for snow, sand and unusual terrain, start with a 26" wheel with 3.8 to 4.0" wide tires. While 29+ and 27.5+ are fatter than the average MTB tire, they don't offer the floatation needed for optimum rolling over snow and sand.

If you are looking a more confidence inspiring mountain bike, we would first recommend 27.5"+ (650b+). 27.5+ gives you much more traction than a standard 29" x 2.4" tire (since you run them a lower pressures you can expect at least a 50% larger contact patch). it is noticeably lighter and theoretically stronger than a 29+ set up.

29+ is still a viable option, since (thanks to Surly) there are some good options for tires and wheels, though we think 27.5+ options will catch up by 2016.

Specifications:

Fat bikes, if you don't know, use a number of unique specifications that normal mountain bikes don't. Get yourself acquainted with the differences at websites such as www.fat-bike.com before buying your components.

- Seatpost size: 27.2mm (400mm length recommended)
- Seat Collar size: 29.8 or 30.0mm (not included)
- Front derailleur: 28.6mm, cable comes down the seat tube (depending on tires used you may need to run a 1x crank or a Surly 2x OD crank for the chain to clear the tires).
- Bottom bracket shell: 100mm wide, English threads
- Tire clearance: 26 x 4.0" on 80mm rims (Will fit some 4.25" tires, if you don't need mud clearance)
- Rear hub spacing: 170mm OLD
- Rear dropouts: Tange/IRD stainless steel sliding dropouts for quick release. (you can run normal gears, single speed, or hub gears like Rohloff) (Update dropout plates to Paragon's if you want to run thru-axle)
- Machined 44mm headtube (fits tapered steerer tubes using a ZS top assembly and 40.EC44 external cup lower assembly; fits 1-1/8" steerers using a ZS44 headset)
- Chainring clearance: 36/22T double
- Fork compatibility: Ready for 100mm travel Rock Shox Bluto; ideal rigid fork should be 480-486mm with 47mm of rake
- ISCG 05 chain guide/bash guard mount
- Disc Brake Compaitbility: International Standard mount, 160mm rotor
- Two sets of bottle bosses
- Eyelets for rear rack or fender mounting.