Saga Disc Frame Set [RETIRED]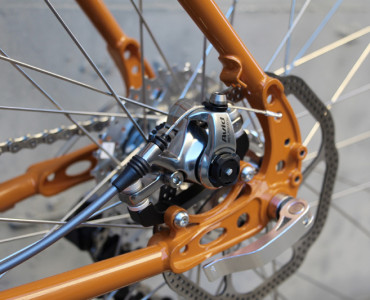 (This version of the Saga Disc was RETIRED in 2016. It was replaced by the Saga DC in 2017 and a new Saga Disc with different sizing came out in 2018) Our robust original Saga touring frame has taken cyclists safely on adventures all over the planet, but some times you'll run terrain and weather where rim brakes might not be totally ideal on a heavily loaded bike. So we bring you the Saga Disc as an option.

- Specially chosen Tange Prestige heat-treated CrMo tubing; 31.8mm butted downtube and top tube for a stiffer front triangle. Larger frames have slightly thicker gauge tubing. Bombproof headtube is nearly impossible to ovalize.

- Longer chainstays and lower BB add stability and keep the panniers out of the way of your heels. Geometry puts the rider in a semi-upright position that is better for all-day riding.

- Disc brake specific dropouts work with ISO mount caliper. Rear brake mounts on the chainstay, so it doesn't interfere with rear rack or fender mounting

- Matching flat crown fork has double eyelets at the dropouts, as well as low-rider mid-leg pannier mounts, and mini rack eyelets.

- Spoke holder, pump peg, flat chainstay plate (fits some double kickstands), and three sets of bosses round out the full touring spec

- Compatible with downtube shifters

- 30mm seat collar not included

- Size 56cm and larger use 700c tires. 52cm and smaller use 26". Size 54cm: you have models for either 700c or 26"

- 26" models can also be used with 650b wheels

- 5.35 lbs (44cm frame)

- Paint: Caramelized Orange
purchase!
Saga Disc Frame Set [RETIRED]
Specifications and Recommendations:

- Seatpost: 27.2mm
- Front derailleur: 28.6mm, bottom pull
- Rear hub spacing: 135mm
- Headset: 1-1/8" exterrnal cup type
- Max.Tire Fit:
700c models: 42mm
26" models: 2.0" (650b x 38mm tires can be used on the 26", but not recommended on 700c sizes).
- Fork rake: 45mm
- Max chainring fit: 52-42-32t 45mm chainline. 53-39t, 48.5mm chainline
- Bottom bracket shell: 68mm wide, English threads
- Compatible with downtube shifters
- Disc brakes: 160mm rotors, International standard mount

TIP

Please look at the FAQ's listed with the regular Saga for more FAQ's that pertain to the both models.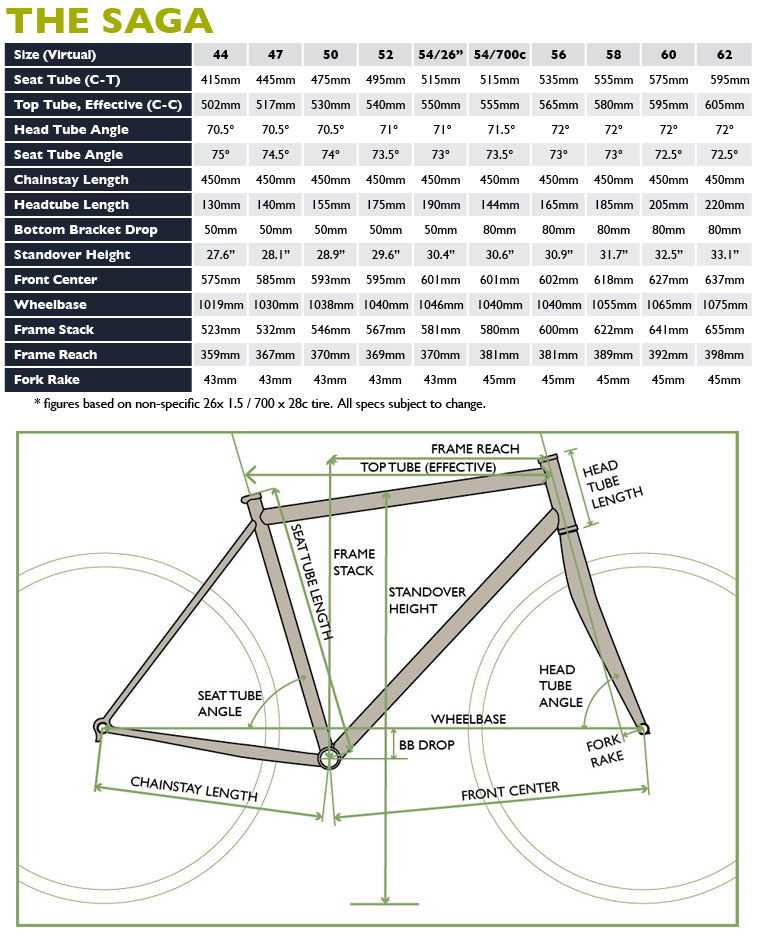 Saga Disc Frame Set [RETIRED]
Adventure Cyclist Road Test: Soma Saga Disc

(Complete review in May 2015 issue of Adventure Cyclist. Video review on YouTube) I've ridden rim-brake bikes and disc-brake bikes, but this was the first time I've had a chance to ride one model in both configurations. The comparison wasn't quite apples to apples — the two Sagas differed as much in how they rolled as how they stopped — but at least we were in the same produce section. It felt like meeting up with an old friend who has "had some work done," as the saying goes. These Sagas look the same, only different.

Back in 2011, the rim-brake Saga was not yet for sale as a complete bike (it is now), but Soma's alter ego Merry Sales included some of the parts necessary for a full build when it sent the frameset for review, and I came up with the rest. Once assembled, the bike proved sturdy, steadfast, and a pleasure to ride, whether loaded or unloaded, and I liked it so much I kept it....

I rode the Saga Disc around hilly, windy Albuquerque, from the foothills of the Sandia Mountains to the Rio Grande and all points in between, and I never missed the traditional triple-ring touring setup on my own Saga, which is only a pound and a half lighter. The SunXCD derailers worked flawlessly with the Silver shifters, SRAM cassette, and IRD crank, and Pun told me that Randonee riders who like this unusual chainring combo report they can stay in the 46-tooth ring most of the time while reserving the 30-tooth ring "for more challenging hills." My experience mirrored theirs.
Like its predecessor, the Saga Disc has three sets of bottle-cage bosses, a spare spokes holder, a pump peg, and a flat chainstay plate suitable for a double kickstand. Soma also has enhanced the Saga's fork with a pair of mounts for a mini-rack like the Soma Champs

When it came time to load the bike up for travel, the Tubus Ergo and Cargo Classic racks swapped right over from old Saga to new. If you like a low-rider rack, you may need a spacer to clear the front brake caliper, depending upon which racks and brakes you choose. Speaking of which, braking with the Avid BB7S-Road mechanical discs was greatly improved (surprise, surprise) over my own bike's IRD Cafam cantilevers with their SM Yokozuna pads. ...didn't notice any fork flex...What I did notice was the same level or all-day comfort I enjoyed while riding my own Saga. I rode both bikes during this review, sometimes in back to back sessions, and found that regardless of how you trick it out., Soma's touring frame set is a real kilometer gobbler, a trustworthy, predictable ride that gives its pilot the confidence and liberty to enjoy scenery as it unfolds.