Saga Frame Set [RETIRED]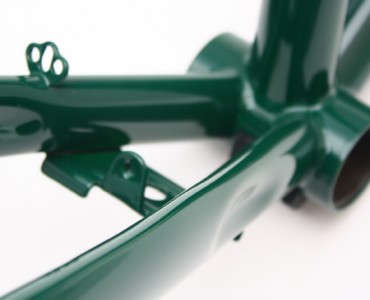 (This model is being RETIRED in 2016. Check out the Saga DC) A touring frame to take you to places far and wide. Built stoutly, because no one wants to experience a breakdown on the Alti Plano. Extra long chainstays help keep your panniers out of the way of your pedaling. Taller headtube for a comfortable all day riding position. In 2015 we added an additional 54cm size for 650b wheels.

- Specially specced Tange Prestige heat-treated CrMo tubing; 31.8mm butted downtube and top tube for a stiffer front triangle. Bombproof headtube is nearly impossible to ovalize.

- Rear load bias touring geometry (rides best with a load in the rear or with a load in the front AND the rear)

- Sold as a frame/fork set. Matching flat crown fork has double eyelets at the dropouts and low rider pannier mounts

- Spoke holder, pump peg, flat chainstay plate(fits double kickstands), three sets of bottle bosses

- Compatible with downtube shifters

- 56cm and larger use 700c tires. The 54cm size offers BOTH options 700c and 650b (26" 54cm discontinued for 2015) and 52cm and smaller are for 26" tires only

- Max tire fit: 700x47c or 26x2.1"

- 1-1/8" size headtube - w/ extra extension so you need less spacers

- 27.2mm post size

- 30.0mm seat collar not included

-Weight: 5.0 lbs. (44cm, frame only)

- Paint: British Racing Green or Navy Blue

-Sizes: 44, 47, 50, 52, 54, 56, 58, 60, 62cm (Virtual sizing; does not go by seat tube length)
purchase!
Saga Frame Set [RETIRED]
Specifications and Recommendations:

- Seatpost: 27.2mm
- Seat collar: 30.0 or 29.8mm
- Front derailleur: 28.6mm, bottom pull
- Rear hub spacing: 135mm
- Headset: 1-1/8" exterrnal cup type
- Max. tire fit: 700c models: 42mm 26" models: 2.0"
- Fork rake: 45mm
- Max chainring fit: 52-42-32t 45mm chainline. 53-39t, 48.5mm chainline
- Bottom bracket shell: 68mm wide, English threads
- Compatible with downtube shifters
- Brakes: Center-pull cantilever or linear pull brakes


Do the wheel sizes vary with frame sizes? If so, how was the standover height determined?

Some are made for 26" wheels, others are made for 700c. Please look at the geometry chart for breakdown. Standover is determined using a 26x1.5" tire or 700cx32c tire.

What's the rear hub spacing?

Rear hub spacing: 135mm

How is the size determined in the geometry chart?

The "size" is not based upon seat tube length. Actual seat tube length is in parentheses.
Saga Frame Set [RETIRED]
Riding the Saga in India

"... the Saga passed the test.....with flying colors. I am not sure what you know about the riding conditions in India, but let me tell you, they are some of the toughest on the planet. The Soma sucked it all up like a vacuum-cleaner, without so much as a shimmy. That said, as I reported in my last correspondence, there was a small bit of "operator error." Ironically, I'd cycled 2,274 miles across India without incident. Unfortunately, on the second to last day, I was hustling to keep my head above the vehicular current, and was passing a motorcycle, before rear-ending another parked motorcycle at about 18mph. This with roughly 100 lbs. of gear on the bike. I assure you that any other bike would have folded. I was left with a bent fork."

Rick. G., Lake Tahoe, NV

A Solicited Saga Review

"In my over 35 years of bicycle touring the Soma Saga stands out among not only off the shelf, but custom built frames. The shorter rear triangle allows sufficient room for my size 11.5 feet while permitting me to stand while climbing. One of the problems with most touring frames is that the chainstays are so long that standing is difficult due to flex. The Saga turns and handles well. I can turn the fully loaded Soma around in a single parking place. Fast downhills show the stability with confidence generating comfort. (We offered BH a Saga frame from us at a discount, so we could get his honest feedback. He is a veteran cyclotourist and retired bike shop manager)"

BH, Ashland, Oregon
Saga Frame Set [RETIRED]
From Paul's Bike Riding Pages

The bike handles as good as it looks. It is much quicker and nimbler than the Surly Truckers yet every bit as rock solid when bombing down a steep hill with 50 pounds of touring gear. Cornering is precise with no tendency to over or under steer. On my 10 day trip over to and down the coast it was a pleasure to ride and comfortable for long days in the saddle. I've been commuting on this bike in all kinds of conditions and it always feels solid and secure. So I got to do my Coast Tour and since then have been riding the Saga as my everyday commuter. I really felt like I had the Cadillac of touring bikes compared to what all the people I met on the coast were riding. I know you can tour on lesser bikes but it really is more enjoyable when you have the right equipment. Even with a custom build the Soma Saga is still in the same price range as the Surly LHT and the Salsa Vaya. While they are all good bikes I really feel the Saga is a cut above in quality.
(Reviewer has owned both LHT and Disc Trucker. Soma did not provide/pay him anything for this review)
Read the complete review: http://bike.paullieberman.net/articles/soma-saga

Adventure Cyclist Road Test - Soma Saga

...the Saga serves up a very stable, reassuring ride... I was very suprised at how well the Saga climbed while loaded – at no point did I feel as though I was wrestling with the bike... adding weight to the front made the Saga track as if on rails. To download the PDF of the two-page review click here.