Pescadero (Endurance Road)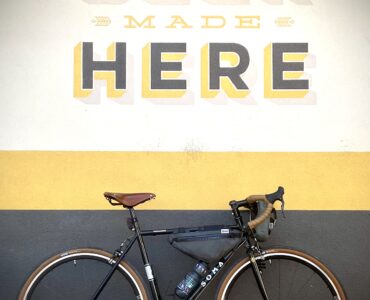 The Pescadero is an evolutionary hop and sidestep to the traditional road sport/endurance road frame. Most of the new "all-road" bikes embracing wider tires are automatically going to disc brakes. And disc brakes are an effective technology that we also adopt on other Soma frames. But what about cyclists who wants the benefits of wider road tires, but want the clean, classic look of a road caliper brakes (i.e. rim brakes) or just prefer how easy they are to adjust and maintain? The Pescadero is for these souls in mind.

Its road sport geometry allows you to ride hard and long with less physical and mental fatigue. A great choice for gran fondos or all day rides on winding country roads. While you can throw on 700 x 28c tires like every other endurance road bike has these days, the Pescadero allows for plusher rubber up to 700 x 38c. - Tange Prestige heat-treated butted CrMo steel front triangle; butted CrMo rear end

- Road sport geometry: Inbetween road race and cyclo-cross bikes in handling responsiveness.

- Rear rack, front mini rack & fender mounts

- Designed for seatstay bridge-mounted road brake with at least 62mm reach. That would include Tektro R559, R369, and Dia-Compe BRS202 dual-pivot brakes, Dia-Compe DC750 center pull, and the Paul Racer (not the Medium). (NOTE: Size 48cm does not have the seatstay cable guide, so its cable routing is good ONLY with dual pivot calipers).

- Lugged crown CrMo steel fork included

- Stiff and light Breezer-style dropouts

- Pump peg on headtube

- 1-1/8" headtube (fits EC34/28.6|EC34/30 headsets)

- 27.2mm post size

- Max. tire clearance: 700c x 38mm

- 6 sizes: 48, 51, 54, 56, 58, 61, cm

- 4.25 lbs. (51cm, frame wt. only)

- In Gloss Black
purchase!
Pescadero (Endurance Road)
Can I do loaded touring and bikepacking on the Pescadero?

Short answer is yes you can.
You can use bikepacking frame bags, seat bags and bar packs. You can install a rear rack, though because of the short chainstays, we recommend getting a rear rack that is long enough to offset your panniers far back enough to avoid heel/pannier clipping while pedaling. (Our Rakku and Deco are long enough for this) Our matching fork has eyelets for mini racks. It is not compatible with pannier racks.

Rear and front loads affect the handling of road frames more than purpose-designed touring frames. For a more pleasant ride experience keep loads in the back under 22 lbs. and front loads under 10 lbs.

Max. weight limit with load and rider: 270 lbs.(123 kgs.)



What are the component fit specifications?

- Brake: Brake bridge mounted center pull or dual-pivot calipers with at least 62mm of reach and recessed mounting bolt.
Gran-Compe/Dia-Compe DC750, Paul Racers(discontinued long reach model), Tektro R559/R369, Dia-Compe BRS-202,(some customers have had luck with 47-61mm reach Gran-Compe GC610 center pull brakes, BUT that may not fit every frame size. No Shimano or SRAM brake will be long enough.) Running a center pull brake on fork requires a 1-1/8" front cable hanger - not included
- Headset: 1-1/8" (threadless external cup: SHIS: EC34/28.6 | EC34/30)
- Front derailleur: 28.6mm ID, bottom pull
- Seatpost: 27.2mm
- Seat collar: Seat binder bolt included
- Hub rear spacing: 130mm, use traditional QR road hubs
- Bottom bracket shell: 68mm wide, English threads (spindle width depends on cranks)
- Max.Tire Clearance: 700c x 38mm (700c x 35mm w/fenders)
- Downtube shifters: Mounts available
- Water bottle bosses: 2 sets
- Rack mounts: one rear set, one front set for mini-racks
- Fender mounts: Front and rear
- Pump peg: for traditional spring loaded frame pumps - Acceptable fork length: 383 - 390mm axle to crown (Stock fork is 383mm axle to crown. Replacing with a longer fork means you might need different brakes)
- Acceptable fork rake/offset: 45-48mm
- Max. weight including rider and cargo: 270 lbs.

Why would I want to run wide tires on a road bike? Can I still run my old 700 x 23c tires on a Pescadero?

There are some studies that say wider can help you ride faster in some road conditions. And there are some that say that is "BS" and that the high-pressure 23/25mm wide tires yield the most speed and least rolling resistance.
We don't want to get into that debate here. You can run skinny 700 x 23c's on any of our 700c bikes and they will work perfectly fine with them.

The general benefits for wider tires is less road vibrations transferred to the rider, greater traction because of the wider contact patch and better maintained speed and control on rougher roads. In the cobblestone road races (like the Paris Roubaix), most pros have moved up to running 28mm wide tires.
Note that the Pesadero has a road bike's geometry with a relatively short wheelbase, so running wider tires will may result in toe overlap with the front tire. On smaller sizes, toe overlap will be more pronounced.. Toe overlap in inconvenient, but usually riders can learn to adapt to riding with its presence safely.


Can I build me a gravel grinder bike with the Pescadero?

Yes and no. You can certainly build the Pescadero with tires made for gravel and country dirt roads and ride them on such roads. And many early gravel racing were done on road bikes or CX bikes similar to the Pescadero. But the geometry of circa 2016 gravel/all-road/adventure road bike seem to be settling on having slacker head angles, more raked out forks and longer chainstays.These features stablilize handling on squirrely gravel. The tighter road sport geometry of the Pescadero will be twitchier on gravel road and dirt trails than a CX bike or gravel bike. But it will give you a snappier road bike feel on the tarmac, which is what we wanted for the Pescadero.

Can I swap a different fork on this baby?

To yield the best fit with the chosen brake options, we chose a fairly unique fork length. If you can find a fork in the 380 to 387mm length range (axle to crown) with a design you like, go for it. But we don't know any frame or fork maker using our particular specs. Slapping a CX or gravel length fork on this frame will slacken the frame head angle noticeably. While it would not be dangerous to ride, the bike won't handle as designed.

We will be stocking replacement forks in case of warranties or crash damage.

Can I do a 650b wheel conversion on the Pescadero?

No you cannot, because of the particular brake reach it is designed with. But the Pescadero offers the cushy tire width options of most common 650b road tires, so a conversion would yield limited benefits.
Pescadero (Endurance Road)
Randonneuse Spirit

"My main bike is my Soma Pescadero, old school allroad bike (randonneuse spirit). Built for fun, not commuting, but it happens to be a fine commuter too."

Arph, City, France

Forever Bike

"I've put about 6,000 miles on my SOMA Pescadero fully dressed in VO stainless fenders, panniers, wheels, cranks and chainrings. I'm usually carrying my daughter and 35lbs of work gear on 32mm tires. It's the first forever feeling touring bike I've ever ridden. (from Velo Orange blog)"

Anonymous, ,

"The Pescadero remains my primary commute/transportation bike. I take it on the BART from Fruitvale Station in Oakland 5 days a week and frequently ride between downtown Oakland and the Lake Merrit area and home (around 5 miles each way). I haven't had the opportunity to do many longer rides on the bike but would like to (I fantasize about credit card touring down the coast with my wife sometime). I mostly very happy with the bike and how I have it set-up (hwy1 bar/soma crane stem/Paul brakes/soma demi-porteur rack/full fenders/F+R generator lights/35mm tires/medium swift rando bag and occasional saddle bag). My only real gripe about the frame is that i wish there was a bit more fender/tire clearance between the rear seat-bridge and rear wheel. the front clearance is just adequate with the 35mm tires and fenders but the rear end could use another 5mm in that spot. the tire clears but it is very very tight and subject to rub at the first fender loosening or distortion. "

Joel, Oakland, CA

"I use my Pescadero almost exclusively for long distance rides. I've ridden it on a few SFR rides and it always catches the attention of the folks I'm ridding with and usually garners responses ranging from "I didn't know Soma made a bike like that" to "wow that looks perfect for this ride". To date I have just shy of 950 miles on the bike with most of those miles coming on 200-300K rides, and I'm happy to report that the Pescadero is really very nice to ride. I've found that it holds it's line on the road even while the front end is loaded down, and the bike descends well at both slow and high speeds. "

Nolan, SF, CA