New Xpress 27″ Tire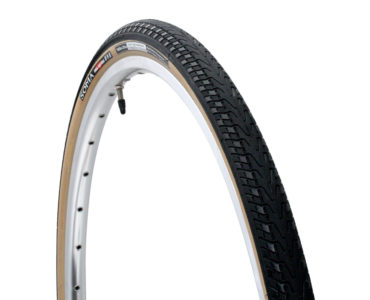 A 27" road tire that has flat resistant casing layer AND also give an reasonably supple ride. - HyperTex casing layer - tough like Kevlar, but more supple so it won't ride like a brick. Cut resistant and pinch flat resistant. Smooth inner surface for less tire to tube rubbing.
- Low rolling resistance
- Long lasting high carbon tread
- Skinwall
- Steel bead
- Made in Japan by Panaracer
Available in 27 x 1-1/4" and 1-1/8"

purchase!
New Xpress 27″ Tire
What are the available sizes and colors of New Xpress tires?

New Xpress 27" Skinwall
Widths: 1-1.4", 1-1/8"
Bead: Steel
Tread Color: Black Tread with skin sidewall

New Xpress 650b Skinwall
Width: 38c
Bead: Kevlar
Tread Color: Black, Terracotta,
New Xpress 27″ Tire
New Xpress In Bicycle Times Magazine

I've run multiple sets of Soma's New Xpress tires on my personal bikes over the past several years. They mount easily, last a long time, and provide predictable traction—wet or dry.They do seem to last longer than T-Servs or Paselas, and I haven't noticed any negative effects from the New Xpress' harder compound. Flats have been few and far between, despite my predilection for bouncing over railroad ballast, blasting through potholes, and grinding out miles over unimproved roads.These rugged tires feel plenty supple for everyday use. [Aug. '11]