Highway One Drop Bar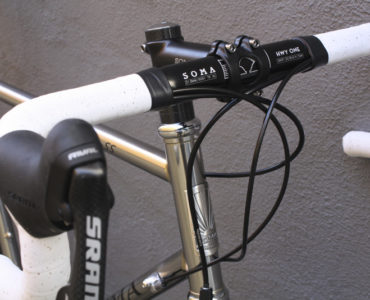 The Hwy One has a round compact bend and shallow drop. Shape makes it easy to get into a natural position in the drops and brake levers are within easy reach.

- 6061-T6 aluminum
- Drop: 130mm
- Reach: 75mm
- 26.0 or 31.8mm center
- Single groove
- Black or silver polished finish
- 38cm to 46cm (measured center-to-center)
purchase!
Highway One Drop Bar
Great option for putting compact ergonomic bars on a vintage bike

"I got these 26 mm Soma Hwy One bars (44 cm width) and paired them with the 26 mm Nitto quill stem on my old steel road bike from the 80s. The bars slid into and through the one-bolt clamp of the quill stem easily. I did not have to use force, just a little rotating and puzzle solving to slide it in. Although the bars are ergonomic in the drops, the curves are still smooth (no sharp corners), making it possible to maneuver them through the old style stem clamp. I am so happy now that I have wider bars with shorter reach and more comfortable drop positions! The ergonomic shape of these bars makes it very pleasant to ride with your hands on the forward curve of the drops as well as down on the back of the drops (especially for hill climbing). I installed aero brake levers, and these bars had a convenient indentation for routing the cable around the inside of the handle curve. I paired these with bar-end shifters with the cables coming out in the traditional forward direction one hand-hold length in on the drops, and there's still plenty of room for my large hands in any position, without bumping into the protruding shifter cable. Also, they are much lighter and stiffer than my old steel drop bars; I didn't think that would be noticeable when riding, but it definitely is! Note that if you replace traditional drop bars with these, you *will* shorten your reach, which results in sitting more upright. This is more comfortable for long-distance riding, and I am preferring it so far, but if you want to stay bent over in the same position then you may have to look into a slightly longer stem. Also, for aesthetics, the shiny metalic/silver part that remains exposed is REALLY classy looking, especially paired with a silver shiny aluminum stem."

Jeff W, Ithaca, NY

Testimonial Title

"This was one of the only options for a short reach shallow drop bar in a modern compact curve with a 26.0 clamp diameter. Offers a more versatile/usable drop position for a regular person kind of rider and looks great on a classically styled steel road frame with a quill stem without needing to go to a goofy threadless adapter. If I were to want any changes it would be a flatter top section and a 38cm option for my narrow shouldered lady friend."

Nizle, City, From Jenson's

Testimonial Title

"I've got the Hwy One on my RB1 with TRP RRL brake levers and I love the setup. The TRP levers have extended hoods like found on most integrated shift/brake levers. It's a great benefit on these bars as the ramps are very short. I like all positions on the hwy ones, but find the hooks in particular super comfy."

Acoffin, City, From Bike Forums

"The Soma Highway one are excellent bars and I bought a pair because they had the criteria I was looking for shallow drop short reach 26.0 bar clamp (I think they might have OS too?) silver color (I think they come in black too?) flat ramps for a smooth transition to my Cane Creek SCR 5 brake levers"

Camilo, , From Bike Forums

Nice handlebar. Pretty finish.

" Classic looking finish with modern dimensions. Nice to find a bar with short reach and shallow drop that will accomodate 31.8 stems. If you favor a classic look then this should definitely be a consideration.

Pros: Good quality, finish and nice price. Also nice to have a modern shaped bar with a silver finish.

Cons: None really."

Rod C., ,

Great For Small Hands and even Kids

"These bars are perfect for kids(9 up) hands. A lot of 24 inch wheel road bikes come with narrow bar but the reach & drop are too big & make reaching the brake/gear levers difficult. These bars bring the levers closer & with some brake lever shims make operating the brakes much easier. Also well made, light & cheap at £35."

Kingo, , UK

From SJS Cycles customer

"I've been looking for a compact 26mm bar for a while. Tried a couple of short reach Nitto bars but this is easily the most comfortable, every part of the bar falls readily to hand including drops. At this relatively low price, finish is maybe not quite up to Nitto standard, but the bit you see is nicely chromed so looks great when taped up. Pleasantly surprised and would fully recommend if you want something with modern road bike feel but retro looks."

Math, , UK

Soma HwyOne on Darth Rivendell

"The Shimano STI controls were too far away on the Nitto Noodle bar, so a shiny new Soma Hwy One bar brings them back.
This 26.0mm compact bar in silver is just the thing for classic bikes with integrated controls. And the finish is beautiful - it's remarkably similar to the Nitto Pearl stem.
This bar is perfect!"

Ed B., ,
Highway One Drop Bar
Seven Day Cyclist (UK) Reviews the Hwy One

The Soma Highway 1 Bar is a competitively priced, compact drop handlebar. One that comes in a decent choice of widths, two diameters and a choice of silver, or black finishes. Riders with shorter torsos, reach and smaller hands, arguably benefit most. However, as I discovered, the Highway 1 are a good option, if drops are your default, but you don't fancy going too low. ​ Pros: Lightweight, well made great shape. ​ Cons: Single cable groove may be a turn off, for some. Excerpt: "Contact points, are particularly subjective things. I've found the shape perfect. for my design brief. The curves fall naturally to hand and make for a comfortable default, while keeping the brake lever in easy reach. ​ Rigidity is excellent, although, compared with their Condor, or an MTB biased design, some very minor, flex was discernible. Riders nudging 85, maybe 90 kilos may tell a different story. However, this was very subtle and only apparent, when sprinting along sharp climbs, with my full weight pressing down. I've equalled my 42mph record, along a local 1in7 descent. Flicking around holes, broken glass and similar hazards, was effortless, due in part to their width and increased leverage. ​ Though this bike was built with 25mile, TT paced distances in mind, the additional positions were welcomed on rides around the 40-mile mark and battling strong headwind. (although there were times, I was tempted to add a cyclo-cross style "interrupter" lever, when cruising on the tops). ​ Width-wise, the 46cm are absolutely bang on, for my needs, and there's ample real-estate for computer, lighting and bar cam. Riders looking to sneak through the smallest gaps in traffic, will want to go narrower.