Grand Randonneur Disc Frameset (Randonneuring / 650b Endurance Road Disc)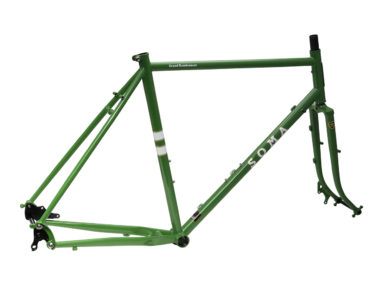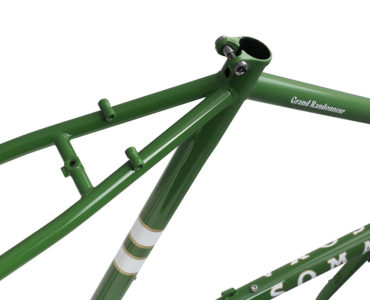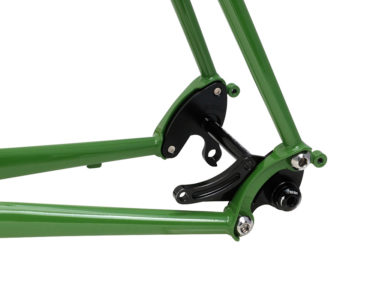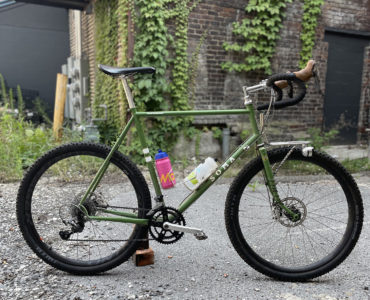 The Grand Randonneur is a svelte road frame optimized to carry a front load. We have equipped it with rear rack mounts, but it feels best with a loaded front mini rack or a handlebar bag.

The version 3 of the "Grando" makes quite a few updates:

• The geometry is still low trail in the front, but we have tried to make the handling slightly more stable than version 1 and 2.

• We have tweaked the tubing mix to add stiffness at the bottom bracket, while keeping this frame still our lightest model.

• We have modernized parts of it: Adding IS disc mounts and thru-axle hubs compatibility. And of course everyone wants just slightly more tire clearance.

• With its skinny steel tubes and 1" threaded lugged crown fork it still has the vintage road bike look.



Specifications:

• Tange Prestige CrMo tubes, double-butted

• Threaded 1" lugged crown fork is equipped with low rider pannier bosses, mini rack eyelets and double eyelets at the dropouts. Thru-axle hub compatible. IS disc mounts

• Designed for 650b wheels

• Max. tire fit: 650 x 47mm semi-knob tire
(Max. fender width: 50mm)

• Tange Modular rear dropouts: Stock set up is for 142mm x 12mm thru-axle with IS disc mounts. Alternative styles available thru Tange/Long Shen.

• Rear rack and fender eyelets

• Pump peg at headtube

• Two sets of water bosses

• Headset type: 1" ISO Threaded external cups(EC30/25.4 | EC30/26) (Needle/Roller bearings recommended)

• Seatpost fit: 27.2mm

• Weight: Frame: 4.5 lbs Fork: 2.45 lbs

• Paint: Moss Green
purchase!
Grand Randonneur Disc Frameset (Randonneuring / 650b Endurance Road Disc)
Specifications and Recommendations:

- Headset: 1" threaded, external cup, 26.4mm crown, (needle bearing or roller bearing-equipped headsets highly recommended for low trail forks)
- Seatpost: 27.2mm
- Front derailleur: 28.6mm, bottom pull
- Rear hub type: 142 x 12mm thru-axle
- Front hub type: 100 x 12mm thru-axle
- Tires: 650b x 38 to 47mm
- Fork rake: 65mm
- Max chainring fit: 52-42-32t 45mm chainline. 53-39t, 48.5mm chainline
- Bottom bracket shell: 68mm wide, English threads
- Brake compatibility: IS mount disc, 160mm rotor
- Compatible with downtube shifters
- This type of bike rides best with a front load. You can ride it unloaded, but it will take time to get used to the steering qualities of a low trail geometry. See FAQ entry on "Things to Know About Riding A Low Trail Bike"

Things To Know About Riding A Low Trail Randonneuring Bike

There are growing ranks of cyclists who prefer a low trail bike, primarily because of the way it handles with a medium front load like a handlebar bag. The Grand Randonneur and bikes like it have a fork offset 20mm or more than the average road bike. While road bikes have a trail number of 55-65 and mountain bikes have a trail numbers 70 to 90mm, the Grand Randonneur has a trail number of about 44 to 48mm.

A properly designed low trail bike, when carrying a load up front, responds less to the weight while steering. The basket, bag, or pannier won't yank on the bars as much, especially when initiating turns.

The Grand Randonneur uses lighter tubing than our other road bikes and a fork with a more pronounced bend to create a more comfortable ride over long distances. Because of that and the low trail design, we don't recommend it for fully loaded touring. It is a performance bike designed for carrying a light to medium front load at speeds in relative comfort over long distances.

A low trail bike is not necessarily a great fit for every rider and their bike needs

These GENERAL observations from Bicycle Quarterly and others may help you determine if you want to try it out and help fine tune the ride of your bike.
1) Low trail bikes ride best with tires at least 650b x 36mm wide and preferably at lower tire pressure (55-60psi). Some claim 42mm is ideal. (If using 700c, a 28c or wider tire may be better.)
2) Low trail bikes handle differently than most bikes you've tried. Without a load in front the steering feels light especially at low speeds. It may take just one long ride to get used to it or weeks or months – depends on the rider.
3) Low trail bikes feel hard to maneuver at slow speeds, but more intuitive at high speeds. Not as good as a high traii bike on tight switch backs and singletrack. But more controllable on speedy corners and on steep climbs it is easier to hold a straight line. 4) Low trail means the bike handles a front load better than typical (low trail/high trail) bikes. You don't have to fight the load as much when riding. But low trail also means it handles poorly if you only carry a load in the rear. If you need to carry items on other parts of the bike, consider a frame bag. And if you do opt for a rear rack and panniers, distribute weigh 60% front / 40% rear.


Don't low trail bicycles suffer from "fork shimmy"?

Some riders with lightweight low trail bikes do experience varying levels of fork shimmy (aka speed wobble) during speedy descents. (Shimmy can also occur on common mid trail road bikes, too.)

Cycling Tips gave this wonderful "Star Trek" definition of what causes shimmy. "When shimmy does occur, it's a case of the bike-and-rider system oscillating at its 'resonant frequency' — the system's natural frequency of oscillation, as determined by the physical parameters of that system. Think of the sound a crystal glass makes when you run a wet finger around its rim — this is another example of a system vibrating at its resonant frequency."

There isn't a consensus on what causes it or how to get rid of it. Some riders seem more prone to it than others. Some say that shivering on a cold day or gripping the bars too tightly can set it off. To get it to stop try making a slight change in how you are riding. If your hands were off the bar, put your hands back on. If you were gripping the bars tightly, maybe relax your arms. Resting your knee on the side of the top tube also may dampen the frame's oscillations and lower it from its "resonant frequency".

Installing a roller bearing (aka needle bearing) headset may help get reduce it. Some say to avoid putting your seat too back or raising the bars higher than the saddle can also help reduce its incidence.