Fog Cutter v.1 (Endurance Road Disc) [RETIRED]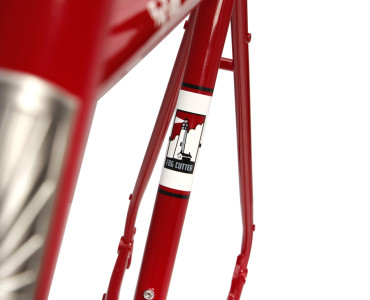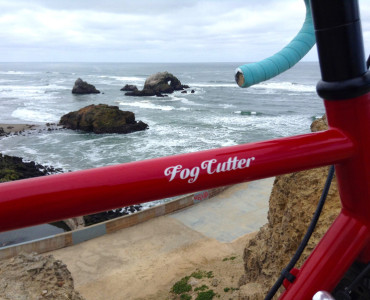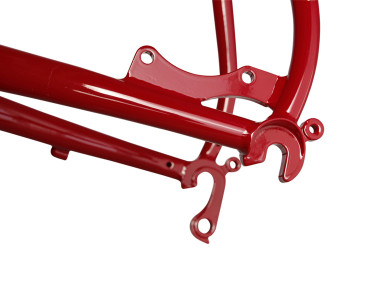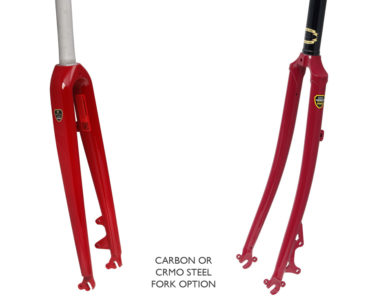 The Fog Cutter is an endurance road/road sport design. We designed it to fit fatter tires, but its geometry makes it handle like a road bike rather than CX or gravel bike. It can float you over chewed up asphalt better than most bikes in this category. This is the frame you want for long days in the saddle and the most demanding commutes.

- Tange Prestige double butted CrMo steel front triangle; butted CrMo on rear triangle; heat treated throughout

- Road sport geometry

- Rear rack & fender mounts

- International disc mounts (rear mount is located on the chainstay for stiffer performance and also keeps the caliper out of the way of rear racks)

- Fork options: Matching straight blade carbon fork w/ aluminum steerer or lugged CrMo steel fork w/CrMo steerer

- Tire clearance for 700c x38mm with fenders (some front derailleurs will limit tire clearance) and 650b x 42mm - 1-1/8" headtube (fits EC34/28.6|EC34/30 headsets)

- 27.2mm post size

- 7 sizes: 48, 51, 54, 56, 58, 61 and 66cm

- Weight: 4.25 lbs (48cm); 4.5 lbs. (58cm)

- Paint: Rosso Red

(Matching aluminum fenders available as an option)
purchase!
Fog Cutter v.1 (Endurance Road Disc) [RETIRED]
Can I do loaded touring and bike packing on the Fog Cutter?

Short answer is yes you can.
You can use bikepacking frame bags, seat bags and bar packs. You can install a rear rack, though because of the short chainstays, we recommend getting a rear rack that is long enough to offset your panniers far back enough to avoid heel/pannier clipping while pedaling. (Our Rakku and Deco are long enough for this) Our matching forks do not have rack fittings, but the steel fork can work with mini racks that come with P-clampsNeither fork will work with pannier racks.

Rear and front loads affect the handling of road frames more than purpose-designed touring frames. For a more pleasant ride experience keep loads in the back under 22 lbs and front loads under 10 lbs.

Max. weight limit with load and rider: 270 lbs.(123 kgs.)



Specifications and Recommendations:

- Rear rack fitting: IMPORTANT-- We recommend that racks to be mounted to the eyelet on the dropout. The eyelet on the side of the lower seatstay is mainly for fenders. If you choose to mount a rack to the lower seatstay eyelet keep loads to a maximum 15 lbs (10 lbs. if you go off road)
- Seatpost: 27.2mm
- Front derailleur: 28.6mm, bottom pull
- Rear hub spacing: 135mm
- Headset: 1-1/8" exterrnal cup type (SHIS: EC34/28.6 | EC34/30)
- Max.Tire Fit: 700c x 42mm (38mm with fenders)
(650b x 47mm tires may also fit).
- Min. Tire Recommendation: 700c x 20mm, 650b x 38mm - Fork rake: 43mm on 54-61cm frames; 48mm on 48-51cm frames
- Recommended fork length: 390-400mm - Max chainring fit: 52-39-30t 45mm chainline. 53-39t, 48.5mm chainline
- Bottom bracket shell: 68mm wide, English threads
- Compatible with downtube shifters
- Disc brakes: 160mm rotors, International standard mount


What kind of forks are compatible with the Fog Cutter?

Even though we call this a road bike, we built the frame around a cyclo-cross length fork. So anything 390-400mm in length with a 44mm rake will work as designed. (48/50mm rake for the 48 and 52cm size) We do make a robust matching straight blade carbon fork for this frame, but you can run our lugged CX Disc Fork or Straight Blade CX fork. Or a third party CX fork. It needs to have a 1-1/8" steerer though. Road forks will be too short for this frame.
Fog Cutter v.1 (Endurance Road Disc) [RETIRED]
Tayguerr on Reddit: First impressions

"So I finished the build about a week ago and I'm really enjoying it so far now that I've gotten it adjusted to my liking. I ended up throwing some 28mm Conti Grand Sport Races as my tire choice. On the grail rims, they measure more like 29.5mm. Being that I'm riding solely on pavement, I'm kind of glad I didn't go wider as they seem to be a very nicely balanced between my 23c road bike and higher volume cross tires. As far as the ride is concerned, it's pretty great. The bike came out around 21lb and feels fairly light but also solidly planted to the ground. The handling is fairly quick and responsive with a 47mm offset fork (it's a 48mm frame). Toe overlap isn't quite as bad as some of my other frames due to the slightly slacker head angle on the smaller frame sizes. The slightly shorter top tube, tall head tube, and positive stem angle give it a much more upright position compared to some of my other bikes, despite the lack of spacers under the stem, which is great since I'm not too fond of the long steer tube look."

Tayguerr, ,

THE FOG CUTTER IS A FAST ROAD GRAVEL MACHINE (From a Western Bikeworks customer)

"I love this bike. It's well designed and much lighter than similar CrMo steel frames from brands like Surly or All-City. I bought it because I was looking for a bike that could function well as a fast commuter, winter road trainerrain bike, and gravel adventure bike.

Pros the ride is fun and pretty snappy (not upright and sluggish like some other all-roadadventure frames), you can hang in the paceline and also ride trails and gravel roads confidently on the same bike, fender mounts on frame fork (the carbon fork has recess for fork crown daruma), tire clearance -

fits fenders with 700c x 33s and 650b x 47, disc brakes make swapping wheel sizes really easy, the paint scheme is sharp.

Cons no frame pump peg, paint chips easily, carbon fork is relatively heavy due to aluminum steerer"

Goose, Portland, OR