Fog Cutter Frame v.2 (Endurance Road Disc)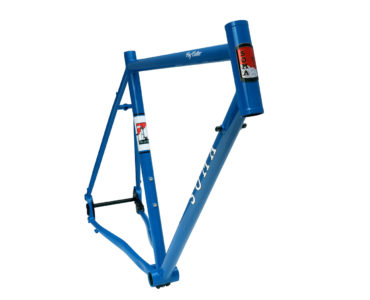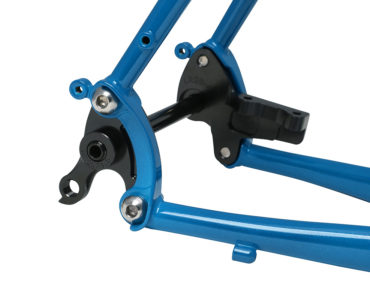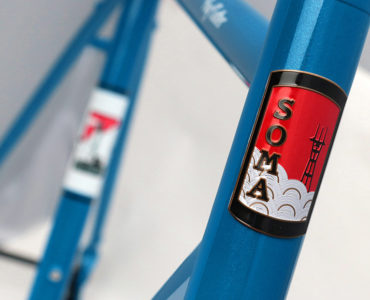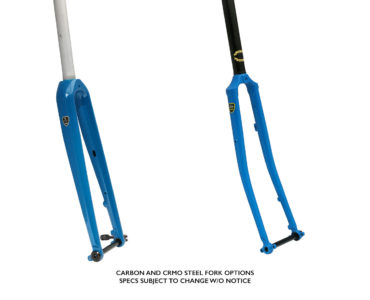 The Fog Cutter is an endurance road/road sport design. This is the frame you want for grand fondos, long days in the saddle and the most demanding commutes. We designed it to fit wider road tires and fenders, but its geometry makes it handle like a good road bike rather than CX or gravel bike or hybrid.

• Tange Prestige double butted CrMo steel tubing; heat treated throughout

• Road sport geometry

• Rear rack & fender mounts

• Tange Modular dropouts. Stock setup is for 142mm thru-axle hubs and flat mount disc brakes. Alternative styles available thru Tange/Long Shen.

• Fork options: Matching straight blade carbon fork (flat mount disc, fits 12 x 100 thru-axle hub, fender eyelets, alloy steerer) or lugged CrMo steel fork (flat disc mount, fits 12 x 100 thru axle hub, mini-rack bosses, fender eyelets, CrMo steerer)

• Tire clearance for 700c x38mm with fenders (some front derailleurs will limit tire clearance) and 650b x 42mm

• Fits 1-1/8" headset (EC34/28.6|EC34/30 headsets)

- 27.2mm post size

- 7 sizes: 48, 51, 54, 56, 58, 61 and 66cm

- Weight: 4.45 lbs (48cm); 4.75 lbs. (58cm)

- Paint: Cerulean Blue
purchase!
Fog Cutter Frame v.2 (Endurance Road Disc)
Specifications and Recommendations:

- Rear rack fitting: IMPORTANT-- We recommend that racks to be mounted to the eyelets located on the DROPOUT. The eyelet on the side of the lower seatstay is intended for fenders. If you choose to mount a rack to the lower seatstay eyelet keep loads to a maximum 15 lbs (10 lbs. if you go off road) The Dropout eyelets can handle loads of 60 lbs when used on roads.
- Seatpost: 27.2mm, Seat collar: 29.8 / 30.0mm
- Front derailleur: 28.6mm, bottom pull
- Rear hub spacing: 142mm x 12mm
- Headset: 1-1/8" exterrnal cup type (SHIS: EC34/28.6 | EC34/30)
- Max.Tire Fit: 700c x 38mm with fenders
(Some 700c x 42mm and 650b x 47mm may fit. NOTE even though the frame can fit tires as large as mentioned, because of the road bike geometry, you may experience some toe overlap with the front tire on some frame sizes if you use extra wide tires)
- Min. Tire Recommendation: 700c x 20mm, 650b x 38mm
- Recommended fork length: 390-400mm
- Max chainring fit: 52-39-30t (45mm chainline). 50-34t (41.5mm chainline)
- Bottom bracket shell: 68mm wide, English threads
- Compatible with downtube shifters
- Rear disc brakes: 140mm rotors, Flat mount, use fixing bolt length that fit "10mm chainstays" (could be 23mm or 17mm depending on your brake) (fits up to 160mm with adapter)
- Fork rake: 48mm
- Carbon fork disc mount: Flat mount for 140mm rotor; use adapter to fit 160mm
- CrMo fork disc mount: IS mount(pre-2023), Flat mount for 140mm rotor (2023-); use adapter to fit 160mm
- Maximum weight with rider and cargo: 270 lbs

What forks can I used on the Fog Cutter?

You can choose a third party fork or one of our color-matched options. (If you are buying a 66cm frame, our CrMo fork is your best option, since most carbon forks do not come with a long enough steerer to work with the tall headtube on that size frame.)

-- If you want to choose a third party option, please look something with the following specs. 1-1/8" non-tapered steerer, 390-400mm axle to crown length, and of course something that will fit the bike hub on your front wheel. 48-50mm rake is ideal. 44mm rake is acceptable. Please follow their instructions carefully.

-- Our carbon fork that takes flat mount disc brake and 12 x 100mm thru-axle hubs. Thru-axle is included. The alloy steerer allows you to uses about 60mm of headset spacers safely. Native for 140mm rotors. Use adapter to fit 160mm

-- Our CrMo steel fork for 2023 takes flat mount disc brake and 12 x 100mm thru-axle hubs. Thru-axle is included. Native for 140mm rotors. Use adapter to fit 160mm

Can I do loaded touring and bike packing on the Fog Cutter

Short answer is yes you can.
You can use bikepacking frame bags, seat bags and bar packs. You can install a rear rack, though because of the short chainstays, we recommend getting a rear rack that is long enough to offset your panniers far back enough to avoid heel/pannier clipping while pedaling. (Our Rakku and Deco are long enough for this) Our matching forks do not have rack fittings, but the steel fork can work with mini racks that come with P-clampsNeither fork will work with pannier racks.

Rear and front loads affect the handling of road frames more than on purpose-designed touring frames. For a more pleasant ride experience keep loads in the back under 22 lbs and front loads under 10 lbs.

We do not recommend the Fog Cutter for extended off-road touring or bike packing. We make other models that are better suited for those uses.

Max. weight limit with load and rider: 270 lbs.(123 kgs.)

How is the cable routing on the Fog Cutter?

The Fog Cutter runs shifter cables and the rear brake externally along the downtube. We believe that bicycles with with internally routed create maintenance headaches that outweigh their benefits for this type of bike. The frame is compatible with old school downtube friction shifters. A nylon plastic cable guide is screwed into the bottom bracket shell. The matching carbon fork has internal routing. Cable guide braze-ons need C-clips(included) or zip-ties to hold the cable housing to the frame.

1) If you are not using downtube friction shifters, you need to purchase downtube cable stops to cover the bosses and to create an guide point for running cables.

2) We recommend sheathing exposed shifter cables on the downtube and bottom bracket with Teflon cable liner. These are inexpensive and helps keep the cables from a build up of dirt and grease on the plastic cable guide. Also reduces corrosion if you are not using stainless steel cables.

3) It is common on bikes that cable housing can rub on the paint of the bikes when you turn the bars. We recommend getting stickers (cable dots, frame protection tape) applied in areas you see rub.
Fog Cutter Frame v.2 (Endurance Road Disc)
Never going back to 23c tires

"Chose the Soma Fog Cutter for long distance rides and a 12 mile commute on crappy roads. Wanted to go with a steel frame for durability, and honestly just because I like the look and don't care about the extra weight. Went with a 1x set up for the simplicity and am loving it so far. And the 32c wheels might be the biggest game changer… Ill never go back to 23's. I am coming from a 1984 Team Fuji road bike that I was riding quite a lot, so almost every aspect of this new bike is a huge upgrade for me."

Colonel Mustard on Reddit, Candlestick, Parlor Room

Wonderful

"The Soma Fog Cutter is a WONDERFUL riding bike! I've been on carbon so long I had forgotten how truly nice steel is. Add some chubby gravel tires and you are ready for one mellow ride. Gorgeous paint, fender and rack dropouts galore. Just wish it was TA instead of QR. (Testimonial is for a Fog Cutter V.1)"

PDX King, Portland, OR

Fog Cutter with 650b tires and low trail fork

"Riding my Fog Cutter [with Soma's low trail disc fork] is an exercise in forgetting the bike completely as I flow through the countryside, or maneuver around potholes on crowded Atlanta streets, or tick and tie up a steep gravel climb – the geometry creates a bike that handles as if it's directly connected to my brain – unlike any other bike I have experienced. Low-trail may not have reached the lofty heights imagined by Bicycle Quarterly but I believe it's here to stay and worth exploring, for many riders..... There are only the most minor handling changes with a rack and moderate 5-11 pound load. Steering slows slightly and the bike wants to lean a little more but it's still quick, precise and intuitive. I acclimated to the front load almost instantly and larger loads ~20 pounds create a larger change but it's the same small incremental differences. At this point I've done a 240k ride with overnight touring load, 3 rides 200k and longer and 8 rides over 150k with my average ride time for the bike at 4 hours and 17 minutes. Currently I'm at 4300 miles, 296 hours, 69 rides over almost exactly 8 months of riding. (https://drandalls.wordpress.com/category/soma-fogcutter/) (This is a review of the Fog Cutter v.1)"

Dr. Randall, Atlanta, GA

THE FOG CUTTER IS A FAST ROAD GRAVEL MACHINE (From a Western Bikeworks customer)

"I love this bike. It's well designed and much lighter than similar CrMo steel frames from brands like Surly or All-City. I bought it because I was looking for a bike that could function well as a fast commuter, winter road trainerrain bike, and gravel adventure bike.

Pros the ride is fun and pretty snappy (not upright and sluggish like some other all-roadadventure frames), you can hang in the paceline and also ride trails and gravel roads confidently on the same bike, fender mounts on frame fork (the carbon fork has recess for fork crown daruma), tire clearance -

fits fenders with 700c x 33s and 650b x 47, disc brakes make swapping wheel sizes really easy, the paint scheme is sharp.

Cons no frame pump peg, paint chips easily, carbon fork is relatively heavy due to aluminum steerer (This review was for the Fog Cutter v.1)"

Goose, Portland, OR

So far so good

"I'm really enjoying it so far now that I've gotten it adjusted to my liking. I ended up throwing some 28mm Conti Grand Sport Races as my tire choice. On the Grail rims, they measure more like 29.5mm. Being that I'm riding solely on pavement, I'm kind of glad I didn't go wider as they seem to be a very nicely balanced between my 23c road bike and higher volume cross tires. As far as the ride is concerned, it's pretty great. The bike came out around 21lb and feels fairly light but also solidly planted to the ground. The handling is fairly quick and responsive with a 47mm offset fork (it's a 48mm frame). Toe overlap isn't quite as bad as some of my other frames due to the slightly slacker head angle on the smaller frame sizes. The slightly shorter top tube, tall head tube, and positive stem angle give it a much more upright position compared to some of my other bikes, despite the lack of spacers under the stem, which is great since I'm not too fond of the long steer tube look."

Tayguerr, City, State
Fog Cutter Frame v.2 (Endurance Road Disc)
Review by Lions Cyclery owner (Size 48cm)

What I ended up with was the Fog Cutter frame which comes in at a respectable 1900 grams in size 48. Soma also lists the 58 at 2050 grams so being a 56, mine weighs somewhere in between the two. I opted for the carbon fork, though there is a lugged steel option available for a more classic look.

The bike features matching fenders, hand-built Velocity Aileron rims laced to All City Go-Devil hubs in polished silver. The Crankset is a square taper Rene Herse for that classic aesthetic and performance, plus the square taper bottom bracket can take all kind of abuse from the elements.

FIRST IMPRESSIONS

I had ridden steel bikes before, but never a road bike so coming from a carbon bike with carbon wheels and race geometry it took a few kilometers to adapt to the handling and road feel. The best way to describe the ride quality on the Soma is 'plush'. The carbon bike dampens vibration, but in a micro fashion whereas the Soma feels like it has better macro road feel if that makes sense. basically the ride is smooth throughout and less jarring on larger bumps than a carbon bike. It take a little more to get the bike up to speed, but once at speed it rolls along with smooth momentum. The other thing I was amazed with is how easy it was to keep at speeds similar to my carbon bike, and that is with full coverage fenders. I instantly fell in love with the braking performance. It just takes less planning and thought.

OVER TIME

I have come to really enjoy riding this bike more and more every time I swing a leg over it. The fenders and components I chose mean I can ride it in all weather conditions and it handles on gravel with no problems; not to mention I could put much wider tires on if I desired and that would make it even more capable off-road. There have been so many 'a-ha!' moments while riding this bike. I once decided to shift into the small ring under load over a bumpy surface and the chain got stuck in between the chain stay and the chain ring. I pulled it out re-mounted the chain and as I was riding away I realized if that had happened on my carbon bike I would have been stressing out about frame damage.

Speaking of stress I do not feel the need to baby this bike at all. No good spot to lean the bike at a rest stop, no problem. Just lean the bike on the ground drive side up and you are golden. I still wash this bike as nothing beats the feeling of riding a shiny bike, but I do not feel pressured to wash it as often as other bikes I own.

On the topic of vanity, the classic looking paint job and polished silver components I chose means I get far more second looks riding this bike, than I do my carbon race bike. which brings me to my next point. The great thing about Soma is they give you the ability to build 'your' bike at a price point that is hard to match. When you ride a bike that you picked out piece by piece you feel a lot more sentimental about it than an out-of-the-box bike.

The only real complaint I have about the bike thus far is that with 700c wheels and fenders you really have to be cognizant of toe overlap when cornering at slower speeds or track standing at a red light. I do not have massive feet (size 43) and my crank length on this bike is 171mm so it is a pretty standard set up. That being said once you are aware of it it becomes less of a problem. I would imagine this is mainly a result of the fenders and I love the geometry the way it is so I would hate to see the front end change at all.

IN CONCLUSION

If you are looking for a classic looking steel road bike with the ability to put in long days in the saddle that can venture off the beaten path, look no further than the Fog Cutter. With the recent updates the bike, in my opinion, is even better and more practical than before.

Also if you want to build up a bike from the frame and really feel like you have put your own personal stamp on it, Soma allows you to do so with it's affordable price point and range of matching components.

If you are coming from a road bike with a racier geometry or the lightweight of carbon, just be aware there will be an adjustment period. Though, I guarantee if you give it a fair chance you will come to love the Fog Cutter as I have.