ES (Endurance Road) [RETIRED]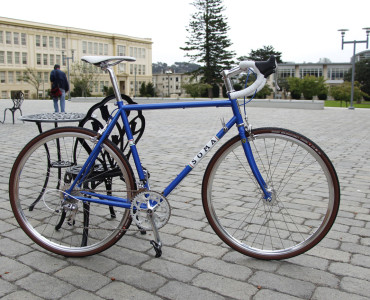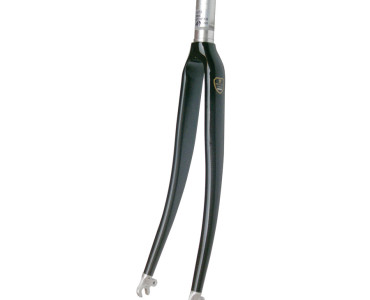 [This model is retired. Please take a look at the Fog Cutter and Pescadero, our other edurance road frames]

The "ES" means 'extra smooth.' It might not be as quick handling as our Smoothie or other dedicated race frames, but it is still quite fast and you'll actually gain valuable stability on speedy descents along with the ability to fit 28-32mm wide road tires. An ideal choice for multi-day charity rides, centuries, credit card touring and fast commuting. In 2016, we shaved down the number of sizes a little, but have kept the hard to find 66cm size.

- Tange Prestige heat-treated butted CrMo steel front triangle; butted CrMo rear end

- Road sport geometry

- Rear rack & fender mounts

- Designed with 57mm reach caliper brakes in mind. Fits some 700 x 32c tires with fenders

- Optional carbon fork(black) or CrMo steel fork(matching) available. Both have fender eyelets. (IRD Mosaic 57 Carbon fork has less clearance than our steel fork and only fits 28c wide tires with fenders)

- 1-1/8" headtube (fits EC34/28.6|EC34/30 headsets)

- 27.2mm post size

- 7 sizes: 48, 51, 54, 56, 58, 61, 66cm

- 4.25 lbs. (51cm)

- In Pacific Blue
purchase!
ES (Endurance Road) [RETIRED]
ES Specifications:

Headset: 1-1/8" (threadless external cup; SHIS: EC34/28.6 | EC34/30)
Front derailleur: 28.6mm, bottom pull
Seatpost: 27.2mm Seat clamp bolt included
Hub rear spacing: 130mm OLD
Brakes: Dual-pivot road brakes, 49-57mm reach
Compatible with downtube shifters
Chainring fit, max.: 53-39t double, 52-36-24t triple
Bottom bracket shell: 68mm, English threads
Water bottle bosses: 2 sets

What are the differences between the ES (formerly Smoothie ES) and the Smoothie?

The Smoothie has a racing geometry, while the ES has a "road sport" geometry.
The Smoothie will have more responsive steering and quicker cornering. It is slightly lighter, because of the semi-compact geometry and shorter rear triangle.
The ES is not a lazy steering bike by any means, just takes a little more effort to make those passing moves in a club ride than a pure race bike. But the advantage the ES has over the Smoothie is that it rides more stable at high speeds. It takes less effort to keep under control, which is why we recommend the ES over the Smoothie on long charity rides and centuries, where race-like handling is not only not needed, but a distraction to the rider.

The ES uses the same tubing diameters and gauges of the Smoothie, so weight difference is negligible.

The ES also offers more tire clearance so you can run fatter tires (for comfort) or fit fenders.

I have general questions about your frames... (i.e. frame material, country of origin, fit questions, how to order).

Go to our General FAQ page. Link is on the bottom of each page.

What's the rear hub spacing?

Rear hub spacing: 130mm

What brakes and fork does the ES need?

Needs to use 57mm reach road brakes and fork to match
ES (Endurance Road) [RETIRED]
Perfect for me

"Just wanted to drop you a line about how much I'm enjoying the Soma ES frame I bought from you last December! The frame has exceeded my expectations and is very stable and quick. Also, with the steel fork, I'm able to fit 35 mm (they actually measure 37 mm) Vittoria Voyager Hyper tires with plenty of room (no fenders) with Velo Orange Grand Cru Calipers. Thanks for making the perfect frame for me!"

Dave, ,

Endless Velo Love: First Impressions of ES

"I've had the opportunity to ride the ES a few times now, taking it on short test rides and a couple of slightly longer rides (between 10-20 miles), and I am quite comfortable on this bike. It's a different kind of comfortable than say the Surly Cross-Check or the Rivendell Sam Hillborne. Those two feel Cadillac-y; a bit heavy, but solid, smooth, and great fun to ride. The ES feels much lighter, but still comfortable and easy to handle. Honestly, I was surprised at just how light it was when I picked it up with one hand. I'm so used to having heavy bikes (setting aside, of course, my road bike) that it almost felt foreign to be able to so easily carry and move the bike. I haven't weighed it, and I have no doubt it's heavier than the road bike that comes in somewhere around 16 lbs, but it's definitely plenty light. Perhaps even too light. Part of me thinks that I should have opted for the steel fork to keep more of a classic look and feel, and while I suppose it's still possible to obtain the steel version of the fork, I am not displeased with the bike in any way due to fork choice.

The ES has done really well on climbs, too. This actually surprised me, 1) because of the current gears/gearing; 2) because I suppose I had an idea that it would feel weightier than it does; and 3) because the words "enjoy" and "climb" never go hand in hand for me - ever. I am saying it here - probably the first and last time it will ever be uttered by my mouth (err, fingers), I have actually enjoyed some of the climbs on this bike - and worse yet, I have no idea why. I have tried to figure it out to no avail. My road bike is full carbon, geared appropriately, weighs less, and should be the go-to choice for such rides, but I can't think of a time when I was climbing on the Trek and thought, "Gee, this is kind of fun!" I hate to say it, but those thoughts have actually run through my mind with the ES.

http://endlessvelolove.blogspot.com/2014/02/love-letters-soma-es-initial-review.html"

G.E., Middle of, USA

Unsolicited Soma ES(Smoothie ES) Reviews

"The Smoothie ES is an EXCELLENT road sport frame. I got the 2007 model with Tange Prestige tubing and I couldn't be more pleased. I just built it and took it for a 50 mile ride. It handles great without being mushy or flexy. The chainstays and seatstays are longish but beefy, giving it a smooth ride. Tire clearance is plenty to support 700x32 tires with fenders. Has rack mounts in the rear and low placed bottle mounts (lowers center of gravity). Considering the price, this has got to be the best value out there for a road sport frame. Great for anyone looking for an all-arounder, long distance bike, credit card tourer, etc. I had a Rivendell Rambouillet and I think the Smoothie ES delivers 90% of the features and ride quality of the Rambo for 1/4 the price! I was always concerned with paying $1400 for a frame and then taking it out in bad conditions (rain, dirt, mud, etc.). For the price of the Smoothie ES, I'm not as concerned about taking it out in bad conditions and enjoying the ride. -- DG

I've passed the 2000km mark on the SOMA Smoothie ES...Here's an updated review: The good: The bike handles great unloaded and while carrying a large saddlebag. Stability is excellent and I can easily ride no-hands down to 10-15kmh. At higher speeds (50+ kmh) the bike remanins shimmy free. Ride quality is quite nice. The bike does glide over rough asphalt but that has much, MUCH more to do with 28mm tires at 95psi than anything else. The frame fits and the handling is such that you can just hop on it and ride without having to pay attention to the bike. The bad: Mounting fenders on this bike isn't as easy as it should be. The bike is designed around standard (57mm) reach brakes and is sold as having fender clearance. However the frame/fork only include fender mounts at the dropouts. ---CL

My husband did, indeed, pick up the Soma Smoothie ES and went with the carbon fork... He rode it once for 20 - 30 miles and then it sat for a while. (He had not yet started commuting since his accident, and was only doing weekend rides on his other bike.) Then one day he got the itch to ride it and took it out for about 100 miles and 6,000+ feet of climbing. He loved it! ... He says it's very comfortable for all day rides... :D I think it's safe to say that he highly recommends the Soma Smoothie ES, especially for the price. It's surprisingly light weight, too. --JJ "

, ,

"I just wanted to send you an email to thank you for making 64cm Soma Smoothie ES frames. I'm 6'5" tall with a very long inseam measurement and my new 64cm Soma Smoothie ES frame is just what I needed. It's like getting a custom bicycle at a non-custom price. It's really a great frame. I took it for my first two rides this weekend for a total of about 70 miles or so. It rode great. I really like the relaxed geometry and longer wheelbase. This is my third bicycle and it's a great addition to my collection. Thank you.--P"

P, ,
ES (Endurance Road) [RETIRED]
Thousand Mile Review: Soma ES

I picked out Soma's Smoothie ES, as opposed to the Smoothie model for two reasons: I wanted to be able to fit bigger tires and the geometry fit me better. I planned to use the bike as my Rando, dirt road explorer, and everyday workhorse. I haven't done a brevet yet, but the bike has fulfilled in every other way....

...the frame's smoothness comes mainly from tire choice. If I were to fall to convention, and hit those points that marketing departments and engineers love to brag about I would have to say that the frame is stiff enough. I've pushed it hard in the saddle, out of the saddle for sprints, on climbs, and through corners. While the bike doesn't spin up fast, it does get up speeds that I would consider fast and maintains its great handling.

I do have two complaints, one I hinted at earlier, and that is the geometry. I wish it truly were slacker, going with a more laid back old school euro geometry. I also wish the bottom bracket were a bit lower. Closer to 8 cm instead of the accepted 7 most modern road bikes have settled on. This bike wasn't designed for railing crit corners and the increase in ride quality would make this bike even better. Those are the things I miss most about the custom bike I had.

Over the last thousand miles I've ridden the bike on long steep paved climbs, a converted railroad grade into the foothills of the Cascades, long days daily commutes and even a bit of singletrack and never really felt like I the bike was lacking in anyway. It also looks good, classic even. I plan on using this bike to pursue this season's Randonneuring goals. Soma does make the Grand Randonneur for this purpose, but the top tubes are too long (per size) for me and I'm not all in to the point of wanting to go 650b in the wheels.

Bottom line is that the bike is fun, stable and comfortable. If you want steel, and can't swing the price of going custom, then you should check this bike out.

http://robertgrunau.com/2014/02/10/thousand-mile-review-soma-smoothie-es/

Soma ES Review from Momentum Magazine (66cm size)

Sturdy, heat-treated, butted cromoly steel frame available up to 66 cm. Out­fitted with Super Everwear tires, Mini front and Deco rear racks, Sparrow townie handlebars, Shotwell stem, Doublerow threadless headset, Hellyer track crankset, and Raindog fenders all from Soma. [Tester rode the 66cm, first outfitted with road bars, then with Soma Sparrow bars.]

TELL YOUR FRIENDS
>br> If you dream of biking daily in the city, with the occasional jaunt out of town, then this bike is for you. A solid, all-purpose, well-made bike available at a fair price.

WISH LIST

The frame is so ideal that it is a shame the ES isn't sold as a complete bike. Luckily, Soma has a branded version of enough components that you can build a complete "Soma bike" starting with this frame.

IDEAL RIDER

The Soma ES is perfect for city riding. The frame geometry is a good starting point for a bike focused on comfort or speed. The frame is versatile enough for a variety of riding, from long distances to short commutes.

OVERALL

Classi­fied as a "Road Sport" frame, the Soma ES is well priced and well built. The ES could stand for extra special, or sporty, or smooth, or sexy, or sophisticated. Any of these adjectives would be spot on for a bike that is ready for anything a city could throw at it.