Dream Riser (Original) Handlebar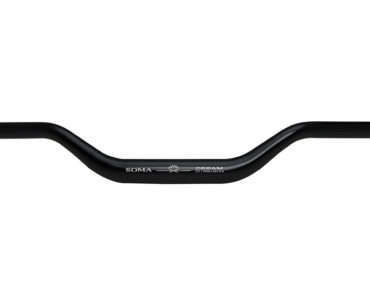 A roomy riser bar with about 25° of backsweep for a natural wrist position. Offers comfort without sacrificing hardly any control. Dream Cycle Vancouver helped us design this model. They wanted to replicate something close to bars found on MTB bikes of the early 80's. Recommended for bikepacking and touring.

– 6061 T6 aluminum

– 780mm width

– 50mm rise

– 31.8mm center

– 25° backsweep

– 5° upsweep

– 420 grams

– Polished black or silver
(Also available in Hi-Rise and Lowdown models)
purchase!
Dream Riser (Original) Handlebar
Bought it for the wife's bike at first....

" I bought these for the wife's bike, but to be honest, I really like them and can handle some pretty serious terrain with them mounted. They are wide at 780mm, with a big 25 degree sweep, and tall at 50mm. If your looking for a nice priced bar, that will transform your EMTB to a more relaxed seating posture, without loosing too much off-road capability, give them a try. There is no doubt that you give up a little front end grip, but it might not be as much as you think, and the bikes are still plenty fun on the trail. I go back and forth with them on the Trance, not able to make up my mind. On one hand, these bars reduce the front heavy feeling caused by the Trance's long rear centers. On the other hand, the Trance just doesn't seem to corner as well with swept bars. The Speedfox doesn't seem to have this give, and take, with the Dream Risers mounted. But to be honest, I don't ride it as much as the Trance, and my wife doesn't push the front end enough to care. She likes the bars upright seating postilion much more than the flat bars that came stock on the Speedfox. (from eMTBfourms.com)"

MrTeno2U, ,
Dream Riser (Original) Handlebar
Soma Dream Handlebar Collaboration

Is it a wide, 780mm, cruiser bar or a massively swept back regular width mountain bike bar? Both. According to the folks at Dream Cycle, it's modeled after mountain bike bars in the 1980s and intended for the same purpose as those bikes - comfortably getting off the pavement and seeing things under your own power.

These days it's called bike packing, touring, and sometimes gravel grinding* and I'm sure many other nuanced categories of riding.

I tried a number of different stems with the Soma Dream Bar. There's no direct translation of bar sweep and stem length, something I discovered dialing in the SQLab 16°, but I was generally happiest with +40mm over a 9° bar and +30mm over my 16° bar.

The climbing position is a surprisingly awesome combination of comfort and power and I could sit longer on my single speed and happily move a higher ratio with gears. It was even great on steep single track climbs like No Quarter. The 25° back | 5° up combo is comfortable with a higher position and on gravel paths and tamer trails, the long stem puts enough weight over the front end to maintain descending capabilities.

Once trails get steep and technical I was quickly out of my element on the Soma Dream. I found the handling vague when rolling into steeps, and both bikes I used it on became a handful to control at speed in rock gardens or any situations with a loose surface. It's the perfect ultra-comfy bar for the bike I ride everywhere other than the trails I regularly ride.