Double Cross Disc (2018-20) (Retired)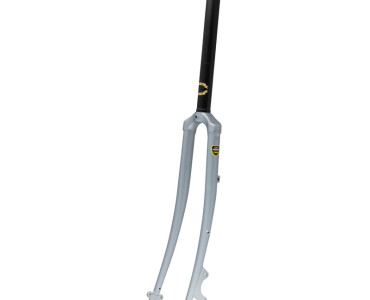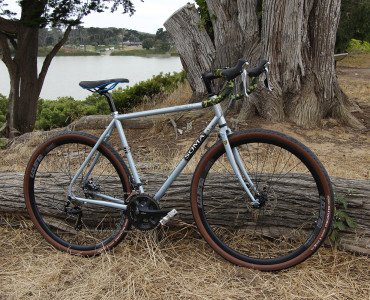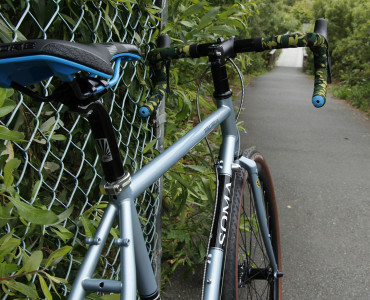 [RETIRED] New version available.
A great do-all frame. Ready for cyclo-cross, trail-riding, commuting and medium duty loaded touring. Comes in a wide range of sizes to fit you right -- up to 66cm! In 2017, we increased tire clearance slightly and added stiffer, lighter dropouts. We have also added an ED coating to the insides of our frames for long term protection against rust.

- Tange Prestige heat-treated CrMo steel front triangle; butted CrMo rear end

- Disc mount is located on the chainstay which allows you to put almost any rear rack or fender on it without fear of interference. Rear disc mount is International standard and fits 160mm rotors only

- Optional forks: Matching lugged, curved blade fork double eyelets at fork ends and low rider rack braze-ons

Also compatible with our
- Straight blade unicrown CrMo steel CX fork (black)
- All-Road Carbon fork (black)
- Champs Elysees Disc low trail conversion fork (chrome)

- Clearance for 700c x 45mm tires (40c w/fenders. Some front derailleurs may reduce this clearance) and 650b x 47mm

- Rear hub spacing is 135mm

- 1-1/8" headtube (fits EC34/28.6|EC34/30 headsets)

- 10 sizes: 42cm to 62cm,.. plus 66cm

- 4.35 lbs (52cm)

- Color: Sky Silver
purchase!
Double Cross Disc (2018-20) (Retired)
Double Cross Disc Specifications (2017 - ):

- Headset: 1-1/8" (threadless external cup: SHIS: EC34/28.6 | EC34/30)
- Front derailleur: 28.6mm ID, bottom pull
- Seatpost: 27.2mm
- Seat collar: 29.8 or 30.0mm (not included)
- Hub rear spacing: 135mm, use traditional QR MTB hubs
- Brakes: Disc (International mount, 160mm rotors)
- Bottom bracket shell: 68mm wide, English threads
- Max.Tire Clearance: 700c x 45mm (note: Shimano long arm front derailleurs, such as the FD-5800, reduce tire clearance to 42mm)
- Downtube shifters: Mounts available
- Water bottle bosses: 2 sets
- Acceptable fork length: 389 - 401mm axle to crown
- Acceptable fork rake: 44mm - 50mm - Rack and Fender mounts: We recommend using the dropout eyelets for racks. Do not use the lower set of seatstay bosses for racks unless it is for loads under 15 lbs. Either eyelet or boss set can be used for fenders.

What if I want to put 650b wheels on my Double Cross Disc?

Doing a 650b conversion can be a fun experiment. People do it for the ability to run wider tires with fenders, to run those nice supple randonneur tires, to reduce toe overlap, to lower the bike's bottom bracket height or just for curiosity-sake.

The main concern when changing your tire size is how the ride will be affected. Generally you'll notice only slight differences if at all.

- The front trail difference is negligible: about 2-3mm less. So steering shouldn't be affected.

- The bottom bracket height(BBH) is the biggest change: With 700cx 32 tires your bottom bracket height is about 277mm. With 650b x 42 tires, BBH = 269mm With 650b x 33 tires, BBH = 265mm. 265mm is about the BBH of a race bike, so stability and cornering theoretically will improve, plus there's no worry of pedal strike, since BBH is not at touring bike height yet. But BBH will be lower than what is generally recommended for CX or aggressive trail riding. Cruising fire roads and open gravel trails is still doable, but please test your conversion out in a safe controlled manner.

- The reduced front tire/toe overlap is nice to have, especially on frames 54cm and smaller.

- Please note that JUST switching to 650b tires does not make your bike handle like a traditional randonneuring bike. The tubing specs on randonneuring bikes like our Grand Randonneur is significantly different than on the Double Cross Disc. You would need a low trail / high rake fork to make your bike more front load-friendly, if that is a goal. Otherwise the conversion should yield a great bike for touring or fast commuting.

The Double Cross Disc does not fit any knobbies wider than 45mm/1.75".
Double Cross Disc (2018-20) (Retired)
Unsolicited Soma Double Cross DC Review (This testimony is for an older model)

"Its been said that a great bike is a bike you want to ride everyday. The Soma Double Cross [DC] scores a 10 out of 10 on that basis. My initial impression on the bike was how big, but comfortable the fit is.... I'm on the drops about 50% of the time, the hoods are easy to ride and the cross bar is good to use at lower speeds and helps me look above the traffic as I commute. The very tall 195mm head-tube is golden. It puts the handlebar at just the right level without multiple spacers. It looks right, and the fit is great. The ride quality is remarkable. It provides a smooth comfortable ride as the rider seems to float along. I was looking for long distance traveling comfort and the steel frame with a carbon fiber fork is very damp and plush. The bike also feels lively and accelerates well. I can sprint to 25 mph at will. Handling is excellent and stability is also very good. The bike turns in quickly without feeling squirrelly. Stability is more than adequate. The bike will drift off line if the rider is daydreaming, but no issue IMO. It's the kind of bike that wants to be driven hard at 20 mph or more. -- (This testimony is of a Double DC, an older that had canti bosses and disc mounts. Geometry and tubing was the same as this model)"

BSV, City, State
Double Cross Disc (2018-20) (Retired)
Spokehaven's Long Term Review of the Double Cross (this review is for the canti brake model)

The bike rides really smooth and is extremely comfortable on long rides. The bike is a little on the heavy side. Mostly because the wheel set is a very sturdy 32hole build with a 24mm wide rim. The wider rims are nice for putting fatty tires on. I'd like to experiment with the new Soma Cazadero tires on it at some point, but I will probably wait for the weather to turn before swapping tires out.

I also have all alloy parts and absolutely no carbon on the bike. I do see the potential in the frame for being a good, comfortable cross racer. Throw a carbon fork, bars, seat post, and carbon railed saddle on the bike and it would ride like the wind. Currently I own an aluminum Raleigh cross bike, but it's not the most comfortable thing to ride on weather beaten roads. Steel may not be the lightest material in the world, but it sure is a lot more forgiving!

Soma has done a fantastic job on their overall bike line up and the Double Cross is no exception. I get tons of compliments on the bike and the color of the frame. The pearly blue is extremely classy looking and the powder coat has held up incredibly well. The logos and the frame badge are also gorgeous. Color me in love with the bike and the Double Cross frame. I should note that the newest color of the bike is more of a gunmetal-ish grey, but still very beautiful.

If anyone reading this is debating between the Surly Cross Check and the Soma Double Cross, I would highly recommend considering the Soma. It does has a taller head tube on it which means it's not as aggressive, but for the price I think it's just a slightly nicer frame. That's not to say I'm not down with Surly. I love them as well and would buy a dirt tourer or one of their many cool fat bikes, but I just love the Double Cross more if doing a straight comparison. One other major plus, for me, is the fact that Soma uses vertical drop outs and not horizontal drop outs. I know why Surly uses horizontal dropouts and it makes for a more versatile frame, but they can be a pain in the ass when changing a rear flat. I also used to have issues with the wheel pulling to one side no matter how tight the rear skewer was on the Cross Check. I haven't dealt with that what so ever on the Double Cross. http://spokehaven.com/2014/10/28/soma-doublecross-build-longterm-review/

Double Cross DC On BikeCommuters.com and MtnBikeRiders.com

"The Soma can fly like a mofo!" They tested the DCDC for several months as a flat bar build. See what they thought of it here

Double Cross Reviewed in Bicycling: Oct. 2010 (This is for the cantilever brake equipped model)

After taking it out for many rides, I began to think of the Double Cross as the Swiss Army knife of bikes: fun, remarkably useful and pretty sharp, too. For links to the print and video review go here