Double Cross Disc (2021-) (Gravel/CX)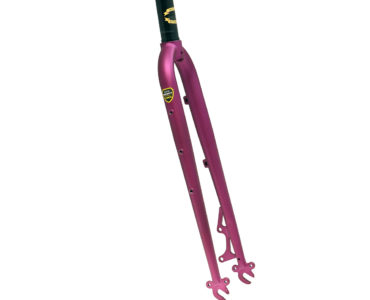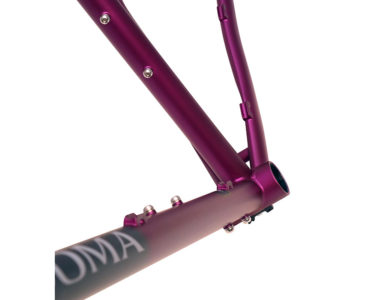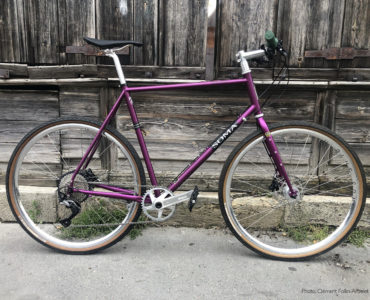 A great do-all frame. Ready for CX, trail-riding, long road rides, commuting and medium duty loaded touring. Comes in a wide range of sizes to fit you right -- up to 66cm!

For the latest version, we have tweaked the geometry to make it even a better all rounder. Slacker headtube angle for less twitchy handling in gravel and off-road descents. Lower bottom bracket height for more on-road stability loaded or unloaded. Improved mud clearance for 650b x 47mm tires

- Tange Prestige heat-treated CrMo steel front triangle; butted CrMo rear end

- Disc mount is located on the chainstay which allows you to put almost any rear rack or fender on it without fear of interference. Rear disc mount is International standard and fits 160mm rotors only

- ED coating inside tubes to prevent rust

- Optional matched-color fork: Straight blade unicrown CrMo steel CX fork with triple bosses to fit cargo cages or low rider pannier rack

Other compatible Soma forks:
- Lugged, curved blade CX fork double eyelets at fork ends and low rider rack braze-ons(black)
- All-Road Carbon fork (black)
- Champs Elysees Trekking Disc low trail conversion fork (chrome)

- Clearance for 700c x 45mm tires (40c w/fenders. Some front derailleurs may reduce this clearance) and 650b x 47mm (We recommend 650b (27.5") wheels for the 42cm size to reduce toe-wheel overlap

- Rear hub spacing is 135mm

- 1-1/8" headtube (fits EC34/28.6|EC34/30 headsets)

- Three sets of water bottle bosses

- 10 sizes: 42cm to 62cm, ... plus 66cm

- 4.35 lbs (52cm)

- Color: Matte Purple
purchase!
Double Cross Disc (2021-) (Gravel/CX)
What if I want to use my Double Cross for Loaded Touring or Bike Packing?

The Double Cross is optimized for fast fun unloaded or lightly loaded. It is also a very good light to medium duty touring bike. It is not designed for heavy duty loaded touring.

If you overload your front or rear panniers, you can effect the ride quality of the bike. The load can make the frame flex (twist) a lot, especially when riding out of the saddle.

Recommended max. weight for loaded panniers 25 lbs rear, 12 lbs in front (this can vary lower depending terrain you are riding on and the skill of the cyclist) You can increase the frame's carry capacity by using bikepacking frame bags or seatpacks. These types of luggage do not flex the frame as much as a pannier on a rear rack or front rack. The frame does not have provisions to bolt on frame bags, but most bags come with straps.

Maximum rider and load weight: 270 lbs.

Rear rack choice: Because of the short chainstays of the Double Cross and other CX bike frames, some racks use with larger pannier bags can result in your heel touching the pannier while pedaling. If you experience this, even with your pannier at the very back of the rack, consider a rack like our Rakku or Deco which are slightly longer and allow you to shift your pannier out of the way. Updated fork: The matching unicrown fork has triple bosses to fit cargo cages on each leg. The bosses can also be used to traditional low rider pannier rack and some adjustable mini racks like the Nitto M1. The fork is also compatible with our Deluxe Porteur Rack.

Double Cross Disc 2021 Specifications

- Headset: 1-1/8" (threadless external cup: SHIS: EC34/28.6 | EC34/30)
- Front derailleur: 28.6mm ID, bottom pull
- Seatpost: 27.2mm
- Seat collar: 29.8 or 30.0mm (not included)
- Hub rear spacing: 135mm, use traditional QR MTB hubs
- Brakes: Disc (International mount, 160mm rotors)
- Bottom bracket shell: 68mm wide, English threads
- Wheel size: 700c or 650b (We recommend running 650b wheels on sizes 42cm and 46cm if you are bothered by toe overlap)
- Max.Tire Clearance: 700c x 45mm (note: Shimano long arm front derailleurs, such as the FD-5800, reduce tire clearance to 42mm) (Also fits 650b x 47mm tires)
- Downtube shifters: Mounts available
- Water bottle bosses: 3 sets on frame
- Cargo cage Bosses: Two sets triple bosses on the matching fork. Can also be used for pannier rack, but not at the same time. - Acceptable fork length: 390 - 405mm axle to crown, stock fork is 400mm
- Acceptable fork rake: 44mm - 50mm
- Rack and Fender mounts: We recommend using the eyelets located on the dropouts for racks. Do not use the lower set of seatstay bosses for racks unless it is for loads under 12 lbs. Either eyelet or boss set can be used for fenders.
- Max. weight with rider and load: 270 lbs.
- Recommended max. weight for loaded panniers 25 lbs rear, 12 lbs in front (this can vary lower depending terrain you are riding on and the skill of the cyclist)


What is the cable routing like on the Double Cross frame?

The Double Cross runs shifter cables and the rear brake line externally along the downtube. We believe that bicycles with with internally routed create maintenance headaches that outweigh their benefits for this type of bike. The frame is compatible with old school downtube friction shifters. A nylon plastic cable guide is screwed into the bottom bracket shell. The matching carbon fork has internal routing. Cable guide braze-ons need C-clips(included) or zip-ties to hold the cable housing to the frame.

1) If you are not using downtube friction shifters, you need to purchase downtube cable stops to cover the bosses and to create an guide point for running cables.

2) We recommend sheathing exposed shifter cables on the downtube and bottom bracket with Teflon cable liner. These are inexpensive and helps keep the cables from a build up of dirt and grease on the plastic cable guide. Also reduces corrosion if you are not using stainless steel cables.

3) It is common on bikes that cable housing can rub on the paint of the bikes when you turn the bars. We recommend getting stickers (cable dots, frame protection tape) applied in areas you see rub.
Double Cross Disc (2021-) (Gravel/CX)
End of an Era?

"The 2021 double cross is probably the finest production qr gravel frame that's ever going to exist - end of an era. It's just stiff enough without being too stiff and fits regular parts from before the flat mount/thru axle apocalypse. Geometry is right on the edge of high trail so it has nice feel while climbing but stability while descending is also high. The tire clearance is also very good without compromising by being overly stiff. "

Spoonrobot, Reddit,

The one bike I will never sell

"Love my Double Cross. It's a much older model, and has a different paint job and placement of brake mounts than other Double Cross Discs. I've had it since 2014 (got it used) and have put like 10k miles on it, everything from loaded touring, to road rides, to gravel, to ripping as much singletrack as I can on 40mm tires. It's the one bike I'll never sell."

JB Philly, Reddit,

Soma Double Cross Disc Long Term Review

" It has enough stiffness (165-185 lb rider) that it's good to ride on singletrack and gravel but doesn't beat you up, lots of compliance at the front end. I raced the f##k out of this bike. Everything from criteriums at the MTNC, to the 200k Fried Clay gravel race. It never let me down. The geometry is good, squarely mid-trail which means you can corner well on gravel without feeling like you're balancing on a razor to keep the front end from sliding out. The overall design works nicely with different set-ups. The main triangle is made for a Revelate Tangle or Ripio – they both fit perfectly without any negative space, depending on size. The frame and fork take fenders no problem... I've been riding this bike since then in a few different iterations. I went from 700cx28->650bx42->Front Rack Full Fender Rando Machine->MonsterCross Rig->Crit Bike->Gravel Racer 700cx45. The bike takes 650b without any issues, I rode it for a long time with the smaller wheels and never had any bottom bracket issues. ( https://drandalls.wordpress.com/2021/04/12/soma-double-cross-disc-update-2/comment-page-1/) (This testimonial is for a 2015 Double Cross Disc)"

Dr. Randall, Atlanta, GA

From Western Bike Works

"I purchased the Soma Double Cross Disc frame to build up for the 2014 Cornhusker State Games Gravel Grinder. Frame was built with SRAM Rival (Apex crank) drivetrain, Avid BB7 brakes, Soma cockpit, some Velo-Orange bits, and a Brooks saddle. Total build came in around 24 lbs. This is a great bike that just soaks up the miles, I highly recommend it. With loads of tire clearance, and a sweet ride, it's my do-anything bike. I've put a couple of hundred miles of pavement, and close to a thousand miles of gravel on it in only a few months. "

Bronco, Lincoln, NE

10,000km

"Just want to share my experience with this great frameset. Bought the frame in 2017 and have used it all-year, also during harsh winters in Norway. After about 10.000km I'm currently on my third wheelset and third pair of fenders (now Berthoud after the Honjo fenders corroded away). The road salt takes it toll on all parts but the frame is still good. Its just a fantastic all-round bike. Fast enough to hang with friends on road bikes, but really in its element on rougher roads and longer distances. Such a complete package at an affordable price, and I also think looks pretty good :) Keep up the great work!"

AndeHans, Oslo, Norway

Great Winter Light Tourer -- Keep the Load Under 25 lbs

"This is a comfortable all-rounder bike perfect for more casual riding, commuting and gravel/dirt winter riding esp with disc. And it's steel. In this format, however, that steel flexes under hard cornering and if you tour, keep it light (under 25lbs gear). More weight than that and the frame noodles (FYI, I weigh only 142LBS) feeling like the front end is disconnected from the back end, esp when out of saddle or on rough road (crossed the rockies 3x in one particular tour on rough roads and regretted not bringing my Ti MTB with steel fork in a 26 format). BTW, I tour and ride anywhere For the money, I was happy with the frame."

BPer, Portland, OR

Ultra Smooth

"The search narrowed the candidates to Salsa, Surly and Soma. While the Surly Long Haul Disc Trucker is a champion tourer, the geometry is too touring for my liking, and I didn't really like the looks. The Salsa Doublecheck is a strong candidate, but I didn't like the fact that Salsa would not divulge what kind of tubes they use to make the frame. Whilst, Soma proudly proclaims the tubing is Tange Prestige, double butted. While welding is done in Taiwan, as is the Tange factory now, I understand, I find the welds flawless and the paintwork very nice indeed. Not Baum, or even Pegoretti nice of course, but nice enough.

How does it ride? My first ride out with the Soma, I couldn't wipe the grin off my face. The ride was ultra smooth. The bike was not as stiff, or fast as the Baum Coretto, a bike already featured in these pages, and cost 5 times more than the Soma. Though the Baum is titanium and the Soma steel, I find the Soma ride to be smoother. The White Industries hubs were also very smooth...as butter...albeit a lot more quiet than the Tune on the Baum. Now, coasting on the bike will not warn pedestrians ahead that a bike is coming...the Tune is very loud and one can do without a bell on the PCNs. (Review is of a Double Cross DC: Build: Campy Athena 11, Panaracer 23c Stradius Extrem, Hope V-Twin disc brakes, Velocity A23 wheels, Brooks saddle)"

Peter Chong (Watchscapes), City, State
Double Cross Disc (2021-) (Gravel/CX)
No Road Left Unridden

[Excerpt of Review on https://maxthecyclist.wordpress.com] Is it a cyclocross bike?

It's easily shouldered, the geometry is tight, and the handling is aggressively snappy. The hallmark of a good cyclocross frame, in my opinion, is in how it negotiates terrain above its pay grade, and the Double Cross handles effortlessly; singletrack is not just possible, it's encouraged. This is a race day bike that really thrives in the time spent riding between race days.

Is it a road bike?

Maybe the new buzzword "All-Road" is more appropriate. With skinny rubber, the frame shows its flavor, soaking up road noise and vibration better than most. 'Smooth' is cliche, but it's almost the only word to use. The Double Cross begs to be ridden all day.

Is it a commuter?

In my opinion, your most fun bike should be the one you commute on. Why waste the transitional period between work and home? The Double Cross has all the durability and reliability demanded by the battlefield of potholes between A and B, but handles it with a certain grace and agility the traditionally overbuilt commuter frames can't emulate.

Ride Quality

As mentioned previously, this bike wore a lot of hats. I used it primarily as my daily rider, taking it all over Western Massachusetts on pleasure rides, missed-my-alarm commutes, grocery runs, and all-day adventures. I almost always rode it fast, hammering through traffic and taking irresponsible lines across my swarming college campus.

The bike is confident through almost everything. It loves standing still in a trackstand as much as it likes hurtling back up to speed during acceleration. It's extremely maneuverable, and never truly feels out of its element.

I did say "almost." The bike does get a little bit antsy over 35mph. It's not the most confident descender ever, although pushing forward in the drops and keeping your seat clenched between your knees in an aero tuck keeps the bike from feeling too squirrely. It's not unstable, it's just less stable. It's the only place where the bike didn't feel like it was thriving. This seems to be typical of most true CX-geometry frames I've tried, and if that's the "cost" for so much maneuverability during the technical riding I've been doing, I'll pay for it.

The bike didn't love having a basket. I didn't really notice until I took my hands off the handlebars, but having the weight up high made the steering feel sloppy and unpredictable. This is pretty typical of bikes with a higher trail in the front wheel, and Soma has other frames that are designed to handle a basket and front rack a little nicer. Despite the convenience, I ended up skipping the basket and sticking to my backpack. If you do intend to use this as a touring bike, I would go with a low-rider front rack and mount your panniers close to the ground.

Edit: I mounted a basket on the much lower Soma Lucas rack and the speed shimmy disappeared. Nice!

... Bottom line: to do better than the Soma Double Cross Disc, you'd better be ready to spend double or triple the value of this complete bike. It is an absolute steal, compared to the rest of the field. There's a reason I replaced my mountain bike with a Soma, too, and I am super bummed they came out with the Sandworm a week after I got a fatbike.

Exceptional All Rounder (Review for the older rim-brake model)

What I decided was that for my $1500 I wanted to build an All-Arounder; a true 7-days-a-week-bike that could easily keep up in a fun group ride, do light touring and camping, ramble along the fire trails, and knock around the nasty, pot-holed city streets of Seattle....
I ordered a 62cm Soma Double Cross frame in the beautiful ... cream color, and splurged a little on the Soma Classic Curve Cyclo-Cross Fork. ... The Soma frame geometry suits me and this project perfectly; a bit snappy but not even close to annoyingly twitchy.....
....Really though, it's fantastic. It truly is. I don't think I could be much happier with how it rides. It feels especially good and fast with the Schwalbe Marathon Racer 700x35c tires, which just seem to shrug off the bad roads around here, and therefore maintain speed extremely well.... http://cyclingillustrated.com/news/average-budget-exceptional-all-arounder-by-scott-hinckley/

A Favorite of MTB29.com (Review for old Double Cross DC)

Overall I'd say this is one of my favorite bikes to ride, especially when I just feel like going out and getting some excercise. Unless I'm going for a group road road, I'll usually opt for the Soma DC over my fancy carbon road bike. This bike is the ultimate for going out cruising on back roads, hitting some dirt and getting in a good workout. I've done four and five hour training rides on it with lots of climbing and come home feeling fresh. For the full review click here.

Double Cross DC Review in Bicycle Times

"Coming off of a stiff aluminum bike, the Tange steel felt great. The ride quality of the steel was quickly apparent as it dampened just enough of the road chatter to smooth out my commute. Although the steel dampens vibrations the frame is responsive and quick, transferring my energy to the wheels and not side-to-side." For the complete review go here.