Classic Curve Cyclo-Cross Fork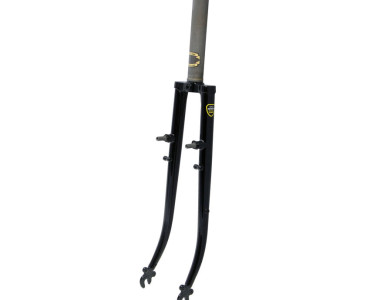 A revival of the classic look reminiscent of those Alex Singer randonneur bikes. Now that look is available to consumers without the hefty price tag. Reinvigorate a bike's look with a fork that epitomizes the grand era of randonneuring. It also looks good on a cyclo-cross bike.

-"Classic Curve" have legs that curve only at the lower portion for a distinctly vintage look.
- Tange Infinity CrMo
- Lugged flat crown
- Cantilever bosses
- 44mm rake
- Axle to crown: 389mm
- Double set of dropout eyelets
- Low rider pannier mounts
- Mini rack mounts
- Chrome-plated
- Extra long 350mm steerer
-Available in threadless 1" (chrome only) or 1- 1/8"
purchase!