Cazadero Tire (700c/650b x 42mm)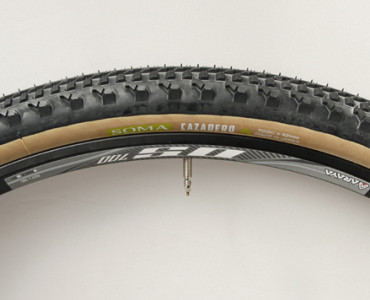 A mixed terrain tire for a new era of riding. Gravel, dirt, asphalt. Yes please.

The Caz features a raised center for fast rolling on asphalt, with specially designed that corner well on dirt and maintain traction on the street.

In a hard to find 42mm size that bridges CX and mountain biking.

Skin wall or black wall.

Weight: 510g (700c) and 470g (650b)

Made in Japan by Panaracer.
purchase!
Cazadero Tire (700c/650b x 42mm)
Pugsley's YT comment

"I've been running the Soma Cazadero in the 650B for about a year now. Really great all around gravel / mixed surface tire. My only issue is with mud build up on the shoulders mainly. In the muddy soils I ride here in Texas are black gumbo and that stuff just hugs onto the Cazadero. Other than that I think they're great tire. No sidewall cuts or issues with punctures since I've mounted them."

Pugsley, ,

Cazadero Review by Newb

"My experience with tires includes: Clement Xplor, Specialize Trigger Pro, Schwalbe Mondial Marathons and Ellie Maes.

First look these things are beastly compared to all the tires above. The inner solid lug is nice for asphalt as stated in most reviews. The outer knobs are nice and solid. Mounted up on a Bontrager TLR wheel they measure at 41.5 mm (I'll post wheel width later, but I think it's 23 mm). Which I found out is the limit of tire width in my '14 S Works Crux. I took them out for a test ride running 50 psi in the rear and 45 psi up front.

Down the asphalt road they roll nice! I won't say they roll as nice as the Triggers, Ellie Mae's or Mondials, but they rolled just as fast as the Clements. We did about 17 miles on the asphalt (it was supposed to be a gravel ride) and finally we hooked up with some gravel. Now here is where these things really shine! On a scale of 1 - 5 comparing all the tires above too, these are a 5 in the gravel. The wider contact patch made cruising the loose gravel easy on the knees and the solid contact patch allowed them to fly over the hard packed stuff.

"

Rooster , City, State

Riding Tubeless on Cazadero

"Today we are covered with snow in the upper midwest, but yesterday we weren't. I was able to get out for a good ride on my new Cazaderos.

They seated and mounted tubeless maybe easier than any tire I have yet tried, without sealant. A little tighter fit than some, but that seems to help the bead seat and seal well.

I rode them about 40 psi front, 44 rear, same as other 38 to 40 ish tires I have been using. I think Soma knocked this one out of the park. Great ride on the streets, nice feel and damping, and fast with low rolling resistance. Dropped down into the river bottoms and was able to sample some gravel, dirt, sand, mud. Then back up to the roads, and home. I was really impressed. They truly seem to be an all terrain tire, and handle them all really well. Really surprised how great they felt through the sand. I like them alot, and highly recommend. "

B. Sloma, City, State

Jayme's Testimony on Google Groups

"Hey all, Thought I would write up a few thoughts on a new tire I'm using the Soma Fab Cazadero (650b). Ordered through my LBC soon after they became widely available (owner had an early release set that he was riding). First impression was that the casing construction reminded me a lot of the Pacenti Pari-Motos I was taking off with a bit more rubber on the sidewalls. The casing seemed pliable but stiffer than the Pari-Motos. My goal was to mount these tubeless on my Pacenti SL23s. The Cazaderos are super tight on the SL23 and they took a fair bit of effort to mount. Unfortunately, they are so tight from the factory that I was unable to get the bead to set tubeless. I decided to try and give them a good stretch before calling tubeless setup a failure. I inserted a tube and pumped to 85-90 PSI and the beads snapped into place with a satisfying pop pop pop.

After a day or so resting at 90 psi I gave the tubeless setup another try. I removed the tube, inserted the valve stem and gave them a good shot of air from the compressor, I was delighted to again get a satisfying pop pop pop of the bead snapping into place. Inflated each tire to 60 psi and let them rest again. The tires held air for around 8 hours without sealant. I call that success and added sealant, inflated and mounted them on the bike.

I've put just shy of 100 miles on them so far. A combination of pavement on my daily commute and backroad mixed surface (gravel of all types, dirt, grass). My seat of the pants impression is that these are a winner. They roll surprisingly quiet on road for a nobby, which I really appreciate (my riding buddy's Rock n Roads sound like a freight train). They are also pretty compliant over chunk gravel at 30/35 front/rear pressures. As for rolling resistance, unscientifically they seem comparable to the Pari-Motos or at least not so dramatically different that I can tell. Only question remains is how well they wear. As a benchmark my riding buddy with the Rock n Roads is getting just short of 1000 miles out of his rear. Cheers "

Jayme, ,
Cazadero Tire (700c/650b x 42mm)
A Supple Tire Shootout

Tires are crucial for a comfortable ride. The more supple tire the more comfortable you will be on a bumpy road. Up to this point, Soma Cazadero were my benchmark in terms of tire suppleness. But this could change because I got a pair of Rene Herse Barlow Pass tires which are well known for its suppleness. Let the fight begin!....Soma Cazadero tire is one of my long time favorite tire that I use on a daily basis. Even when you grab it you can feel that the sidewalls are very soft and flexible which promises a lot of comfort when riding. And this indeed is the case, especially with air pressure set up at 25 PSI. I also like this tire because it is very easy to mount tubeless on any rim that I used. It holds the air nicely and it is a benchmark tire (in my opinion) in terms of mixed gravel riding. Dry, wet, muddy, bumpy or any other condition you can imagine and the tire will perform remarkably well. It gives you a sense of security that allows you to focus on fast riding, wherever you are. The only real drawback I can think of is the rolling resistance, especially on asphalt. You can definitely hear the tire buzzing a lot and you can feel that this tire is slowing you down (especially compared to something like Barlow Pass from Rene Herse). https://gravelbikes.cc/tests/soma-cazadero-vs-rene-herse-barlow-pass-a-supple-tires-shootout/

Cazadero Wins CX Magazine's Editor's Choice

(Excerpt) With a continuous center tread and big side knobs, this tire is a great choice for rocky gravel, hardpack dirt and broken pavement adventures. Consider it the faster-rolling brother of the Bruce Gordon Rock N' Road tire (one of eight gravel tires reviewed in Issue 29), as both are made in Japan by Panaracer, come in the similar widths and are great candidates for tubeless conversions.

On pavement, unless you're riding it at 20psi, the Cazadero is a smooth-rolling ride. The continuous center tread is extremely effective in providing you with nearly road tire-like rolling resistance on the straights. Such pavement performance isn't rare among the narrower, minimal knob or slick gravel tires, but for a tire with such volume and tall knobs, it's impressive.

Ride the Cazadero at low pressure off the paved path, and the tall knobs will provide great grip should you hit steep climbs or loose patches, despite the continuous center tread. Normally tires that run smoothly on pavement and hardpack suffer greatly on loose climbs and corners, but the Cazadero's raised center tread and side knobs sink into the loose sand, gravel and dirt, and the serrated edges offer some bite to keep you moving forward.

Lean your bike into a loose corner, and the Cazadero's cornering grip is best in class. The tall, squared-off intermediate side knobs and shoulder knobs are well-supported, provide great edge control, and don't suffer from a slot of squirm.

At around 500 grams, the Cazadero isn't featherweight like the Maxxis Rambler, but it's bigger, lighter and more supple than the Vittoria Adventure Trail 40c gravel tire we recently reviewed. At 30psi on a 17.5mm rim, it's not quite 42mm, but 40mm, which still pushes the tire clearance limits of many cyclocross and gravel bikes:.....

https://www.cxmagazine.com/soma-fab-cazadero-42c-gravel-tire-review

RidingGravel.com - Cazadero 700c Review

The ride was very nice. First off, the center smooth section of the Cazadero's tread is very effective at allowing the wheels to roll freely. In fact, on pavement the sound is of a wider, slick tire as you cruise along. Out on gravel, the supple casing has enough damping to allow for a more calm experience at the handle bars and saddle, much like other good, supple casings do on tires like the 120TPI Clement MSO or the Challenge Tire Gravel Grinder.

I was using lower pressures at first, (40-ish psi), but decided to try out something a bit higher to see where I might lose that nice, damped feel with the Cazaderos. I went up to around 50 psi, then closer to 60psi and I feel that for the current conditions, (Winter, cold temperatures), and my weight, (230lbs), I have an answer. In my opinion, the ride becomes noticeably more harsh at close to 60psi. I might feel differently about that if the temperatures were warmer though. However; for now I would probably run 60 psi if the course was smoother and/or mostly paved. I feel a loss of stability and grip on looser surfaces and especially on gravel at those higher pressures, so I would push that pressure back down into the 50's psi for that. I felt the best balance of speed/grip/comfort in that range for pressures on gravel. Keep in mind I am running these tires tubed.

Now as for the Cazadero on other surfaces than gravel roads, I have found the tire to be an exceptionally fun tire. On the one hand, you have that centralized smooth sector of the tread, which acts like a narrower tire when you are just cruising along, but the tire has volume that no "skinny" road tire has, and with the quality of the Panasonic casing, the road faults become less of an issue for sure. So far....I give Soma high marks for hitting the weight and width specs for the tire with these samples. The casings work nicely over the gravel roads and the center raised tread section does what it is advertised to do. On pavement the theme continues and this makes for a versatile tire if it fits your bike.