Buena Vista Disc Frame Set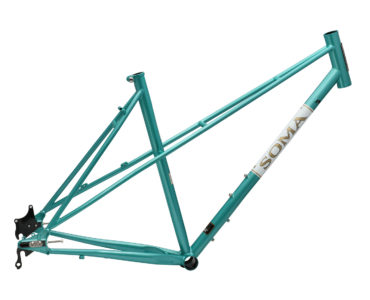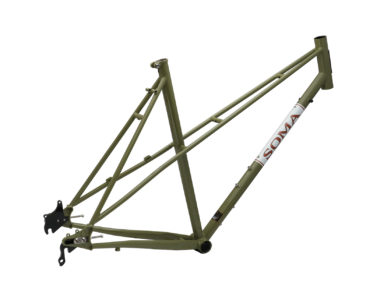 A true mixte frame with the double top tube/stays. Obviously offers lots of standover height and style as well. You'll find the geometry is more sporty, than upright-comfy. Though it can be built up to suit either demeanor. Drop bars? Sure. Townie bars? Of course. This version is updated for disc brakes. This not only improves wet weather braking, but allows it to fit wider, more sure-footed tires.

- Tange Prestige heat-treated CrMo steel main tubes

- Sport touring geometry

- Matching lugged crown CrMo steel fork included. Features low-rider pannier rack mounts and mini-rack mounts.

- Rear rack and fender eyelets

- Tange/IRD Sliding dropouts allows for geared and single speed drivetrains

- 135mm hub spacing

- 1-1/8" headtube (fits EC34/28.6|EC34/30 headsets)

- 27.2mm seatpost size

- 42, 50, 54, 58, 62cm (Center to top of seat collar)

- On our rim brake model, the 42cm sizes uses 26" wheels, but on the disc brake model we will fit 700c or 650b tires and fit tires as wide as 42mm

- Weight: Frame: 5.8 lbs(50cm) Fork: 2.35 lbs (350mm uncut steerer)

- In Teal Metallic and Olive Green


purchase!
Buena Vista Disc Frame Set
Can I do loaded touring on this frame?

Short answer is yes you can.
You can install a rear rack, but make sure the model is disc brake compatible. Our matching fork has eyelets for mini racks and pannier racks.

Rear and front loads affect the handling of road frames more than purpose-designed touring frames. For a more pleasant ride experience keep loads in the back under 22 lbs. and front loads under 10 lbs.

Max. weight limit with load and rider: 260 lbs.(120 kgs.)

If you intend to take your bike on multi-day tours, you need to make sure your component choices are suitable for that type of riding (i.e. durable tires/wheels, bars that give you more than one hand position, wide enough gearing climbing hills, etc.)

Buena Vista Disc Component Specs:

Headset: 1-1/8" (threadless external cup; SHIS: EC34/28.6 | EC34/30)
Front derailleur: 28.6mm, bottom pull
Seatpost: 27.2mm; Seat clamp bolt included
Hub rear spacing: 135mm OLD hubs
Gearing: Sliding dropouts make the frame compatible with derailleur gears, internal geared hubs, and single speed
Brakes: IS Disc mount. Will fit post mount with IS adapter; 160mm rotor recommended (will not fit rim brakes)
Compatible with downtube shifters (covers not included for bosses)
Chainring fit, max.: 50-34t double, 48-36-26t triple
Bottom bracket shell: 68mm wide, English threads
Max. Tire Fit: 700c x 42mm, 650b x 47mm (Size 42cm of the disc frame is NOT designed for 26" wheels like the rim brake model)
Water bottle bosses: 2 sets (top of downtube, under downtube)
Racks mounts: Low rider front pannier rack, mini front rack, rear rack
Max. Weight, including rider and cargo: 270 lbs

Why should I get a Buena Vista Disc instead of finding a vintage mixte on Craig's List or buying one of the cheaper new mixte bikes I've seen on the internet?

First off we are happy you are looking for a bike, any bike. Just make sure it suits your needs and fits your body.

Advantages over vintage: 1.) You can use modern gearing like 9-speed or 11-speed cassettes. Vintage mixtes were designed for 5 or 6-speed freewheels which are harder to find and also don't provide gearing for hills. 2.) Materials may be cheaper, might be high tensile steel or plain gauge CrMo, which makes it heavier to take upstairs. Also they are flexier since they don't have the larger diameter thin wall tubes of the Buena Vista. This is a bike you can ride long distances (enjoyably) even with loaded panniers. 3) Good luck finding a used bike that fits you. The Soma comes in 4 sizes to suit folks 4'10" to 6' 2" 4) The BV fits modern Disc Brakes: Better for speed control and wet weather stopping

Advantage over new cheaper mixtes: 1.) Materials on competitor's bikess may be cheaper, might be high tensile steel or plain gauge CrMo, which makes it heavier to take upstairs. And won't absorb road vibrations as well. With Soma you get name-brand CrMo tubing. 2) Sporty geometry: Most complete mixtes are design for upright cruising in the park or for short commutes. You can't ride them very fast. Your body will be in an awkward position when standing up to climb hills. The Buena Vista can be built up as a comfy cruiser, too, but its longer top tube allows you to also build it up like a road sport bike or hybrid. The bike shop can tune it to your body and flexibility. 3) Also we offer 5 sizes. Others mixte bikes are usually offered in one or two sizes only.

What are some reasons of getting a mixte ("mix-tee") over a regular "double diamond" frame?

1) It has a lower standover height than a regular road or hybrid bike, which allows you get on and get off the bike in the front of the seat, which has its advantages. Example: You are carrying a trunk bag or baby carrier on the rear rack and you don't want swing your leg over the seat and accidentally kick your baby. Also you can more easily straddle the bike when you are stopped at a light. And it's easier to share with shorter or less experienced friends and relatives. Older riders with less flexibility may find the mixte easier to mount and dismount. It is also easier to ride a mixte in a longish winter coat. 2) Style: Some who like these bikes like it for its vintage styling. Before we launched our Buena Vista, both men and women in our city were scouring garage sales for these charming style of bike. 3) Less likely to hurt the family jewels in an accident.
Buena Vista Disc Frame Set
Triathlete and mountain biker gets a Buena Vista

"I started cycling seriously about 15 years ago to compete in triathlons. I moved from that to road racing for several years, and for about the last 5 years I've been a hardcore mountain biker. Despite all that I've never ridden my bike to commute! I've always admired the classic mixte frame, so when I started looking at commuter bikes about a year ago I was looking at vintage Raleigh frames. They are beautiful but the problem is you can't hang disc brakes on those, so I kept looking. I just love the lines of a true split-tube mixte. It's light and stiff enough to give a serious cyclist a decent transfer of power, but relaxed enough to let me wear a cute dress in the summer. When I ride this bike I feel like I'm back riding to elementary school. It makes me happy."

Phaedra, Richmond, VA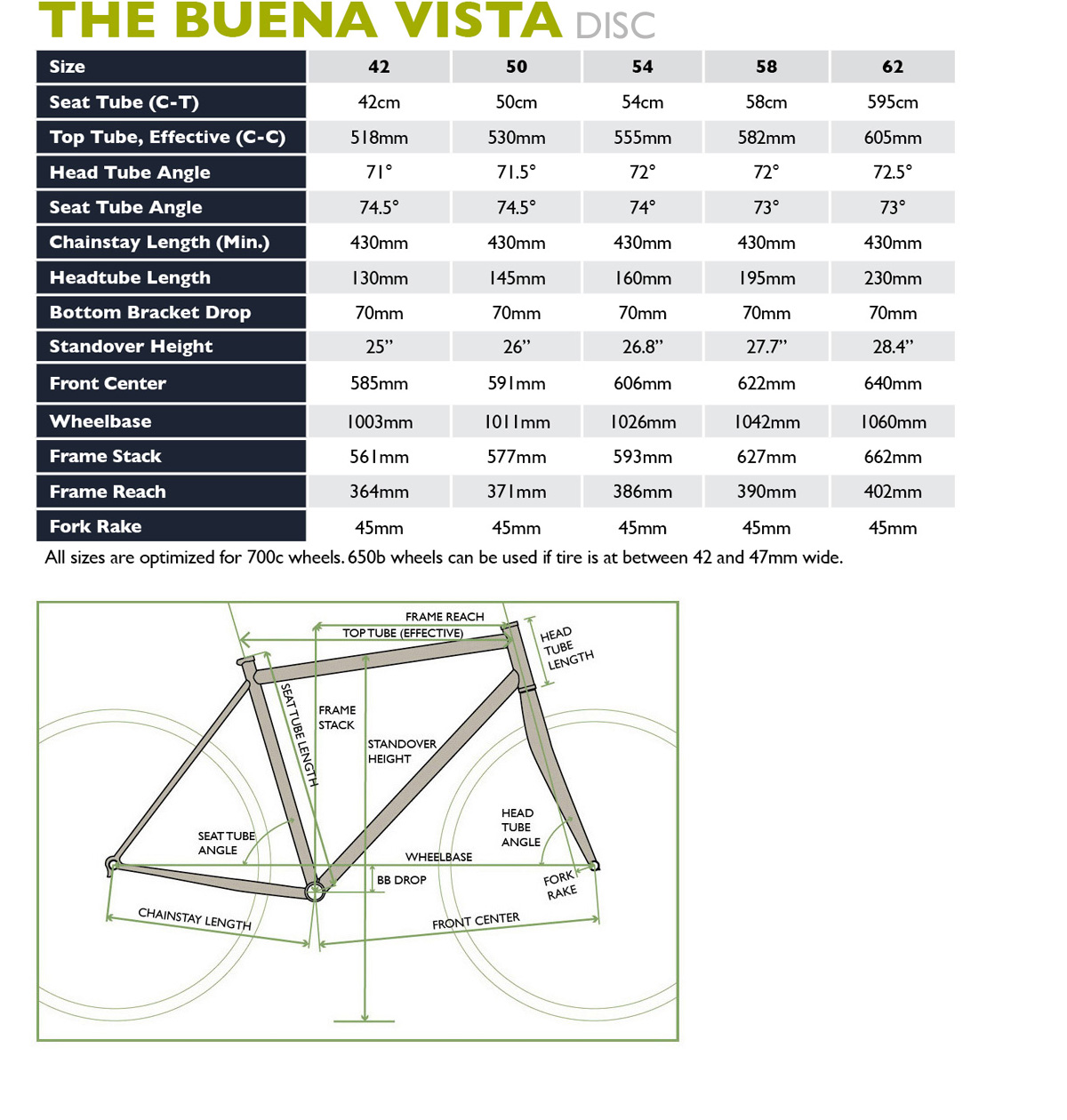 Buena Vista Disc Frame Set
Path Less Pedaled Reviews the Buena Vista Disc

https://www.youtube.com/watch?v=XltKnGFQ5pQ This bike is a ripper! An elegant bike for commuting, road riding, touring and even gravel. Steering is pretty nimble with the Soma Osprey bars. Climbs well. Even though the build was about 28 lbs. It is a "light" 28 lbs. A plush ride. Didn't get beat up on gravel descents thanks to a combination of flex in the bars, the frame and the 650b x 50mm Cazadero tires. And it didn't wander when I rode no-handed.

Best Mixte / Step-Through Frame Bikes For Light Touring & Bikepacking

Selected as one of the "Best Mixte / Step-Through Frame Bikes For Light Touring & Bikepacking" on the Cycle Travel Overlord website. A true Mixte bike with the double top tube tubing which Mixte bikes are so famous for. You get lots of standover height obviously mashed with some style. The geometry is more sporty, than upright-comfy. With all the rear rack and fender mounts you need for a light tour.