Buena Vista Frame Set (for Rim Brake)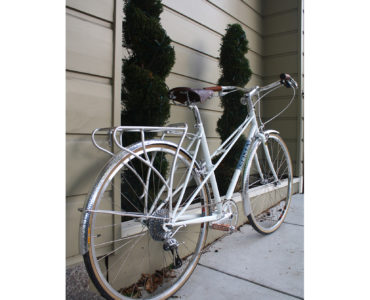 A true mixte frame with the double top tube/stays. Obviously offers lots of standover height and style as well. You'll find the geometry is more sporty, than upright-comfy. Though it can be built up to suit either demeanor. Drop bars? Sure. Moustache bars? Of course.

- Tange Prestige heat-treated CrMo steel main tubes
- Sport touring geometry
- Horizontal dropouts
- 132.5mm hub spacing to fit either road or MTB hubs
- Includes matching sloping-crown CrMo steel fork. Features low-rider pannier mounts.
- Rack and fender eyelets
- 1-1/8" size headtube
- 27.2mm seatpost size
- 42, 50, 54, 58cm (Center to top of seat collar, no 62cm size)
- 50-62cm models use 700c wheels and 57mm reach road brakes. Max. tire width with those brakes: 33c(28c with fenders)If you must have wider tires, consider a 650b conversion, then you could fit 38c with fenders. - 42cm model uses 26" wheels and 73mm reach brakes (like Tektro 556 or Rivendell Silvers) Max. tire width: 1.5" with fenders
- Weight: Frame: 5.6 lbs(50cm) Fork: 2.35 lbs (350mm uncut steerer)
- In Pearl White

purchase!
Buena Vista Frame Set (for Rim Brake)
Buena Vista Component Specs:

Headset: 1-1/8" (threadless external cup; SHIS: EC34/28.6 | EC34/30)
Front derailleur: 28.6mm, bottom pull
Seatpost: 27.2mm Seat clamp bolt included
Hub rear spacing: 132.5mm (fit tradtional 130 and 135mm OLD hubs
Brakes: Dual-pivot road brakes, 49-57mm reach (700c wheel models) 57-73mm reach (26" wheel models) (Also fits center pull brakes with similar pad reach)
Compatible with downtube shifters
Chainring fit, max.: 53-39t double, 52-36-24t triple
Bottom bracket shell: 68mm, English threads
Water bottle bosses: 2 sets

I have general questions about your frames... (i.e. frame material, country of origin, fit questions, how to order).

Go to our General FAQ page. Link is on the bottom of each page.

What kind of brakes will the Buena Vista need?

XS(42cm) size requires Tetkro R-556 (Rivendell Silver) caliper brake or Dia-Compe Mod. 750 brake to reach 26" rims.
50, 54, and 58cm sizes require a 49-57mm reach caliper brake to reach 700c rims.
Buena Vista Frame Set (for Rim Brake)
Three Bicycle Belles

"I wrote to you a few years ago trying to buy a Soma Mixte frame. You didn't sell to the UK then. I kept thinking of ways to get a frame here then discovered last year that you were supplying James at Fine-ADC in Edinburgh. So here are the results: not only me (in yellow) but mother and sister too. We get stopped and asked where we got our bikes. We are all delighted with them. Everyone should have one Soma Mixte frame road bike.

"

Elizabeth, Denham, United Kingdom

Unsolicited Soma Buena Vista Review

"I thought you might like to see a picture of my Buena Vista Mixte frame now that it has been fully built. I think the purple mudguards (bought off ebay!) and other purple components look great with the grey frame. Its set up for touring , with 700x28c wheels, and 27 speed STI gears, which get me up all but the very steepest hills. I've done a 200+ mile tour around part of the coast of Scotland including some off-road bits and it handles well."

Kathy, Manchester, UK
Buena Vista Frame Set (for Rim Brake)
Simple Cycle's Buena Vista

Wow! This is one really neat bike! I use it as my dedicated city bike for commuting, errands and generally anything within a ten mile radius of my home.... Being set up with a VO model 8 saddle and swept back Albatross bars [and 650bx38 New Xpress tires), it provides a very comfortable upright ride in traffic while making you want to get out of the saddle and "go after it" when the occasion allows. Even with my 220# build, I experience no squishiness in the bottom bracket which is common in lightweight steel tubing....I would have no reservations about setting this up with standard gearing, drop bars and using it for credit card touring or charity rides. To see more of his reviews, visit http://simplecycle-marc.blogspot.com and search "Buena Vista". [Mar. 2011]

Bicycling Magazine Tests Our Mixte

While I admire the beauty of many cruisers and town bikes, some feel frustratingly sluggish. Meanwhile, speedier townies seem to sacrifice the good looks or loungelike comfort I consider essential. The Buena Vista bridges these gaps. It's essentially a road bike that's easy to throw a leg over, thanks to the mixte design. The Tange Infinity steel frame and fork and the high-volume tires ride smoothly on all but the roughest roads. The frame accommodates a range of components; I built mine with a mustache bar and a three-by-eight-speed drivetrain using down-tube shifters for a retro vibe. A drop bar and integrated shifters would look equally at home and would make the bike suitable for longer rides. A number of attachment points let you outfit fenders (it accepts up to 28c tires with fenders; 33c without) and racks, which I took advantage of, easily carrying light loads around town.

Bicycle Times Full Test of the Buena Vista Mixte

"not a laid back beach cruiser..... slices through congested city streets like a Ginsu knife"
To download the PDF of the review click here. [ July '11 ]

Soma Buena Vista Review on the Lovely Bicycle blog

"solidly constructed, versatile frame with comfortable geometry" This bike was built up with love using 650b wheels. For the complete review go here. [April '11]

Second Review of 50cm size : "As far as my impressions, the ride exceeded my expectations. Basically: vroom. Super-responsive, quick to accelerate, fast rolling. On flat terrain, the bike moved with me, almost effortlessly.... As far as toe overlap with the 50cm Vista frame, this will depend on your shoe size and on whether you have fenders. I experienced a bit of it, but not much. Depending on whose fit philosophy she follows, a woman of my height could end up on either the 50cm, 54cm, or 58cm Soma Buena Vista. Having tried the extremes of this spectrum, I believe that either size can work, depending on what qualities you are looking for in the bike. When I tried the 58cm Buena Vista last year, its long virtual top tube and high, wide, swept-back handlebars made it feel like a lightweight, faster version of a Dutch bike. By contrast, the 50cm Vista with its low, narrow, upside down North Roads felt like the lovechild or a modern roadbike and a pathracer. Go large for more tame, upright. Go small for more aggressive, roadish. In each case, the bike felt stable and the ride quality was pleasant. At $499 MSRP for the frameset, this fun and versatile machine is a good value." (Dec. 2012)

Soma Buena Vista Review in Paved Magazine

"offers a fresh take on the Mixte"
For the complete review go here.

Soma Buena Vista City Bike Review (Momentum Magazine)

The Soma Buena Vista is a classic Mixte frame with two elegant tubes running from the headset all the way down to the chain stays – a simple and sturdy design. The frame comes with braze-ons for both front and rear racks. The Buena Vista we tested was fitted with Soma Everywhere five-millimeter, 700x26c tires. The drivetrain was a NuVinci N360 continuously variable hub by Fallbrook Technologies. The handlebars were the Soma Oxford Bar made of polished aluminum. We also tried it with a Wald 137 basket. Pros

The CroMo steel frame was very comfortable to ride and the geometry of the mixte felt strong and responsive. The horizontal dropouts allowed the flexibility to build the bike with a single-speed hub, a derailleur or with an internally geared hub. The fork included mounts for low-rider pannier racks. This is a bike that can suit a wide range of purposes without sacrificing performance.

Cons

The Buena Vista is a very solid steel bike that will feel nimble due to the inherent stiffness of the design. However, the split top tubes make it a little heavier than if it was just a single top tube.

Ideal Rider

The ideal rider is someone who is looking for a versatile bike.

Overall

The Soma Mixte can accommodate a wide range of riding styles and would be one of my first choices for a bike that will never look out of place.