Wolverine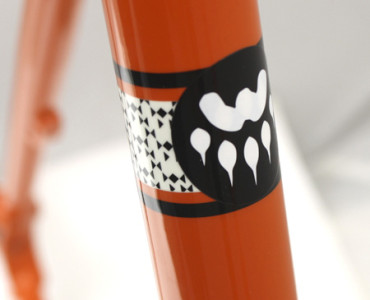 The original inspiration for the Wolverine was "monster cross", but it is seriously so much more. Its geometry is stable enough for off road touring, but sporty enough for all-around adventure. With its Tange/IRD Split Sliding Dropouts, you can turn it into a single-speed CX bike. Plus it is compatible with the Gates Carbon Drive.
- Tange Prestige heat-treated CrMo front triangle; butted CrMo rear end
- Clearance for 700x45c tires w/ fenders
- Rear hub spacing:135mm
- Gates Carbon belt drive compatible
- Matching lugged flat crown fork Tange Infinity CrMo steel fork; double eyelets pannier rack and mini rack mounts (mini rack mounts not pictured)
- Braze-ons for rear rack and fenders (disc brake-compatible racks only)
- 1-1/8" size headtube
- Sizes:50, 52, 54, 56, 58. 60cm
- 4.79 lbs (frame); 2.3 lbs. (fork, uncut steerer)
- Color: Pumpkin Orange
- Compatible with Paragon Machine Works replacement dropouts (Rohloff, Single Speed, Direct Mount, Thru Axle)
purchase!
Wolverine
What Paragon parts will help convert my Soma (Juice/B-Side/Analog/Wolverine) with Tange Sliding Dropouts to 142 x 12 thru-axle?

Our current frames with sliding dropout are for 135mm QR's.To convert to DT Swiss 142mm thru axle look into these Paragon Machine Works part numbers B4037, B4027, & DT001(The sliders have to be set back at least 7mm or so, so chain may need to be changed)

Carbon belts can't be split like a linked chain. How does one install a belt on a Wolverine?

First generation frames use Tange/IRD Split Sliding Dropouts. The right dropout is designed as two pieces. After you upbolt the alloy slider from the frame portion of the dropout, you can separate the dropout just enough to slip the belt into the frame.

Second generation frames have a Split Seatstay design.

What kind of disc brakes do you recommend for the Wolverine?

We recommend 160mm rotors and brakes that fit international standard mounts.

What are the component fit specifications?

Seatpost: 27.2mm

Front derailleur clamp: 28.6mm

Rear hub spacing: 135mm

Seat collar: 29.8 to 30mm

Headset: 1-1/8" external cup

Bottom bracket shell: 68mm wide, English threads

Downtube Shifters: Compatible

What Carbon Drive set up is recommended on the Wolverine?

With an Alfine 8 spd hub, we recommend 46t front, 24t rear, and 115 length belt, with the dropout set at 440mm from the center of the BB axle. We recommend the new Center-Track system. E-mail us for single speed set up.
Wolverine
Wolverine Owner on Reddit

"Soma Wolverine review: God damn this bike is pretty, The frame definitely required more preparation, but as a qualified mechanic that was not an issue for me. the Molten Orange paint (not powder coat, paint.) is just ridiculously pretty. the Tange IRD drop outs look (And for the love of god, FUNCTION) worlds better than the Surly drops. they are Set and forget. completely satisfied. Though, it does look like mounting racks on these dropouts will be a bit more tedious. the rack bolts would have to be bought short, or cut down, or spacers. not a big deal, but it would add a few minutes work. The head tube on the Soma is several CM taller, and the top tube has a very subtle, almost un-noticed rise to it. this allowed me to use fewer stem spacers than on the Surly and still keep it looking normal. It's not an ugly rise on a giant head tube (Like the Salsa Vaya or Specialized Awol has) so the aesthetic integrity of the frame is not really "compromised" For two seemingly identical bikes of the same size, there are some very subtle differences in geo. there is a 6 degree difference in fork rake (44 for the Surly, 50 for the Soma. I don't know which one is steeper(math, ew!), but The Soma feels more lively and responsive.) the top tube is a whole 5 millimeters longer on the Soma. yeah, Geo. The Soma feels more like a road bike in terms of handling. While I found rake for both bikes, head tube angles and fork dimensions don't seem to posted online for the Wolverine. So I just have to tell you how it feels. it feels like it was designed for pavement. Tubing to tubing there is just no contest. the Soma rides, nay GLIDES. Those who can't tell Tange Prestige from Surly Natch are people who I want to say condescending things to. Like Grant Peterson does when someone likes a brake pad he refuses to sell them. It's just amazing. for my old bones on long commutes, there is no better ride (that I can afford) I appreciate that the thickness of the tubing is a huge part of this. and that technically this tubeset is not as indestructible as the Surly, but I had a Soma Groove before the Surly, it took 3 years and winters of abuse and several wrecks and never broke or showed any signs of wear. so for a commuter, I have complete confidence. Tange Prestige is NOT used in the seat and chainstays, so the rear end is plenty stiff, especially when paired with the Tange drop outs, it feels stiffer than the surly (only in that regard, though.) The Soma Forgives me where I want it, and is stiff where I want it. Finding where this bike falls short in comparison to the Surly is tricky. The surly definitely has a more durable finish. more frame prep, It's going to be an all around more durable bike. But I take care of the paint on my bikes. I can prep my own frames and I'm a commuter, so those points don't really matter to me. Though they definitely matter to many. The Surly has a truly horizontal top tube, very traditional and aggressive road bike looks. the Soma looks a bit like a hybrid. Surly doesn't put their decals under the paint. Soma does. so you can't change them. I made the right choice going to the Soma. but I appreciate that won't be the right choice for everyone."

Agwan, ,
Wolverine
6-Month Review of the Wolverine by Australia Mountain Bike Magazine

"...Given my mountain biking background, I wanted to see how hard I could push the Wolverine. I raced several dirt crits aboard the Pumpkin Orange steed, which warranted some pretty strange looks on the start line. My first lap at race pace was quite the baptism of fire, with me rolling through transition looking like I'd been inside a washing machine. Once I started to pick the right race lines though, I loosened up and began to ride smoother. The rigid setup means the handling is very direct, with the short(ish) back end on the Wolverine helping to deliver pinpoint steering accuracy when exiting tricky corners. On tight switchbacks where some mountain bikes can feel a little vague, the Wolverine feels nimble and lively. It's refreshing in a very honest kind of way.... Following the Wolverine's dirt-crit flirt, I decided to spend some more saddle time exploring backcountry fire roads and double track in the local forests surrounding my hometown. On these slightly smoother surfaces, the Wolverine really comes into its own. It oozes comfort and stability, and it has no problems getting into a groove for all-day exploring. This kind of dirt-oriented adventure riding is where the Wolverine's geometry really shines. With decent tyres and a comfortable cockpit setup, the Wolverine possesses a unique desire to maintain momentum on the kind of terrain that makes skinnier-tyre bikes feel uncomfortable, and fatter-tyre mountain bikes feel sluggish. The Skinny For me, riding the Wolverine has opened up a whole new riding experience. It's an absolute hoot to ride off road because it really tests the limits of your fitness and skill. I have a number of local trails that can occasionally become a bit boring if I've over-ridden them. Not so on the Wolverine though, where all that old singletrack becomes new and exciting again. While it may be no frills compared to complex carbon full suspension bikes, the refreshing simplicity of the Wolverine is one of its greatest attributes. And it has to be said that for less than a grand, the Wolverine is superb value. It's built from great quality steel tubing that is designed to last a lifetime, and it has all the necessary features that most riders are looking for these days. Once you factor in its versatility, the value is even more impressive. As a "Monster Cross" bike, the Wolverine definitely ticks a lot of boxes. It can handle loaded dirt touring, it's functional enough for commuting, and it's also a helluva lot of fun on the singletrack. Of course it is no expert at any of those riding genres, but the fact that it can do them all well is why I think Soma have built an absolute winner with the Wolverine." Full review: http://ambmag.com.au/soma-wolverine-review/

SOMA(tic) Tangerine Wolverine

Excerpt: read more at http://www.backalleybikerepair.com/somatic-tangerine-wolverine/ Built up, the Wolverine inspires confidence, begs to be ridden, and with the gentle slope of the top-tube it preserves an aesthetic that I find very important. I wanted to ride this bike all over the Cascades...The initial set-up of the bike was aimed at quick, spirited, 1-2 day summer adventures

My very first impression was of how STABLE the front end feels. With a lightly loaded handlebar bag (I imported my usual set-up of a Nitto front rack and the Swift Industries small Ozette bag), the Wolverine's slightly more raked out fork holds a line very well (as well as 650b??). Riding hands free is no problem, such as when grabbing for a snack, removing a riding layer, or taking pictures. Obviously 2.1-inch trail tires won't feel spry climbing on Seattle's hills, but they were fun! Especially cutting through alleys and around the Central District's choppy streets and all over Beacon Hill. The Wolverine reminded me of when I switched from downhill skiing to snowboarding, and how I viewed terrain differently. Whereas obstacles and tree lines were only for flirting with on skis, on a snowboard I'd duck in and out of trees, I'd head straight for the swoopy humps and get some radness. Same thing with the Wolverine. I started popping off of dirt embankments, skidding into loose corners, and rolling obstacles like on-board a 29'er. The SRAM Rival shifting worked flawlessly, the wide gear range (50/34 and 11-32) was up for the aggressive riding as well as always finding a suitable climbing combination. Back on the street, I was reminded of girth of the tires, but smiling, scanning the urban landscape for the next adventure section of road/trail.

During a wet ride, the front braking was a bit "pulsey", requiring a bit more of a brake lever grab than I am accustomed to. This seems more a function of the TRP brakes and the brake pads needing to "settle" into the caliper. The handsome lugged front fork gave an accurate feel for whatever terrain I took it over. The 180mm rotor was a bit "grabby" on technical sections, tugging on the fork blades. The steering was even and predictable, albeit with a bit more rider input than I am used to with tighter geometry.

There are only a few offerings in the "MonsterCross" catagory, but gravel grinders and bike-packers alike would respond well to SOMA's newest family oddball. In the next couple of years, I expect this segment of the market to expand dramatically. SOMA has established the bar with a tremendously versatile steel bike. And what's so odd about it? Well, just that there's not much out there like it.

Soma Wolverine Review

Within the whole of the bicycle industry I think we can all agree that bigger tires are better. All categories are running bigger tires; BMX, road, cyclocross, mountain bikes, tandems, recumbent, and even fat bikes. Soma, you have done a great job with this frame. The versatility to do whatever you want on this goes above and beyond. There are so many ways this could get built up and it all comes down to the users needs.

First ride this weekend was about 2.5 hours long and who knows how many miles. No Garmins were used. Ever. I stand by that fairly firmly, unless I need direction in the back-country. Took a mixture of road and various park trails, access roads, and gravel paths. Got a little lost and had a great time.

How is the bike? It is stable and smooth. At higher speeds, the stability is great. Not twitchy or a confidence killer. Disc brakes are awesome on all bikes. Less of a hassle, stronger braking, and they work great when wet and muddy. Makes riding with drop bars on rough trail a whole lot easier. Only set back was purchasing the TRP brakes. They are nice, yes. But the pads rattle a whole lot within the brake calipers. Gets a little annoying and makes you feel like something is falling apart. Only downside I have seen is not having through mounts for mid mounts on the fork. Limits the racks that you can put up front, but not a deal breaker at all.

On the trail, it is almost like riding a mountain bike. Had a few short sections of trail that were used to cut back and head home. Handles well on the rough and does not feel completely out of place riding on trail.

At the end of the weekend I had been on the bike for ~5 hours. I know that I am officially a weird bike nerd who thoroughly enjoys having ridiculous bikes. It is awesome. Being on a bike should not be painful. If you do not enjoy it, do not do it. I do not like being on a road bike, which is why this is now far from a road bike. That is just me personally. If you get this frame, which I fully encourage, make it your own. Get out there. And ride.
http://ridemorecareless.blogspot.com/2014/08/shenanagins-on-wolverine.html