Grand Randonneur Frame Set (v.2)
Our Grand Randonneur is a true low trail geometry randonneuring frame set, which means it rides better with a front load than other touring and road bikes. Co-designed with Mike Kone of Rene Herse/Boulder Bicycles. It will fit all the gadgets a good rando bike should have. The traditional diameter tubes lend a smooth comfortable ride. We have tweaked the geometry for 2015. We increased frame stack by 15-20mm. Seat tube extension has been reduced.

- Tange Prestige CrMo tubes, double-butted, non-oversized
- Threaded 1" lugged fork with low rider pannier bosses, mini rack eyelets and double eyelets at the dropouts
- Rear rack and fender eyelets
- Pump peg
- 3 sets of water bosses
- Designed for 650b wheels and cantilever brakes
- Max. tire fit: 650 x 42mm slick tires w/fenders
- Max. fender width: 50mm
- Needle bearing headset recommended
- Paint: Cream (it's a tinge less yellow from last year's ivory)
purchase!
Grand Randonneur Frame Set (v.2)
Specifications and Recommendations:

- Seatpost: 27.2mm
- Front derailleur: 28.6mm, bottom pull
- Rear hub spacing: 132.5mm (fits both 130mm and 135mm wide hubs
- Headset: 1" threaded, external cup, 26.4mm crown, (needle bearing or roller bearing-equipped headsets highly recommended for low trail forks)
- Tires: 650b x 33 to 42mm
- Fork rake: 69mm - Max chainring fit: 52-42-32t 45mm chainline. 53-39t, 48.5mm chainline
- Bottom bracket shell: 68mm wide, English threads
- Compatible with downtube shifters
- This type of bike rides best with a front load. You can ride it unloaded, but it will take time to get used to the steering qualities of a low trail geometry.
Grand Randonneur Frame Set (v.2)
Paul's 1000 Mile Review

"Paul wrote a lengthy thoughful review. Below is just an excerpt. Read the full review here: http://bike.paullieberman.net/blog/soma-gand-randonneur-1000-mile-review "And the verdict is
It's a great bike and I'm really enjoying it. As far as the things that are unique about this bike, I'll take them one at a time.

Steel Frame

This is a no brainer for me now. I've had aluminium and carbon fiber bikes in the past and now I know I prefer steel. The ride is always great, the performance is great, and I know I can trust it.

650b wide tires

I'm sold on this now. I feel like I'm not giving up anything as far as speed and agility while gaining comfort, stability, and the ability to ride on any surface. This is really a win-win for me.

Low trail geometry

The jury's still out on this one. I like the responsiveness and how well it holds true around a curve. I certainly don't like the possibility of shimmy at speed, or the twitchy feeling when going too slow. Once advantage of low trail is that you can carry more weight in the front. This is great but I can also load up my touring bikes with a front load and never have any problems. If the main advantage of low trail is that it handles better around the turns on really fast downhills, then this is something I don't need. I'd be perfectly happy going a little slower if the trade off was more stability. So this may be the one feature that I don't care for. Then again the more I ride this bike the better I like it. It may be that after a while I'll come to appreciate the low trail more. We shall see.""

Paul L., City, State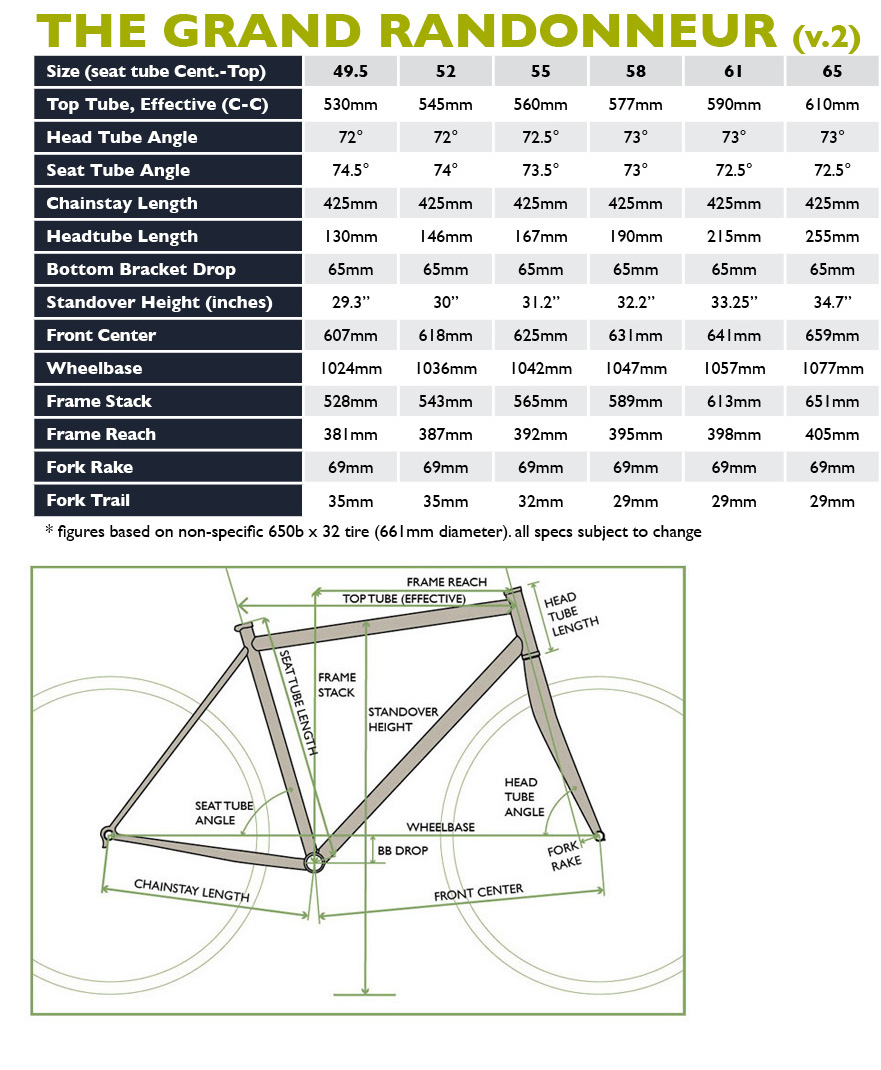 Grand Randonneur Frame Set (v.2)
Cycle Seattle's Quick Impression on the Grand Randonneur

The Soma Grand Randonneur was recently shipped, and is a very compelling deal. It is a $500 frame/fork combo that was designed by Mike Kone of Boulder Bicycle and Rene Herse fame. Note: Soma is doing some great combo design deals lately. First Grant Petersen's design on the San Marcos, and now a low-trail guru's take on a commodity frame. You'd be hard pressed to not want both!

The bike I rode is a 55cm (small for me) with a large porteur rack on the front. Good to add some weight and see how it feels with a bit of front load. In my short ride, I felt immediately at home on the bike, and really felt some of the benefits of the different front-end geometry. It was quick handling, but forgiving – not twitchy. As I slowed to a stop, I noticed there was none of the flopping I have on my higher trail bikes if I let go of the handlebars. OK – that's kind of nice. But the thing I liked more is that on a slow climb, I didn't have the bars slightly twisting back and forth with my pedal strokes. It tracked well at low speeds. Hmmm – I may like this sort of thing.

On turns, at medium and higher speeds, there was no uncertainty of where I was going. Perhaps it didn't feel like it was "on rails" like my Rivendells, but there was no bad effects I could ascertain. As for riding no-handed, it was about like my Miyata. Not great, but doable, and I wonder if it's not due to the high saddle, low bars on this slightly too small frame for me. http://stonehog.com/2013/11/21/low-trail-rides/

Handlebard's Grand Randonneur Review

... It's a beautiful bike, with clean welds, and light tubing (my 61cm weighed in at 25.5 lbs with rack, fenders, and wheels). The color, which I expected to be an aesthetic problem for me, immediately grew on me. It's unique, classic and even a bit sophisticated looking. Pump pegs, bosses for a third bottle cage, integrated rear brake stop are all nice features that add to the fit and finish. Decals are under the clearcoat.

The ride is more reminiscent of my 80′s Trek 560ex than my touring bike, yet it is at least as comfortable to ride. That is, as far as I remember… my other bikes have been collecting dust since the GR arrived. (Ah, new love!)

It's my first 650b bike, so I am loath to make too many comparisons. I'm just having fun on it. Fun riding up the volcano, fun riding my favorite fast flat, fun getting my coffee in the morning. It's even fun to look at while I drink my coffee.

One caveat. If you're sniffing around Grand Randonneur as a touring bike, I'd encourage you to look elsewhere. The GR frame and fork are purpose built for randoneurring. The frame is light and sporty and I can imagine it being too lithe to handle a heavily load. Further, the rider is farther back towards the rear axle than on an intended touring bike. Even though there are rear rack mounting bosses, heel strike on the panniers would likely be a problem. I have not tried mounting a rack and panniers, nor intend to. Maybe that's the chainstay length or maybe the seat tube angle. I'm no geometry expert.

.....
Further, climbing was actually fun. Each pedal stroke was like getting a push from an unseen force at the rear of the bike. This is a new sensation for me on a bike. And I love it. I wasn't just going up this hill, I was accelerating up it. Thanks to John, a cyclist who I've been mailing with, I can give a name to this sensation. Jan Heine calls it 'planing' and it's a result of a symbiotic rider and frame geometry. .

Read more....

http://handlebard.com/?p=41.

http://handlebard.com/?p=139