Rush (Fixed Gear/SS)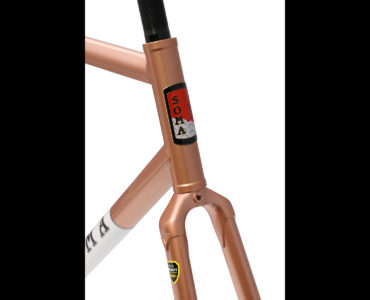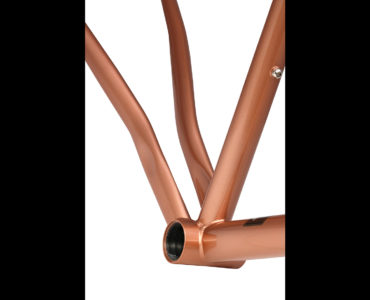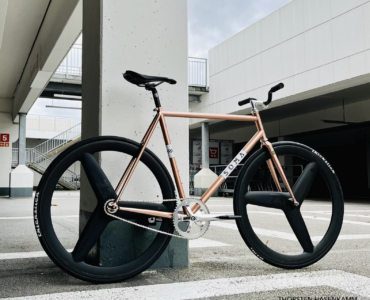 The Rush has a swift geometry and stiff chassis, but the smooth riding blend of lightweight chromoly tubes makes it at home on chewed-up asphalt as much as the velodrome.

The current iteration has side-tacked seatstays and S-bend chainstays for more crank clearance and tire clearance. To cap off its more vintage Keirin-inspired look, we are matching the Rush with a threaded fork to allow you to equip it with a clean-looking quill stem.

- Tange Prestige heat-treated double butted CrMo steel; butted CrMo rear end
- Aggressive track geometry
- Investment cast Tange horizontal track fork ends
- Drilled for caliper brakes
- One set of water bottle bosses on the seat tube
- Includes threaded 1" sloping lugged crown Tange Infinity CrMo steel fork with straight blades (38m rake)
- 1" size headtube
- 27.2mm seatpost size
- 120mm rear hub spacing
- Max. tire size: 32c(w/o brakes) / 28c(w/brakes)
- 53, 55, 57, 59cm (Center to top of seat collar)
(49 and 61cm are on hold until supply chain issues get back to normal)
- Frame: 4.1 lbs Fork: 1.85 lbs.
- Paint: Satin Copper

(The vinyl decals sit over the clearcoat and are removable. But we do not stock replacements currently)
purchase!
Rush (Fixed Gear/SS)
I have general questions about your frames... (i.e. frame material, country of origin, fit questions, how to order).

Go to our General FAQ page. Link is on the bottom of each page.

Can the Rush do bar spins?

The Rush is a durable and fast street bike, not a fixed gear freestyle bike. It is not designed for bar spins while running its recommended 700c wheels.

Rush Component Specifications

Rear hub spacing: 120mm
Front hub spacing 100mm
Headset: 1" threaded with 26.4 crown race (ISO standard)(EC30 / 25.4-24tpi EC30 / 26)
Stem: 1" quill
Brakes: 39-49mm dual pivot brakes
Seatpost: 27.2mm, 250mm
Bottom bracket: 68mm wide, English threads
Wheels: 700c
Tires: Will fit some, not all, 32mm wide tires. Optimized for 700c x 23 to 28mm wide tires Cable guides/stops: None

Rush (Fixed Gear/SS)
Favorite Bike Right Now

"The frame set is great. It has an amazing ride quality. Nothing like any other steel bike i have ridden. Super stiff while still soaking up road buzz nicely. I just put these risers on and I love them. So much fun. I wanna put some SPD pedals on but I can't find any shoes that I like right now with all the shortages. But ya, this is pretty much my favorite bike right now!"

Joediben, r/FixedGearBicycle, Reddit

Soma Rush vs. State Bicycle

"The most noticeable change to me was the geometry. I can now pedal through turns without much pedal strike and there isn't toe overlap on my frame size / foot size. I didn't expect this because the wheelbase is noticeably shorter. The Rush feels like a much more controllable bike. It's like driving a sports car versus a sporty sedan. The frame seems lighter than my State, but I haven't weighed the State frame by itself. Comparing this build to the State, it is substantially lighter. With all of that said, I always really liked the State and thought it was great for the money ($299 back in 2013). The Rush has certainly opened my eyes to how much of a difference the geometry can make over just the build material of a bike. H + Son Archetypes with Gran Compe II Hubs Continental Gatorskins Black Edition 700x28 Nitto Pearl Stem Nitto Noodle 46cm"

Triplwu, r/FixedGearBicycle, Reddit

Rush Testimonials

"I've had my Rush, set up fixed, for about 5 years now and have ridden approximately 8-10,000 miles on this frame. It's the only bike I have saddled during that time, and thus, I've stretched its utility beyond that of a strictly track or city frame. The bike was my 10+ mile/day commuter for three years in damp Portland, OR, followed me to the stone streets and dirt roads of Oaxaca, Mexico for 18 months, and more recently was the frame I chose to ride between Mexico and Peru, clocking over 3,000 miles on that 10 week tour.

Riding hard is a passion of mine and the Tange CroMo frame has performed under significant stress through all riding conditions. The steel's flex and ability to absorb vibration does reduce rider fatigue, and has let me continue longer rides on rough roads and pursue mixed rides (pavement and dirt) with confidence. The frame's track inspired geometry is aggressive (more so than most cross frames), but still comfortable for longer heads-up commuting. And with the right stem/ handlebar/saddle combination, I was surprised to find what a worthy, capable single speed touring frame this is. As someone with a history of back problems, I was impressed beyond my expectations of how well the frame's geometry facilitates comfortable, 50+ mile rides, extended climbs, and on and off road agility at moderate to high speeds. Of course, as a track frame, it also positions the rider for optimal power generation and transfer, which makes it a blast to ride in the urbanscape and is another reason why I enjoy it as a touring frame--I can accelerate quickly and hold high speeds in the flats and rolling hills.

Regarding frame quality: After years of riding this frame into the ground, it refuses to be buried. The welds are precise and still flawless today. The tubes show no cracks, only chipped paint. The burly rear, horizontal dropouts are well-aligned and continue to take a beating without contortion, while the fork welds and front dropouts are of matched craftsmanship. I have never had to make any kind of repair to the frame itself. I have wondered if the diameter of the bottom bracket shell is slightly too large, since I have replaced the bottom bracket several times over the life of the bike and continue to notice a very minimal lateral play (of a millimeter or less) when shaking the crank arms. Whether or not that is true, it does not affect riding mechanics.

---B. Evans



I'm a courier on a major university and bought my Rush frame back in May. This bike is my first fixed gear and I don't know how I came this far without it. Initially, the Rush was to be my 'workbike', but she has become my fair lady and I go nowhere without her. I have taken my rush EVERYWHERE. Delivering on campus, I ride anywhere from 20-60 miles a shift and sometimes I need to take detours and let me tell you, this thing has gone downhill on dirt trails, popped off many curbs, run through potholes along dark streets at 3 a.m., accidently clocked a few unsuspecting students and even been hit by a car. Since its birth, my SOMA Rush, this burly-minded ballerina, has never submitted to injury. It has seen parts come and go through its short, yet labor-filled life. Thank you for such a worthy bike frame. ---RR



Well, the fit was great from the onset and the "ride feels terrific! A very lively lightweight steel frame combined with the excellent wheel package makes the Soma Rush a joy to ride. Fast, responsive and stable, even the hills take on a surreal effortless experience, (that's the up as well as the down!). --- MN



The steel frame and fork felt stiff and lively on out of the saddle climbs. The head tube angle and fork rake made the bike both stable and predictable on the descents even when pedaling a very high cadence. Toe overlap was noticed a couple times, but was never a nuisense... Riding no handed was never a problem on the Rush. This bike is alot of fun to ride in town, in and out of traffic, down back alleys, and so forth. I have never made a faster Friday afternoon run to the bank to deposit my paycheck. --- MM"

., ., .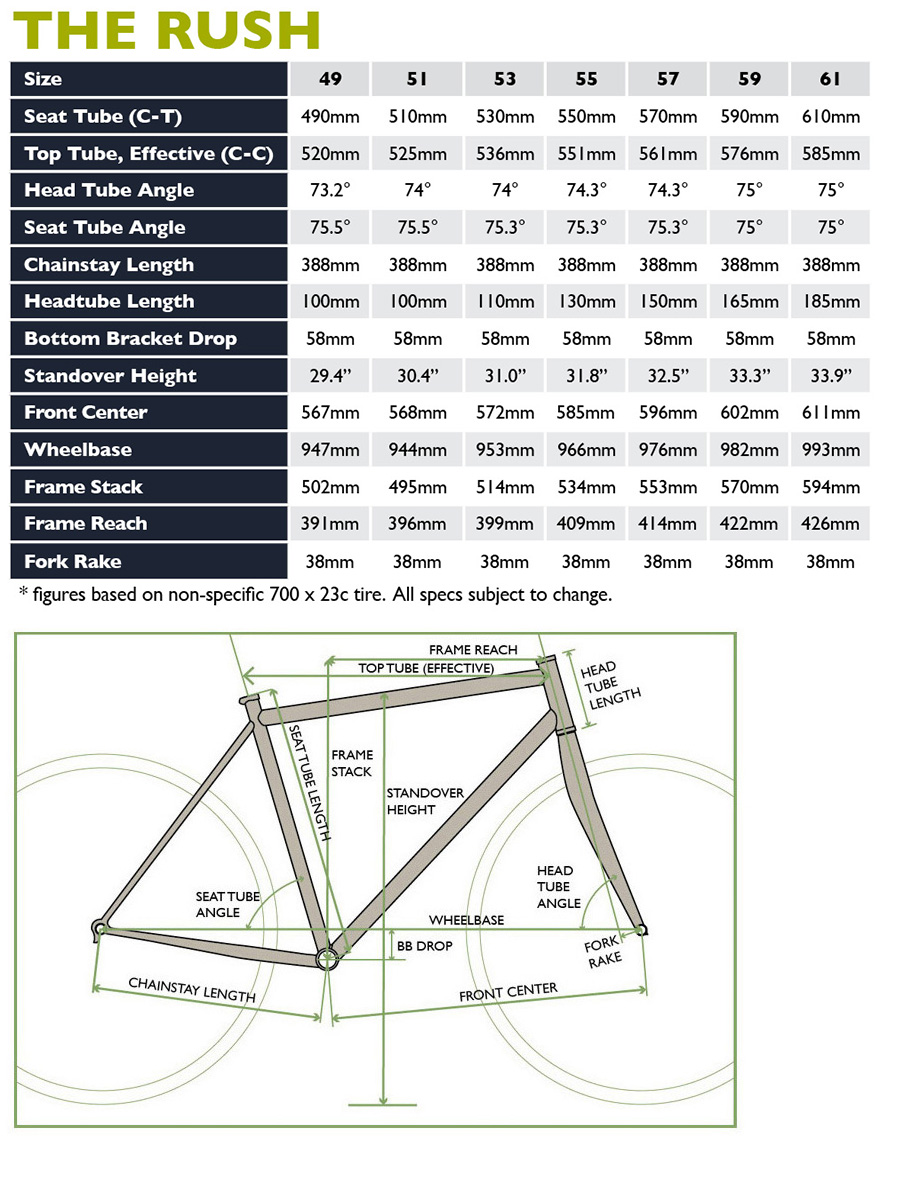 Rush (Fixed Gear/SS)
Four Riders Review One Red Rush

This review is a tad old, but the frame geometry hasn't changed any from 2005. Why mess with a good thing? Dennis and Katy of Fixed Gear Gallery, and two friends all get their say on our track frame For the reviews go here and click on their faces. [2005]