San Marcos Frame Set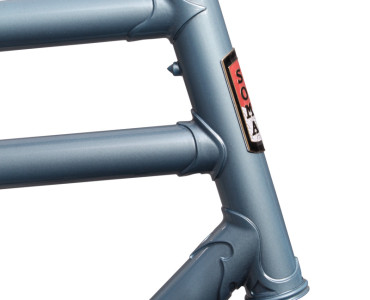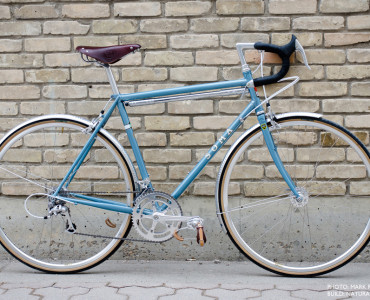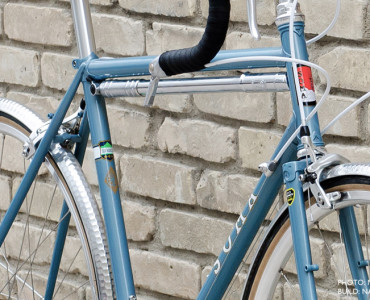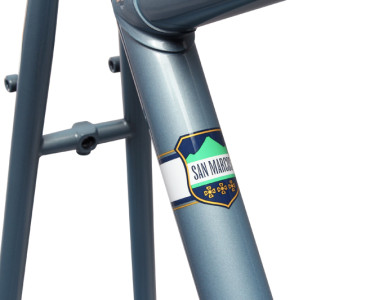 The San Marcos is a "sport touring" road frame designed by Grant Petersen of Rivendell. It is a fine ride on black top and smooth fire roads. While not designed for loaded touring, it can probably handle that type of duty even better than the Double Cross, which was Soma's go-to choice for touring before the Saga was designed. New features for 2014 include mini rack braze-ons on the fork.

- Tange Prestige heated treated CrMo steel with genuine Rivendell lugs
- Rivendell-designed road geometry
- Includes a lugged crown Tange Infinity CrMo steel fork (1" threaded steerer)
- Rear rack, mini front rack braze-ons and fender eyelets
- Headtube pump peg
- Kickstand plate
- 1" size headtube
- 27.2mm seatpost size
- Sizes: 47, 51, 54, 59, 63cm
- Paint: Tiburon Blue (2013's Pearl Blue available in limited quantities)

The 47 and 51cm are designed for 650b wheels and 55-75mm reach road brakes. Max. tire fit: 38mm
Changed for 2013: The 54 thru 63cm are designed for 700c wheels and 55-75mm reach road brakes. Max. tire fit: 35mm
The 59 and 63cm have that Rivendell double top tube to restore the triangulation lost with the tall top tube.
purchase!
San Marcos Frame Set
Why I should or should not have a San Marcos in my life?

Without getting into your own person issues, this flyer offers insights from designer Grant Petersen on why he designed the San Marcos the way he did. Download flyer

Give me specifications on the San Marcos not listed on the Info tab.

Front derailleur required: Bottom pull, 28.6mm
650b fork: 52mm rake, 367mm axle-to-crown
700c fork: 45mm rake, 379mm axle-to-crown
Bottom bracket shell: 68mm, English thread
Hub spacing: 130mm
Braze ons: Upper bosses and dropout eyelets for rear rack, fender eyelets on fork, pump peg, downtube shifter bosses, two sets of H2O cage bosses Top tube cable routing: 10 o'clock position

I have general questions about your frames... (i.e. frame material, country of origin, fit questions, how to order).

Go to our General FAQ page. Link is on the bottom of each page.
San Marcos Frame Set
Finally a bike tha fits

" I just wanted to pass along a big "THANK YOU" for the Soma San Marcos bike. After all of these years, I finally found a road-style bike that fits me!!! For years I have had a stiff back and tight hamstrings which means a lack of flexibility. I HAVE to ride in a more upright position. I have tried a ton of bikes and spent too much money on those bikes and I never could get the bars high enough. It is so nice to ride for a few hours and get off the bike without the neck, shoulders, arms, and wrists either in pain or fatigued. My thanks to Rivendell and Soma for bringing to an end my life long search for a road-style bike that fits. I started w/ a size 54 and ended up with a size 59 and I could not be more satisfied. Granted, I catch any and all wind when I ride due to my lack of flexibility, but I ride for the joy of riding and could not be any more happy with my San Marcos."

Dan S., City, Georgia

Haziz First Impressions of San Marcos

"I have had a Soma San Marcos for about 10 days. My other main bike is a mid 90s lugged steel Serotta Colorado CSI, which is a racing frame that I have fitted as far as possible for a more relaxed ride. I had initially emailed Rivendell asking about the Sam Hillborne, San Marcos and Betty Foy (I am a guy BTW) and indicated that I was interested in a relaxed geometry sportive bike with drop handlebars. They gently guided me towards the San Marcos over the Sam Hillborne, and I am glad they did.

I am 5 ft 8 1/2 inches with an 84 cm PBH. I am riding a Soma San Marcos 54 cm frame. I initially had a real concern regarding the Soma San Marcos' generous top tube length. This concern arose because the fit data from a formal fitting on the Serotta suggested an ideal top tube was 53 cm with a head tube of 20 cm or more. This arises due to my preference for a really upright posture. I have a 50 mm reach on my Nitto Technomic stem with short reach, shallow drop handlebars on my Serotta (top tube 55 cm) to try to compensate, and ended up putting a 70 mm reach Nitto Technomic stem and a Nitto 177 "Noodle" handlebar on the Soma San Marcos which theoretically should make the reach several centimeters longer on the San Marcos compared to the Serotta. The San Marcos feels quite comfortable and I am quite happy with my reach despite the theoretical concerns.

The San Marcos feels quite zippy and is no slouch compared to the Serotta which was after all designed as a racing bike. So I am comfortable and with a fairly zippy bike. I do not have racks or fenders on it, and am running 700c x 28 mm tires. Overall, I am quite happy with this build. "

Haziz, Road Bike Review, Member

A Proud Retrogrouch's San Marcos Review

"This bike can fit pretty wide tires. That makes it versatile.There is really no downside to a bike being able to accept wider tires. You can always use skinnier ones if you want.

This is not a re badged cycle-cross frame and the geometry is quite different from a cross bike. For example it has a lower bottom bracket which makes the bike extremely stable.

The bike has very predicable handling. It is not twitchy. I would not call it a fast handling bike but it doesn't turn like a barge either. It is a competent climber but shines when descending. There is no shimmy, no drift, no fear coming down hills

An absolutely Cadillac ride especially on flat roads. The bike is really comfortable without feeling mushy

It is actually a fairly light bike There was no real effort to bring the weight down on this bike yet it is just over 22 pounds including the pedals.

The finish and workmanship are very good. The bike is impressive to look at....

... I've ridden bikes that climb better But I wonder how much of that is wheels. The Campagnolo Vento CX wheels are not the lightest though they are actually not that heavy. However, the bike climbs better than I expected and far better than many bikes I have ridden.

This bike does not feel like a racer. It really does not even feel sporty. It does not feel like a touring bike either. it isn't going to win many races but is great to ride all day. The bike has what could be called very gentlemanly manners. Pleasant to ride, undemanding, forgiving and willing to go anywhere you want to go. It is also faster than you might expect...

The Recommendation
This is a great bike. The bike handles predictably, can be built up fairly light and is very comfortable. That said if I had to do it again I think I might have purchased a slightly sportier frame if I could find one that accepts the 28 to 32 mm tires.

The problem with this bike is that I am not sure that it really knows what it is. It can do a lot of things pretty well but doesn't really do any of them as well as a bike that is focused on one type of riding. I kind of wish it leaned a little more toward a touring bike or sporty bike. "Moderation in all things" may be a good moral philosophy but I am not sure it applies to bicycles. This is a frame that is OK for someone like me that has other bikes for specific purposes but might be an issue for someone with only one bike. It is racy but not nearly racy enough for the fast guys. It can carry things but not very much and isn't really suited for a long or self contained tour. It is light but still heavier than a weight-weenie would approve of. It would make a good commuter unless you had to carry lots of stuff or had to lock it outside.

Potential buyers should think hard before buying one. If you need a touring bike or heavy duty commuter get a Sam Hillborne, Atlantis, Surly LHT, the Soma touring bike or VO Polivalent. If you want the racy steel get a StanYan or Rivendell Roadeo.

If you are looking for a pleasant riding easy handling pleasure bike that can do a bit of everything and is lighter than most of the Grant Petersen designed frames this could be your bike. I will definitely be riding this one for years to come

The Build
Wheels: Campagnolo Vento Reaction CX 700c
Tires: Continental Gator Skin 700X28
Saddle: Selle San Marco Regal
Seat Post: NOS Campagnolo Victory 27.2
Stem: Nitto Dirt Drop
Handle Bars: Nitto Flat
Crank: Campangnolo Power Torque Centaur 170 mm 50/39/30
Rear Derailleur: Campagnolo Veloce medium cage
Front Derailleur: Campagnolo QS
Shifters: Campagnolo Veloce Flat-Bar 10 Speed
Cassette: Campagnolo Centaur 10 speed 12-29
Chain: Campagnolo 10 Speed
Headset: Campagnolo Record Threaded
Calipers: Tektro 569 long reach
Grips: Who cares
Bar Ends: Short straight
Pedals: MKS touring with toeclips
"

Fai Mao, Road Bike Review, Member

Comfortable San Marcos

" It took me a long time to spend this much on a bike... some years ago I decided to get a pretty nice aluminum touring bike for club rides and later a newish aluminum cyclocross to commute on. I was so wrong.....My first ride on the San Marcos was sooo quiet.. not used to a ride that makes so little noise and the drivetrain was so solid it felt like a fixe. But the main thing I have noticed is that the San Marcos is actually faster on the club rides because it is so comfortable to climb with or push hard on flats. I would have never thought such a beautiful vintage- looking bike would be so sleek. If you're looking... don't cheap out like I did..go for it. "

Alan , , PA

Clydesdale's take on his 63cm San Marcos

"I like it. I have not ridden as much as I would have liked because I have been on the "fast" bike but I have taken it out for a few 40K + rides and many smaller ones. Very comfortable with lots of spring due to the tubing size but not a lot of flex - so get the benefits of comfort of small tubed steel without noodliness (sic). I'm a clyde and it is very appropriate for all-rounder - better for my actual application than a cross bike. The bike is everything I hoped my Cross-Check would be (and was not). Nimble, fast, light, and versatile. "

, ,
San Marcos Frame Set
Bicycle Times Reviews the San Marcos (63cm size)

I've been a Soma Fabrications owner for a few years—I have a Double Cross DC that has thousands of commuting miles on it—so I was eager to ride something new from a company that specializes in versatile, tough, and long-lasting frames and accessories.

This bike is Soma's love child with Rivendell, meaning it was designed for Soma as a "sport touring bike" by Rivendell's Grant Petersen, using Rivendell lugs, geometry, and design details. The San Marcos is "the bike any road rider who doesn't race but rides mainly on the road ought to be riding," according to Petersen.

So what are these design details? Well, it's mainly about handlebar height and retro geometry to increase comfort. The concept is simple and time-tested: raise the handlebars to get weight off your hands, crane your neck less, and relieve stress on your lower back. The San Marcos' top tube slopes up about 6o, raising the stem's exit point from the head tube. The bike's 1-inch threaded fork uses a quill stem that you can easily raise or lower to get the perfect height.

In addition to this main point of Rivendell geometry, you also get some bonuses to versatility that are on par with other Soma models. On the functional side, the bike will accommodate up to a 37mm-wide tire, or 32mm with fenders. The frame sports a pump peg on the head tube and two sets of water-bottle bosses. There are two sets of eyelets in the back for a rack and fenders, but only one set on the fork, meaning no front rack. Soma says light loads are fine, but this isn't meant as a heavy touring bike.

The San Marcos uses the same steel lugs, bottom bracket shell, and fork crown that other Rivendell bikes do. The frame is made of high-quality Tange Prestige heat-treated, chromoly steel tubes, same as other Soma bikes. What you don't get are the even higher-end steel and the fancier two-tone paint job of more expensive Rivendell bikes.

The two largest sizes have a double top tube. Since Petersen prefers the classic look of small-diameter tubes and lugs, an extra top tube was added on the 59cm and 63cm frames to maintain the same level of triangulation and stiffness as the smaller sizes, especially in the front end. This design has become one of his trademarks.

I believe bikes have personalities and those personalities are part of the buying decision. Jim Porter of Merry Sales (Soma's distributor) says their relationship with Rivendell is like the relationship of Elvis to blues or gospel music. Taking his analogy further: if Rivendell is gospel, then Soma is Elvis being played in an old Cadillac.

The San Marcos gets you where you want to go in comfort and style, but it's not going to be the most racy thing to ride. My test bike was built with 32mm-wide tires and had an incredibly smooth ride, but no tail fins (they aren't very functional). Rough roads and smooth gravel were less of an issue for sure, as long as you're not in a hurry.

Riding tall with those high handlebars meant the compact drops are probably at the height of most riders' brake hoods. This provided several comfortable hand positions. The frame is both tall (in the top tube) and low (in the bottom bracket), which helped make for a very stable ride that carved turns gracefully.

The extra tube certainly seemed to help with front-end stiffness, as intended. I'm not that light, or that slow, but I never detected any lateral flex standing on steep climbs, or front shimmying on fast descents. For those of us used to more modern geometry, the extra top tube looks like overkill. I wouldn't be surprised to see it on a bike intended for heavy touring. But it's actually a retro solution to preserve frame integrity.

The San Marcos is definitely a comfort road bike that many people could get into as a versatile commuter, or a bike able to cart a light load, or just for getting out on long rides. In terms of goals and execution, I think Soma Fabrications has a winner. The San Marcos looks good and does everything it was meant to. It's comfortable and versatile, but an inexpensive Rivendell is an expensive Soma. If you're down with the retro styling and geometry, I'm certain this would provide years of comfortable service and enjoyment.