Saga DC Frame Set (Disc/Canti)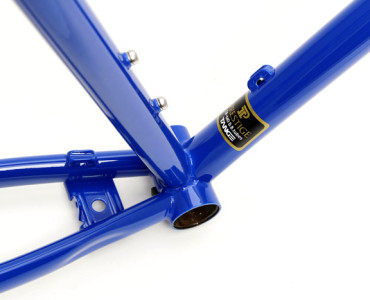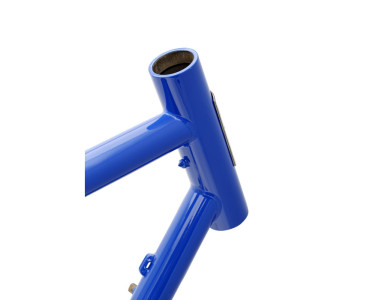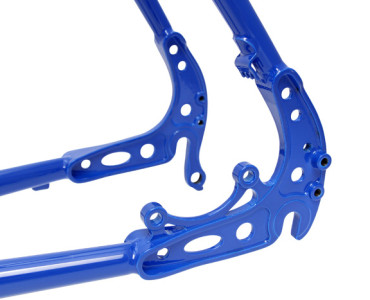 The robust Saga frame set is designed to excel at long distance loaded touring. This latest revision offers sizing up to a huge 66cm and gives you the freedom to run disc brakes or rim brakes. Please check out the FAQ tab to read about the benefits of two brake options.

- Specially chosen Tange Prestige heat-treated CrMo tubing; 31.8mm butted downtube and top tube for a stiffer front triangle. Larger frames have slightly thicker gauge tubing. Bombproof headtube is nearly impossible to ovalize.

- Longer chainstays and lower BB add stability and keep the panniers out of the way of your heels. Geometry puts the rider in a semi-upright position that is better for all-day riding.

- Disc brake specific dropouts work with ISO mount caliper. Rear brake mounts on the chainstay, so it doesn't interfere with rear rack or fender mounting. The dropout also has a port for Rohloff OEM2 mounting.

- Compatible also with cantilever brakes and linear pull brakes. (Posts are removable)

- Matching flat crown fork has double eyelets at the dropouts, as well as low-rider mid-leg pannier mounts, and mini rack eyelets. It is reinforced to handle disc brake forces.

- Spoke holder, pump peg, flat chainstay plate (fits some double kickstands), and three sets of bosses round out the full touring spec

- Compatible with downtube shifters

- 30mm seat collar not included

- Sizes: 46, 49, 52, 54, 56, 58, 61, and 66cm. (Size not determined by seat tube length)
Size 54cm and larger use 700c tires. 52cm and smaller use 26". (26" models can also be used with 650b wheel)

- Max. tire fit: 26" x 2.0; 700c x 47mm

- Weight: 5.75 lbs (49cm frame); 2.7 lbs. (fork, with uncut 350mm steerer)

- Paint: Cobalt Blue
purchase!
Saga DC Frame Set (Disc/Canti)
I just wrecked the kickstand plate on my Saga! What happened?

We decided to add a kickstand plate, because we've heard of many cyclists crushing their chainstays by overtightening the bolt on their kickstands. But the kickstand plate is not a perfect solution either.
The kickstand plate is pretty good for single leg kickstands. It is not great for double leg kickstands, especially if cyclists cut the legs long and the rear wheel is lifted off the ground. With a loaded bike that's a lot of weight to carry. Some riders make it worse by rolling the bike forward to help close the stand.

If you want to use a double kickstand either 1) cut the legs so that they balance the bike w/o raising the wheel off the ground. 2) if you must lift the wheel off the ground bypass the plate and use traditional kickstand hardware for chainstays. Some hardware makers have plastic/foam that sandwiches between the chainstays and the metal clamp to protect the frame, but this is not a guarantee against user error. You can still crush the thin tubing of high-end chainstays if you aren't careful. And in 2017, we will not warranty frames damaged in this manner.

Why did you include both disc and canti brake mounts?
Doesn't it make the bike look cluttered?

Let's address the aesthetic issue:
If you are afraid of a wee little clutter, loaded touring is not for you. A bike loaded up for a tour is NOT supposed to look "clean" -- and that's a wonderful thing.
Once you install racks and bottle cages, you'll hardly notice the extra mounts. When you add panniers, frame bags and water bottles, those extra mounts are pretty much invisible. So in the greater scheme of things, we don't think it makes the bike look more cluttered AT ALL.

There are also a few benefits to having provisions for both brake styles.
1. While both disc and rim brake technologies are generally reliable, we have known cyclists who have had bad experiences in the middle of a tour with cantilever brakes and vowed to to get discs on their next bike AND cyclists who had nightmares with their discs brakes in the middle of a tour and vow "never again" and want to go back to rim brakes. Having a Saga DC allows you to make the brake switch without the headache of buying a new frame.

2. Even if you don't suffer an unforgettable mechanical in the middle of nowhere, we all change our minds sometimes. You may love the idea of discs, but discover after 2000 miles you can't stand the pad/rotor rubbing you can't seem to get rid of..

3. You have old parts! What if you want disc brakes, but have an old Nitto front rack that mounts to cantilever bosses. You can use BOTH that classic rack and your modern disc brakes on the Saga DC.

4. If you ever choose to sell your Saga DC, you can attract traditional customers who like rim brakes and those who want disc brakes.

5. "Redundancy, redundcy": Having a back up is generally an advantage while on tour. This is one bike where you could install two front and rear brakes. Just install cross levers and route them to your rim brakes. You have to be really really worried about things breaking down to do it, but hey we got you covered. (We do discourage anyone from trying to activate all four brakes at once though)

Are the cantilever bosses removable?

The posts where the brakes rest on are removable. We recommend protecting the threads of the brake mount from nature with grease, Boeshield or a cover if you are not using are removing your posts. The painted brazed on piece is not removable.

Specifications:

- Seatpost: 27.2mm
- Front derailleur: 28.6mm, bottom pull
- Rear hub spacing: 135mm
- Headset: 1-1/8" exterrnal cup type (SHIS: EC34/28.6 | EC34/30)
- Max.Tire Fit:
700c models: 47mm (w/o fenders)
26" models: 2.0" (w/o fenders) (650b x 38mm tires can be used on the 26", but not recommended on 700c sizes).
- Fork rake: 43mm
- Max chainring fit: 52-42-32t 45mm chainline. 53-39t, 48.5mm chainline
- Bottom bracket shell: 68mm wide, English threads
- Compatible with downtube shifters
- Disc brakes: 160mm rotors, International standard mount
- Rim brake posts can be unscrewed

How is sizing determined? Do you use seat tube length?

The "size" is not based upon seat tube length. Actual seat tube length is in parentheses on the geometry chart. Industry folks call this "virtual sizing". Effective top tube length, stack and reach are better size indicators. If you don't know your ideal size, please get sized by a professional bike shop.

Can I sit on my bike while the kickstand is engaged?

This is not really an frequently asked query, but it is important to address. We welded a kickstand plate between the chainstays to make it easier to mount a double kickstand, which is really handy when your bike is loaded up. It is strong for what is supposed to do, but it is not suppose to hold up the bike's weight and your weight. (So no, no, no!) The kickstand or the plate will break if you sit on your bike while the stand is engaged.. Also be sure to trim the legs so weight is evenly distributed on the tires and the kickstand. If you can't get both tires flat on the ground, at least get the rear tire down (especially if you are loading luggage in the back)

Do the wheel sizes vary with frame sizes? If so, how was the standover height determined?

Some sizes are made for 26" wheels, others are made for 700c. Please look at the geometry chart for breakdown. Standover is determined using a 26x1.5" tire or 700cx32c tire.