Cazadero 700c x 50 Tubeless Ready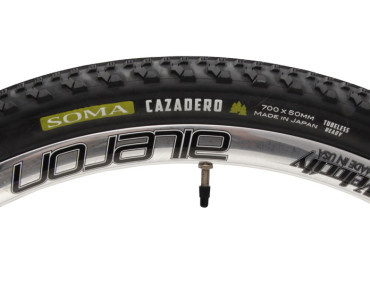 A mixed terrain tire for a new era of riding. Gravel, dirt, asphalt. Yes please.

The Caz features a raised center for fast rolling on asphalt, with specially designed to corner well on dirt and maintain smooth performance on the street.

The 50mm width is ideal for gravel bikes with generous tire clearance and for 29ers seeing more streets than trails. This willl fit our Wolverine on a 18mm inside width rim.

• Tubeless ready design

• Skin wall or black wall.

• Weight: 570g (Kevlar bead only) • Made in Japan by Panasonic(Panaracer).
purchase!
Cazadero 700c x 50 Tubeless Ready
Cazadero 700x50 Reviewed by RidingGravel.com

"...At The Finish: The Cazadero is a wonderful tire from the standpoint of smoothness. It just does what you would hope a fatter tire would do, and that is to act as a bit of "suspension" for your bike. This does a good job of reducing vibrations, which is a big benefit to the rider. That also helps lower rolling resistance as well, which has been demonstrated in tests by various publications and other sources. So, it would seem that the Cazadero would be a slam dunk choice for a bike with enough clearance for it, like say, a 29″er, or perhaps a Fargo. The thing is, not all is roses with this tire. For instance, those light casings are going to be susceptible to cuts. There just isn't a lot there to ward off the nasties. The other thing is that this tire doesn't seem to be as big as advertised. My samples measure out at 47mm each, for example, and that is after several weeks of use. That makes sense when the tire comes out to such a light weight, there just isn't enough material to spread over that big a volume. The narrower width puts the tire in a kind of "no man's land" where it won't fit in many gravel/adventure frames and is slightly too small for the wants and desires of folks with 29″ers. That said, many will be pleased with the weight and ride quality of the tire, which does a lot for making up for these shortcomings. Of course, there is the 42mm Cazadero, but that tire isn't blessed with a "tubeless ready" designation. While it has been used that way by many, buyer beware…… If the 50mm Cazadero fits your bike, (it really seems to be slightly narrower than 50mm), and you need a smooth rolling, multi-purpose tire for gravel and dirt, then this tire should be on your radar. Riders with 29″ers looking to convert their bikes to a gravel road machine should take a look at the Cazadero. It is definitely a tighter fitting tire and Stan's rim owners should be aware that it may be too tight for use on those rims. Otherwise, tubeless performance is very good. I have to reiterate, it rides super smoothly. Probably the best riding tire in this size range I have tested. It is very light for an almost 50mm wide tire, but it may not be as durable as heavier tires, so those with sharper rocks and nastier terrain may want to look elsewhere for a tougher tire. The tread seems long lasting and the tire performs wonderfully on loose gravel and hard packed dirt roads."