Everwear 5mm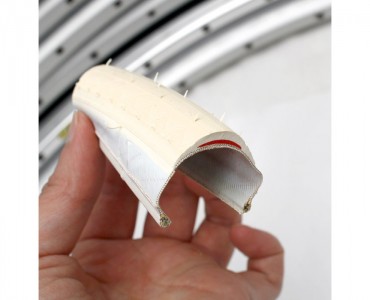 Soma Everwears were designed to be a fast rolling, super-long lasting commuter/road race training tire, but its thick hide has quickly found favor with fixed gear riders as well.

All Everwear tires with Steel bead have Wear Indicator
- Extra thick long lasting carbon rubber tread
- Round profile for predictable handling
- Black sidewall
- Steel bead or Kevlar bead (Kevlar bead is only available in plain black and in 23c)
- Made in Japan by Panaracer

See FAQ section for available colors and sizes!
purchase!
Everwear 5mm
What are the available sizes and colors of Everywear tires?

Everwear w/ Indicator 700c Blackwall:
Widths: 23, 26, 28, 32(only in Black and White)
Bead: Steel
Tread Color: Black, Blue, Pink, Red, White and Yellow, all with blackwall

Everwear SL 700c w/ Blackwall:
Width: 23
Bead: Kevlar
Tread: Black with blackwall
Everwear 5mm
"If you ride brakeless fixed gear and are constantly skidding, these are the tires for you. I used to go through a tire a month. I have been abusing these tires for over a year now. They are strong have great traction and have sustained the where and tear of daily fixed gear riding. "

Tyler, ,

"Soma everwears are all I run on my fixed rear. they last like nothing else through frequent skidding day in and day out and perform decently in the mean time. great tires! "

Dave (from Amazon.com), ,
Everwear 5mm
FixedLondon.com Swears by Everwears

Over the years, I have tried a huge variety of tyres on my brakeless fixed gear. This has included almost all of the Continental road range, Vittoria Randonneur, Schwalbe Marathon Plus and Schwalbe Durano. Simply put, none of these have come close to the Soma Everwear in terms of durability and predictability. Rated at 140 PSI and sporting an ultra hard compound, these are some of the fastest tyres I have ever ridden. Admittedly, they don't grip too well in the wet but the progressive skid properties more than make up for this in my opinion. http://www.fixedlondon.com/reviews/review-soma-everwear-tyres/

Urban Velo Reviews the Everwear

The Soma Everwear 5mm tire is designed to be a reasonably fast, super long-lasting tire for urban cyclists. Made in Japan by Panaracer, they come in 700 x 23, 26, 28 and 32c (a limited quantity of 26″ are available, too). And in keeping with the urban market's demand for colored rubber, they're available in black, white, pink, red (pictured), blue or yellow. Of course the primary selling point is the 5mm thick tread, which not only promotes long tire life, it helps ward off punctures. The latest version also features a red wear indicator strip that shows once the tire has worn through the better part of its tread life.

Cog Magazine Skid Test #1

Michelin Erileum 2 - 30 skids to blowout Specialized Armadillo - 100 skids to blowout Soma Everwear - 160 skids (the guys were too tired to finish off the tire)

Bicycle Times Review Everwear 32c Tires

The skid are OK....built for the tough demands fo fixed-gear riding and relentless city miles with a 5mm thick centerline tread. But don't let the tough name fool you — these tires are supple, fast rolling and give an enjoyable ride. [Bicycle Times #14 Dec. 2011]

Fixed Gear Gallery Review

Every time I skid and ride around I can feel good knowing that the Soma Everwears won't be showing their wear indicator any time soon, letting me ride in peace. The full review